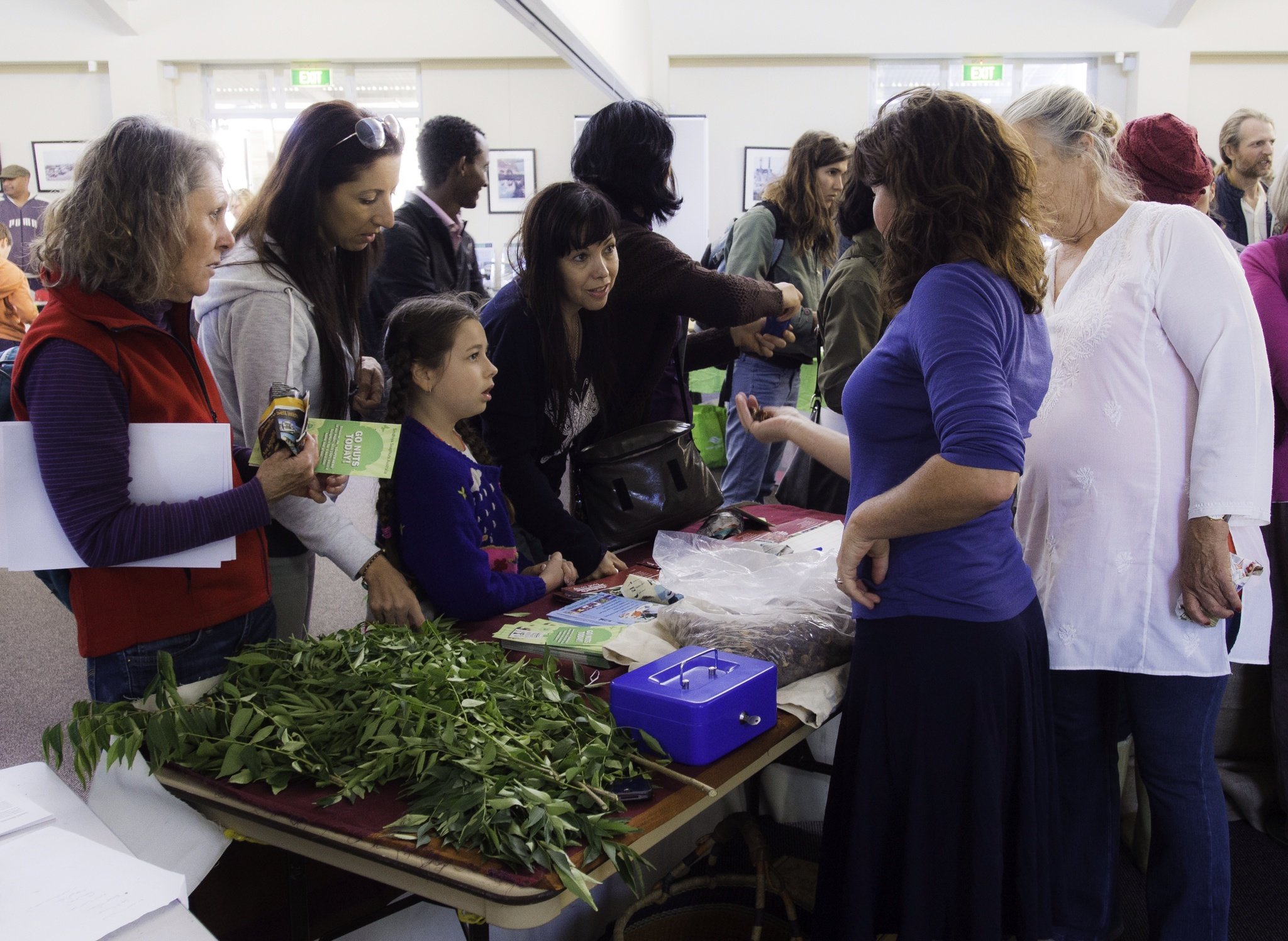 International Permaculture Day is an annual event about which you can find out more at:
http://www.permacultureday.org
(left) Horticulturist and garden educator, Emma Daniell, assisted with children's activities at International Permaculture Day 2014 and led the bushfood and foraging workshop.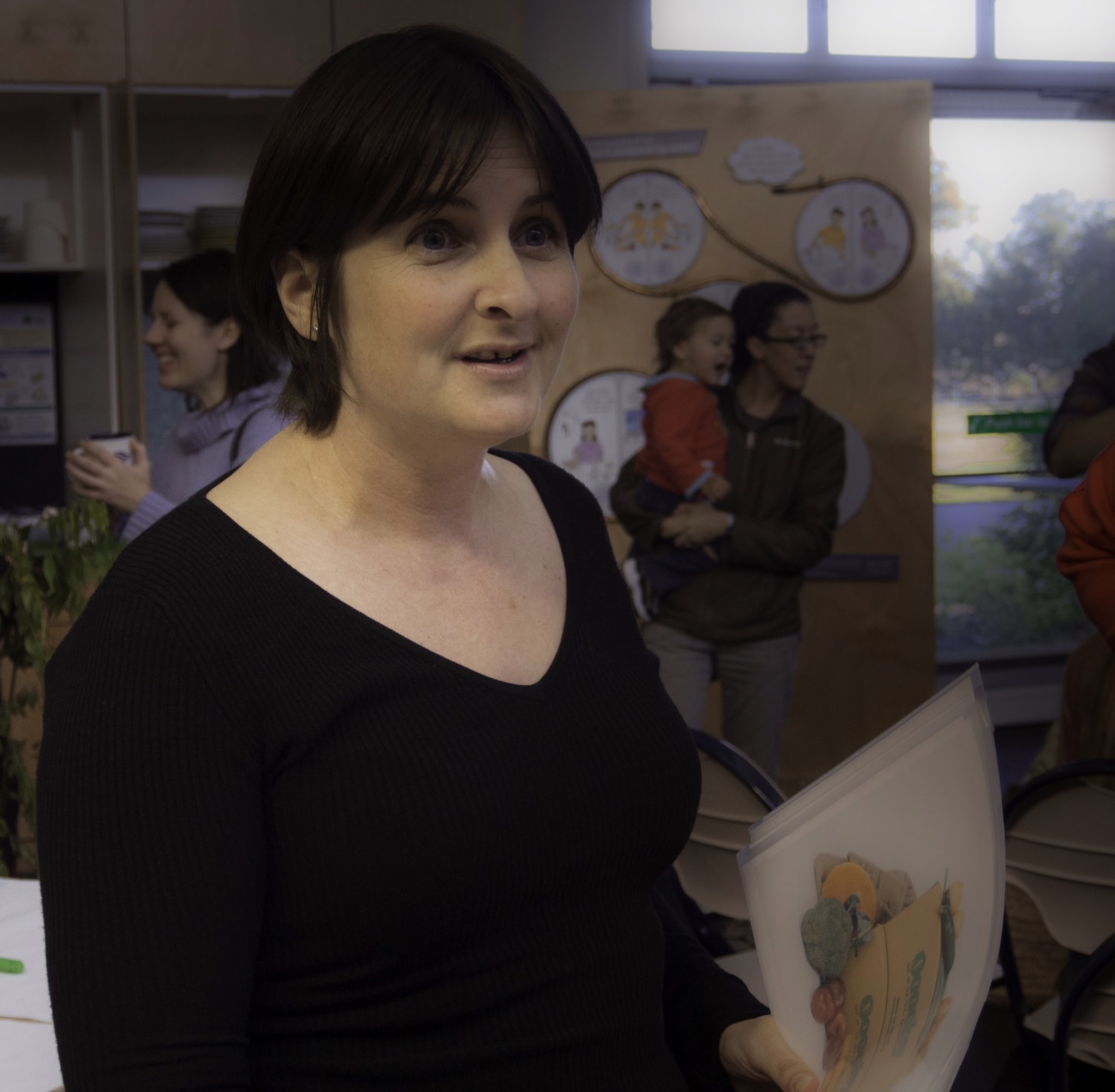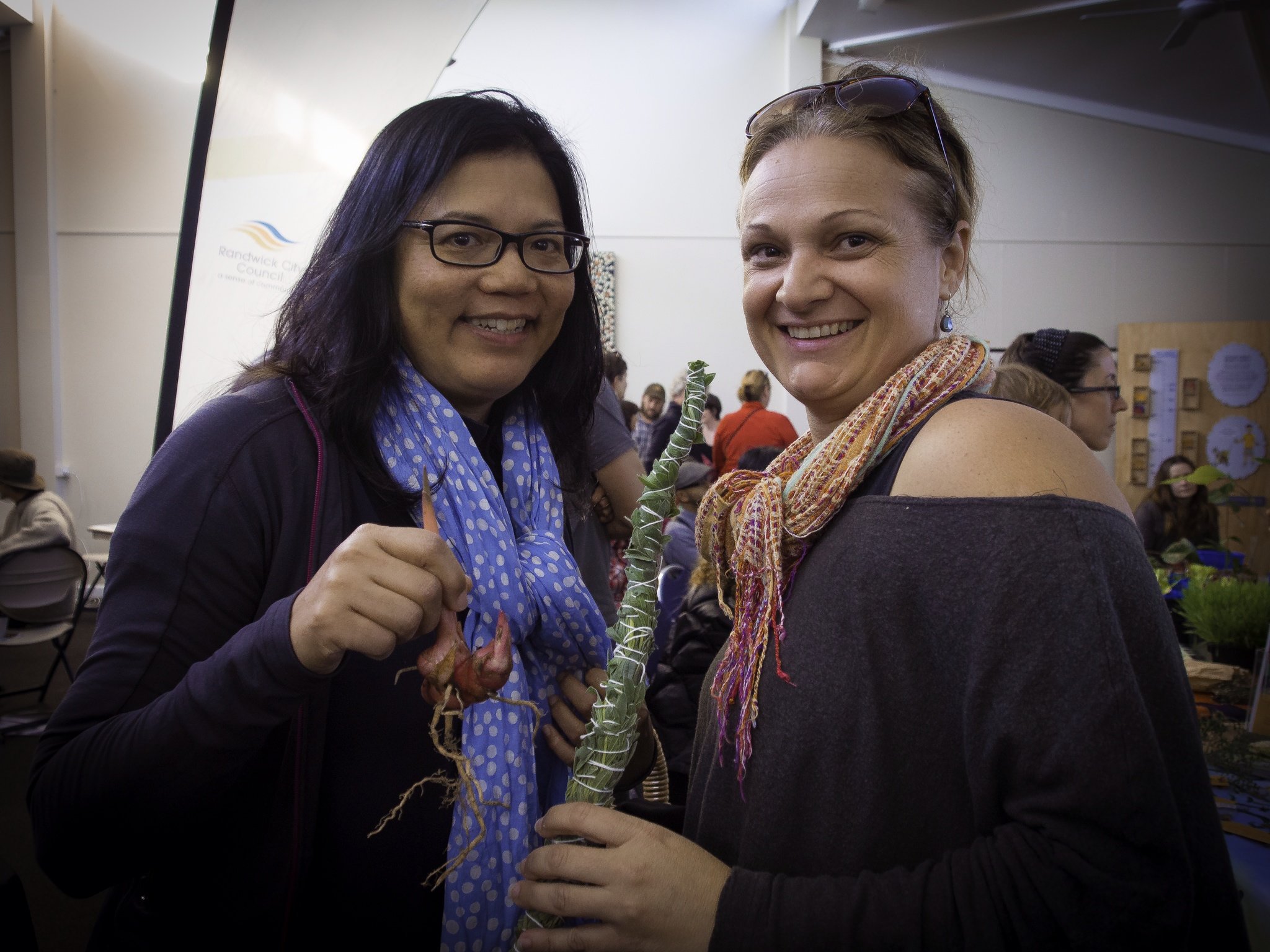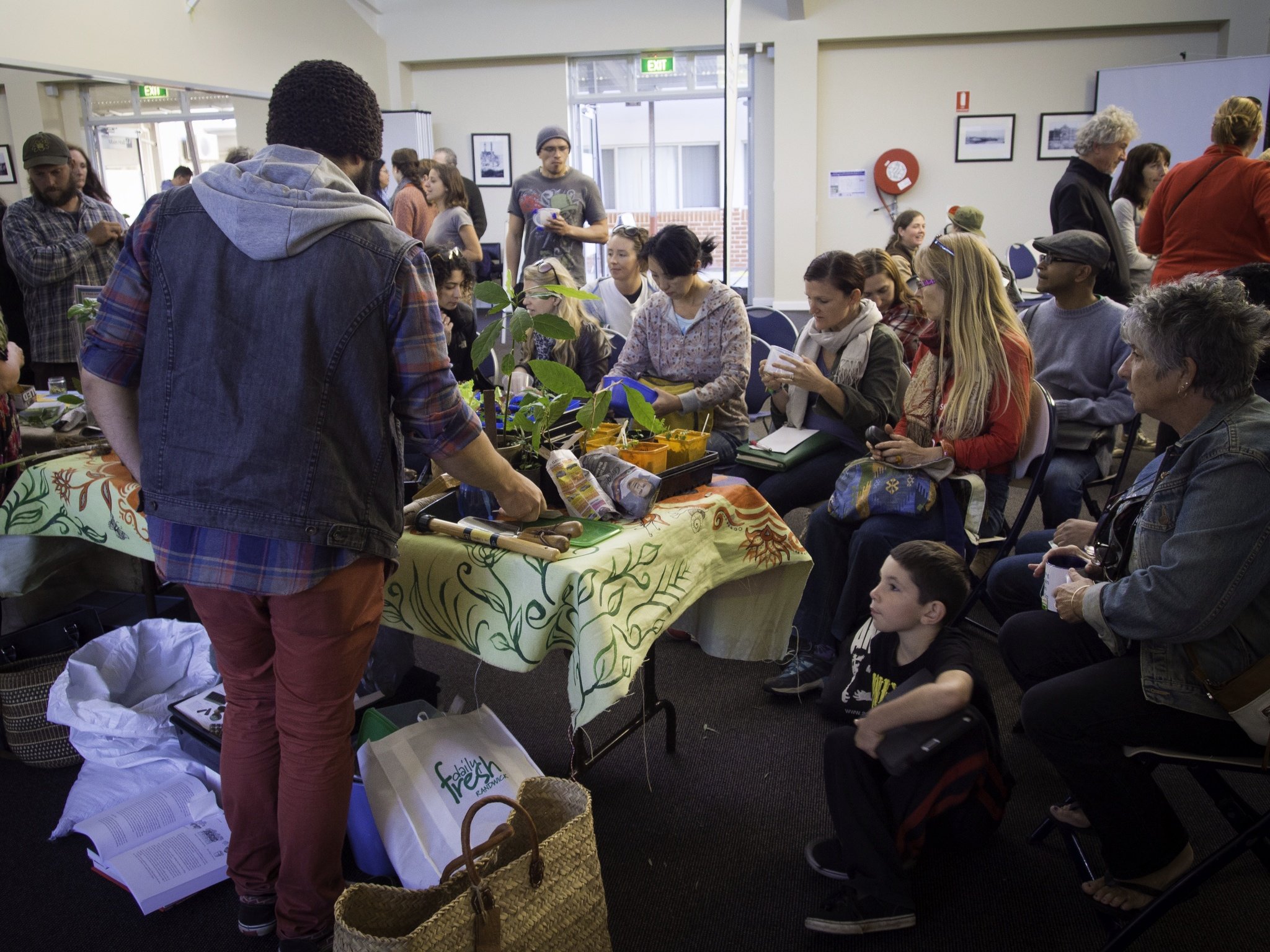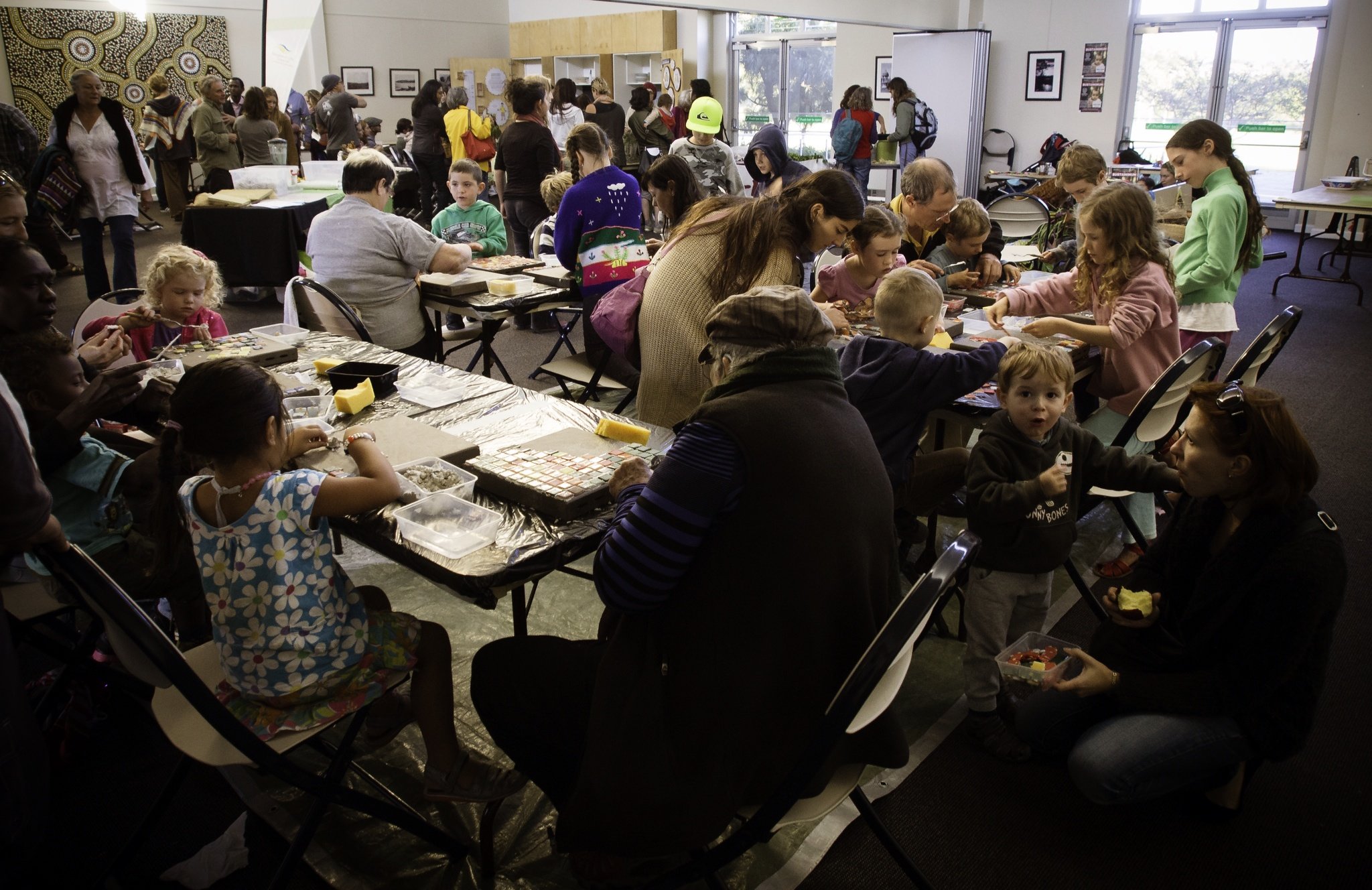 (left) Sydney's collaborative economy maven, Annette Loudon, led a conversation about Sydney and Illawarra LETS (Local Exchange and Trading System), a community-based cashless trading system, and about other collaborative economy initiatives.
(right) A Permaculture Sydney East workshop.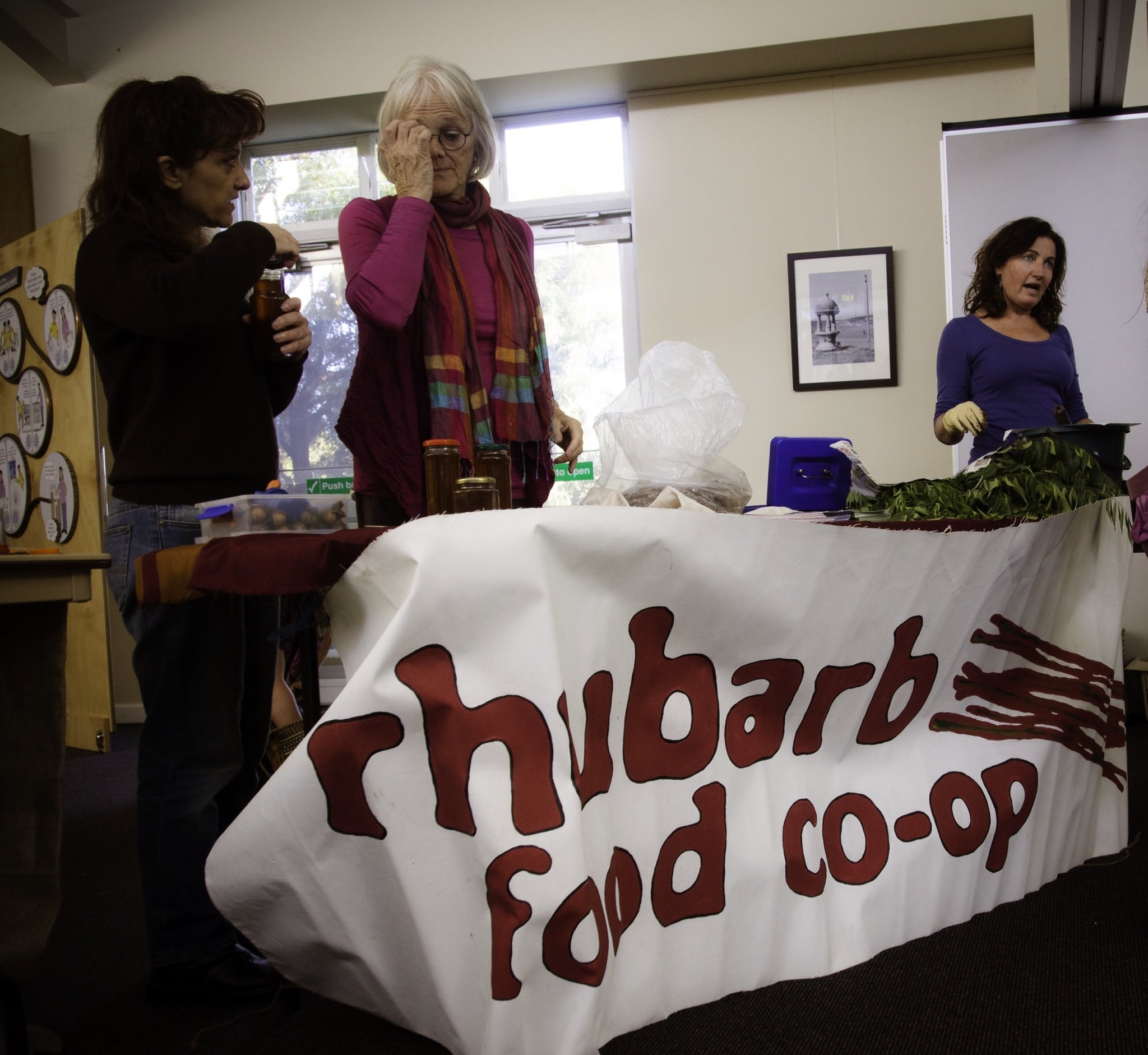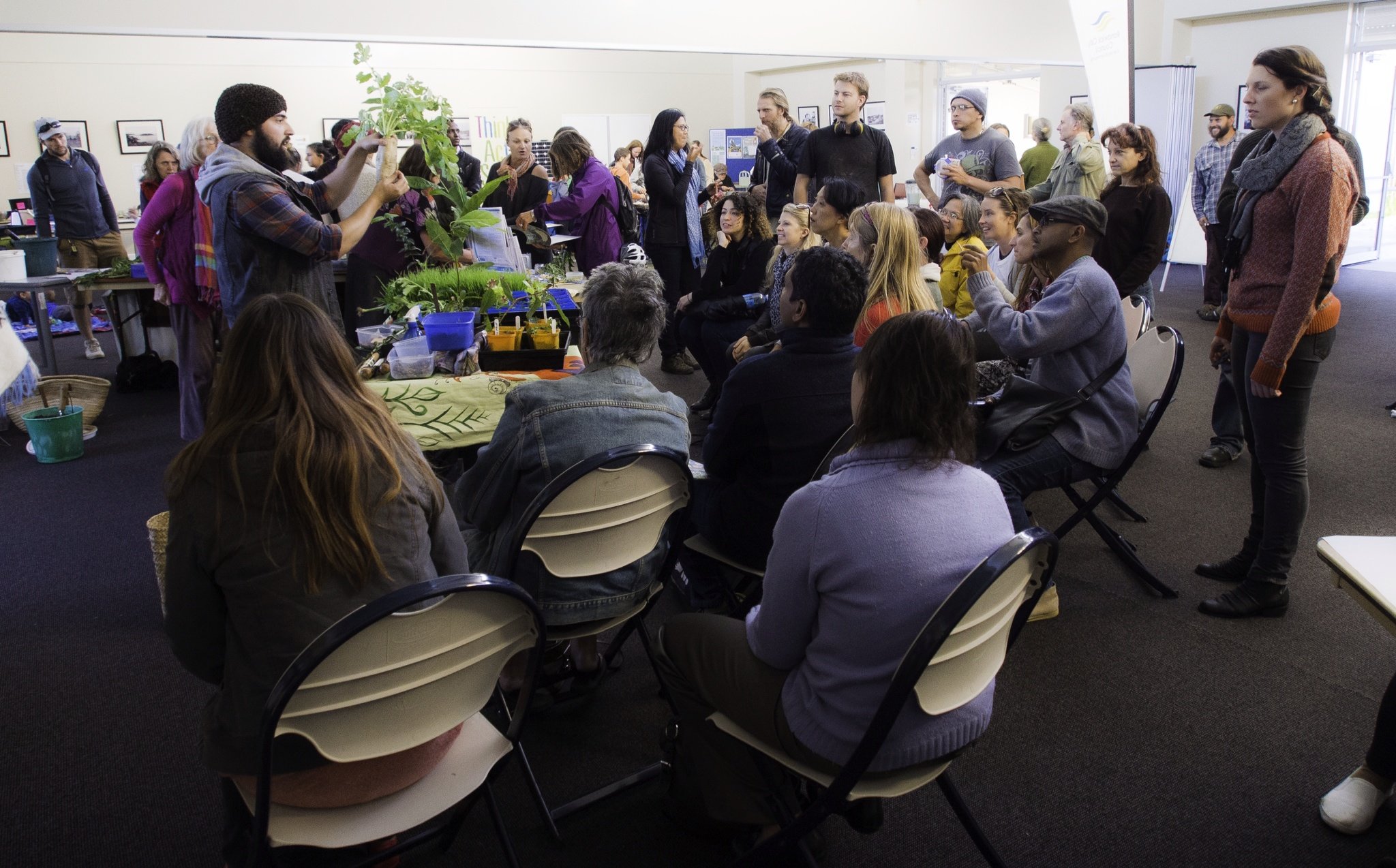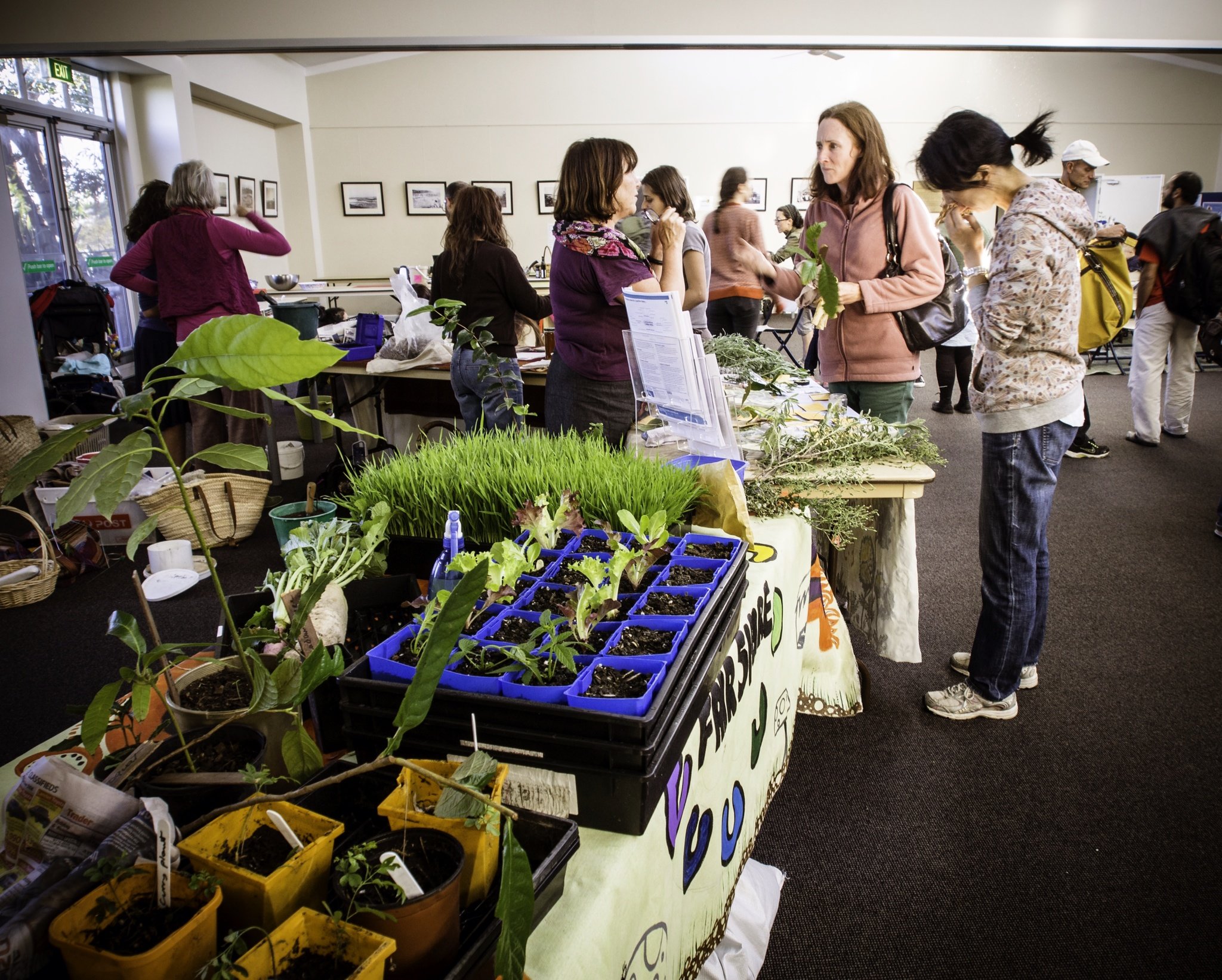 Led by Daniel, Permaculture Sydney East's workshop about plants attracted an interested crowd.
The crew from Permaculture Sydney East, the regional community-based permaculture association, was kept busy at their table.
(below) The mosaic activity attracted lots of children... and adults, too.
Annie demonstrates how to make herb and vegetable-seed-impregnated paper.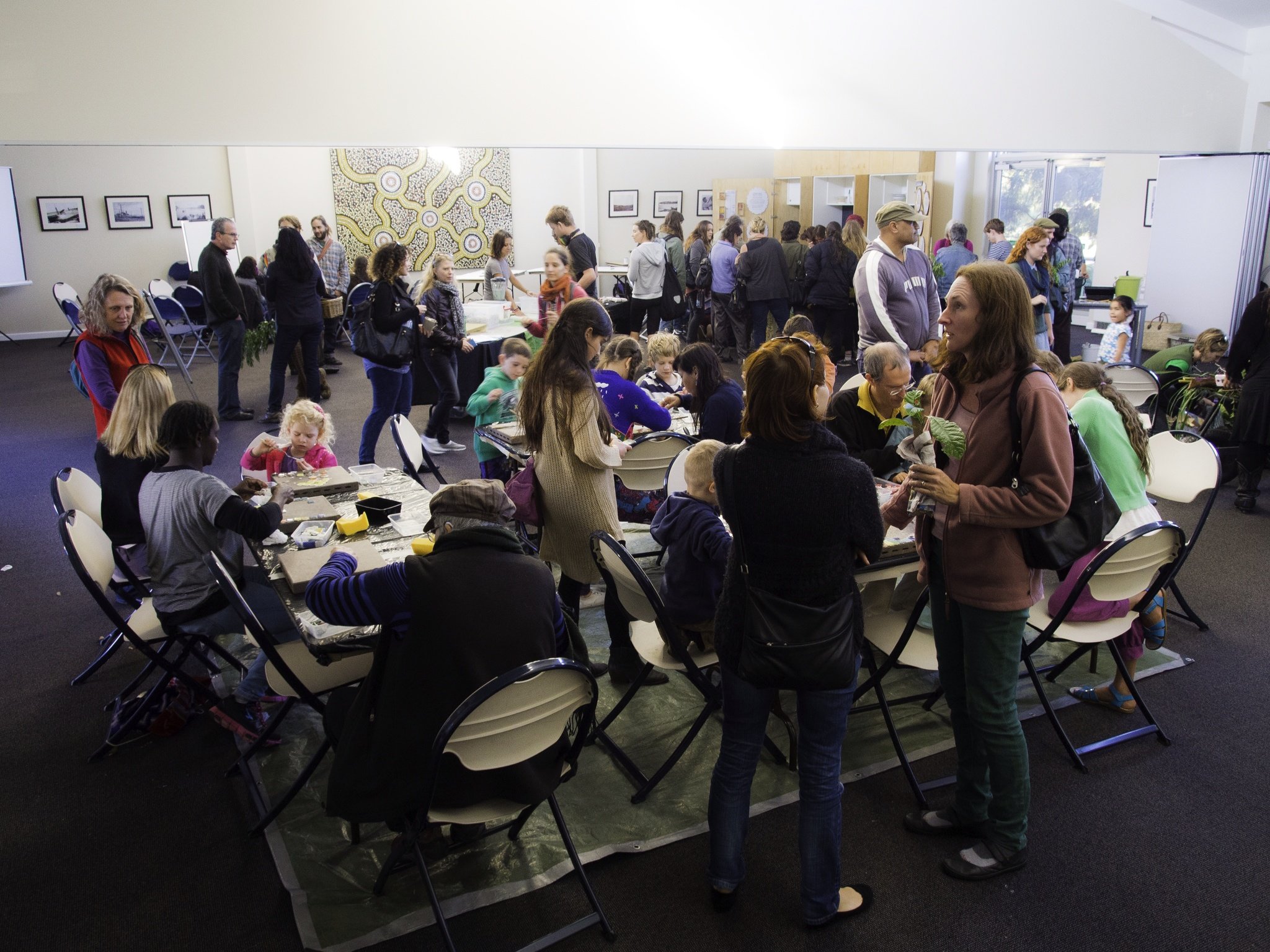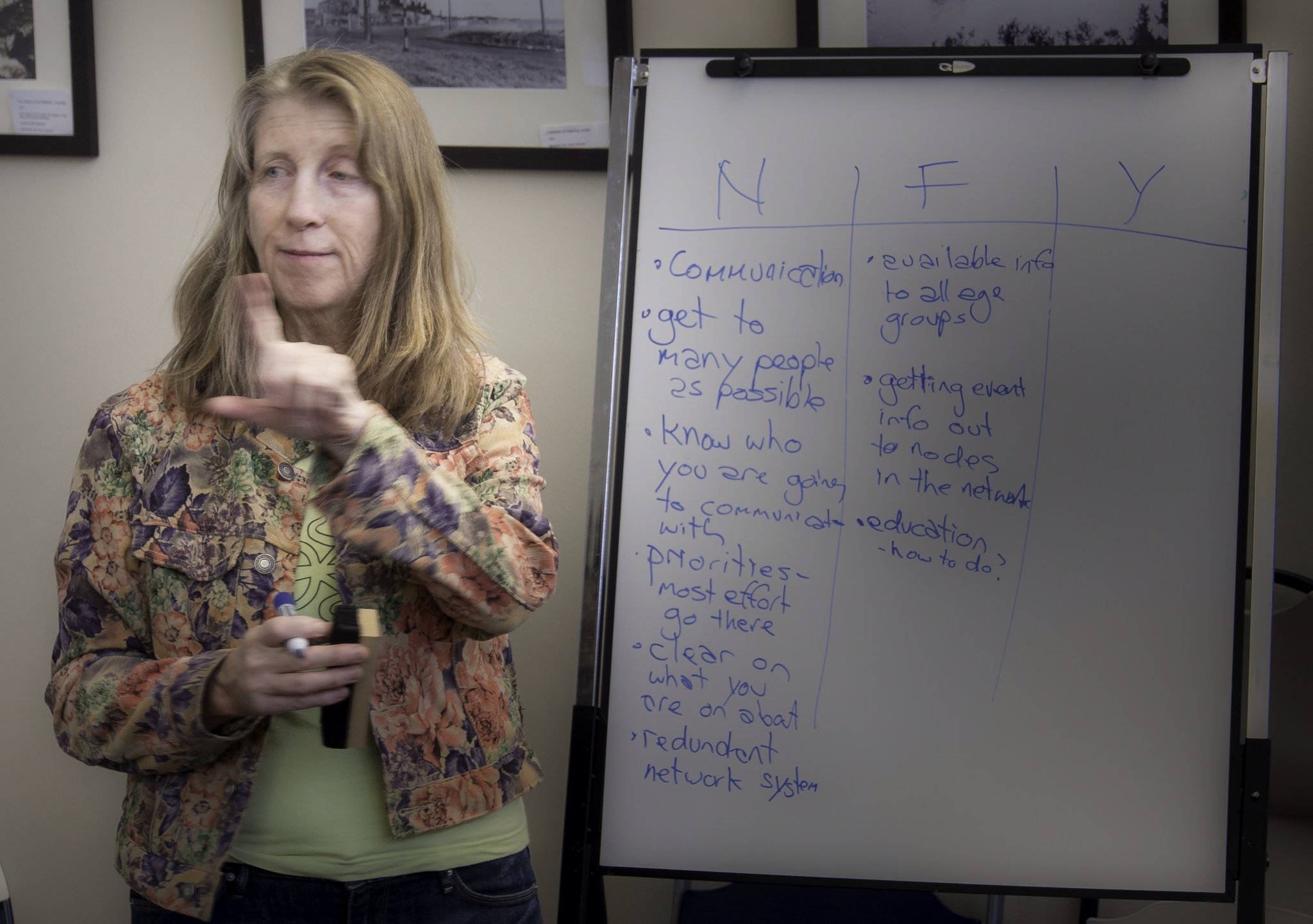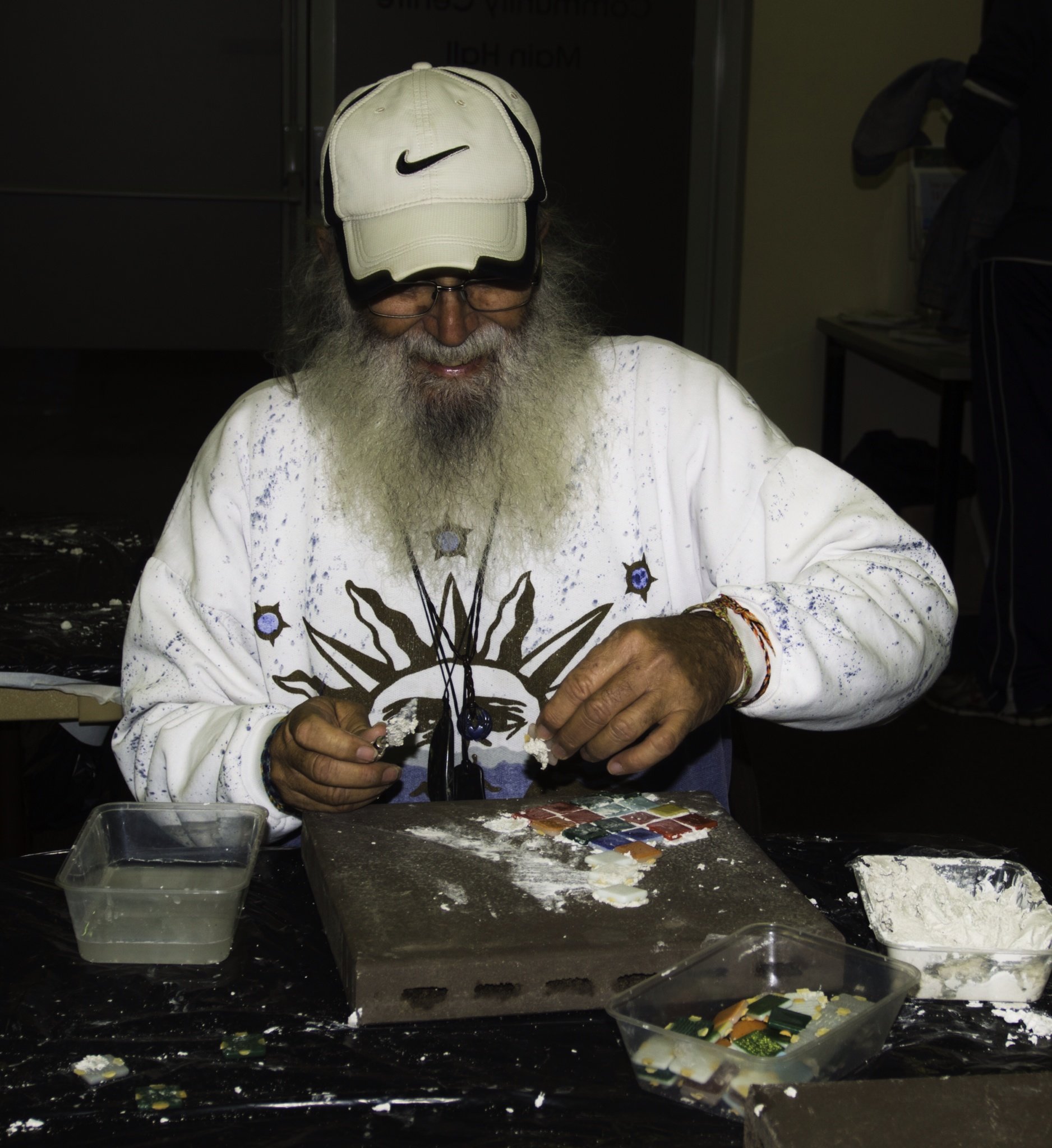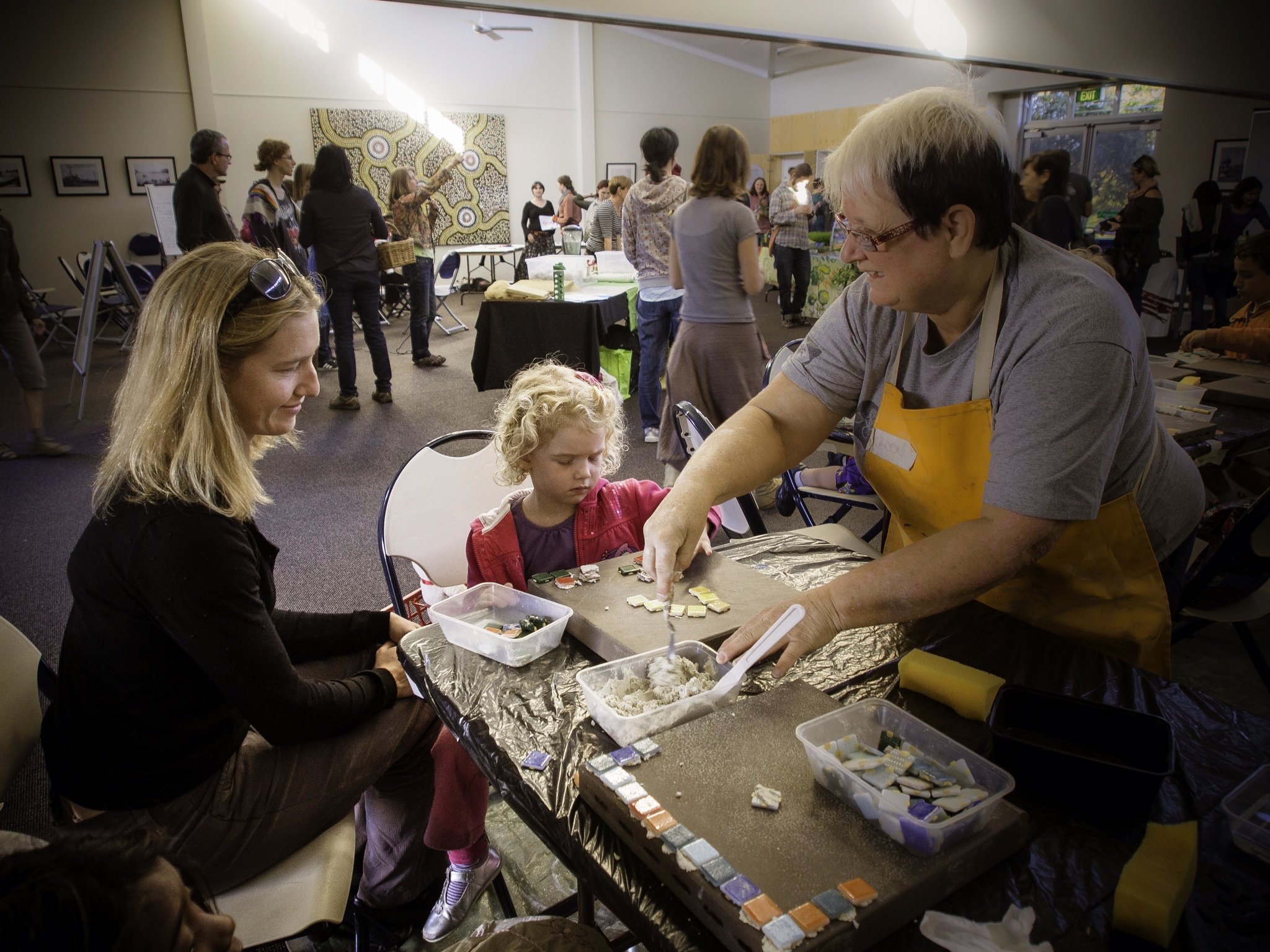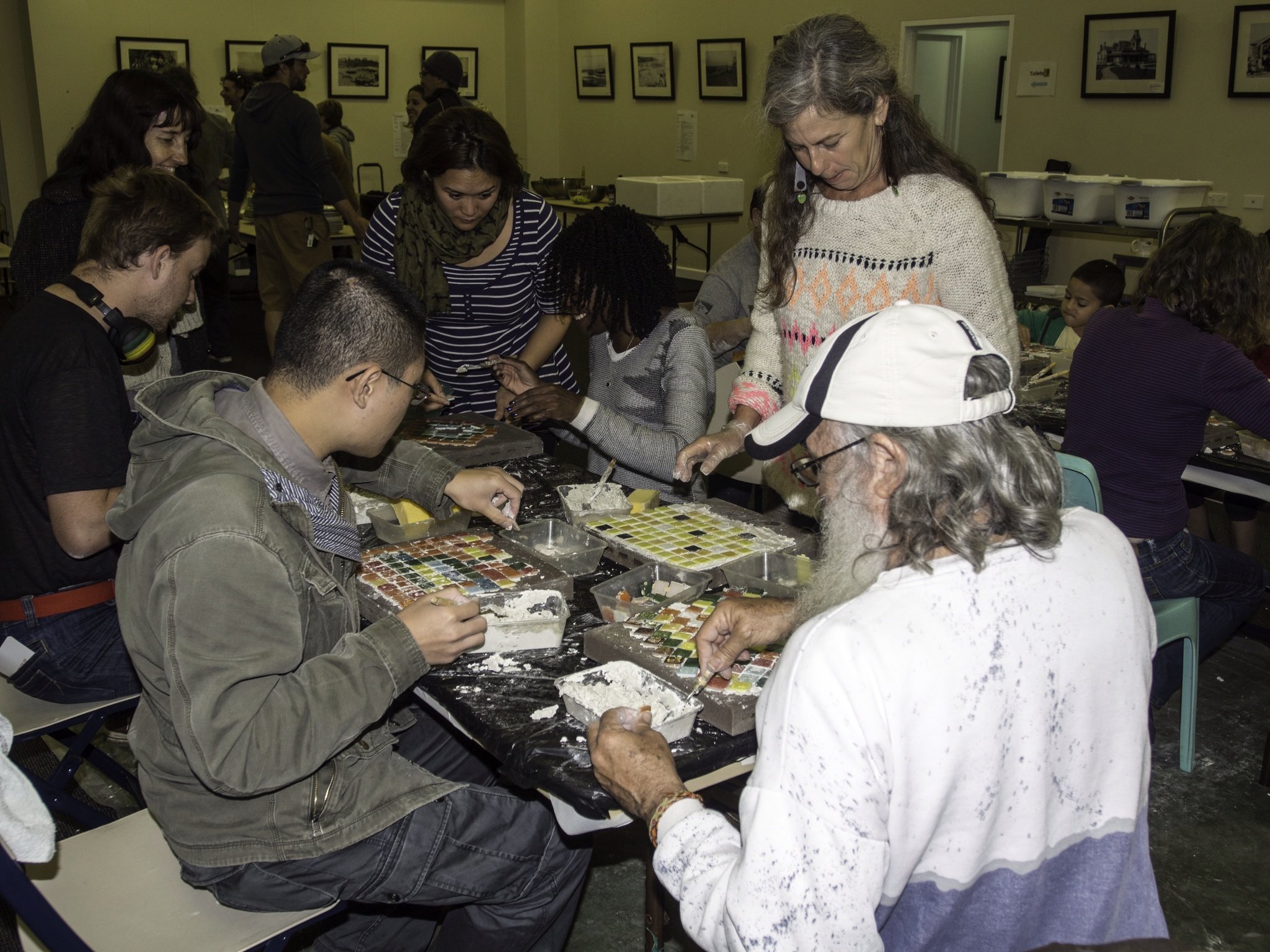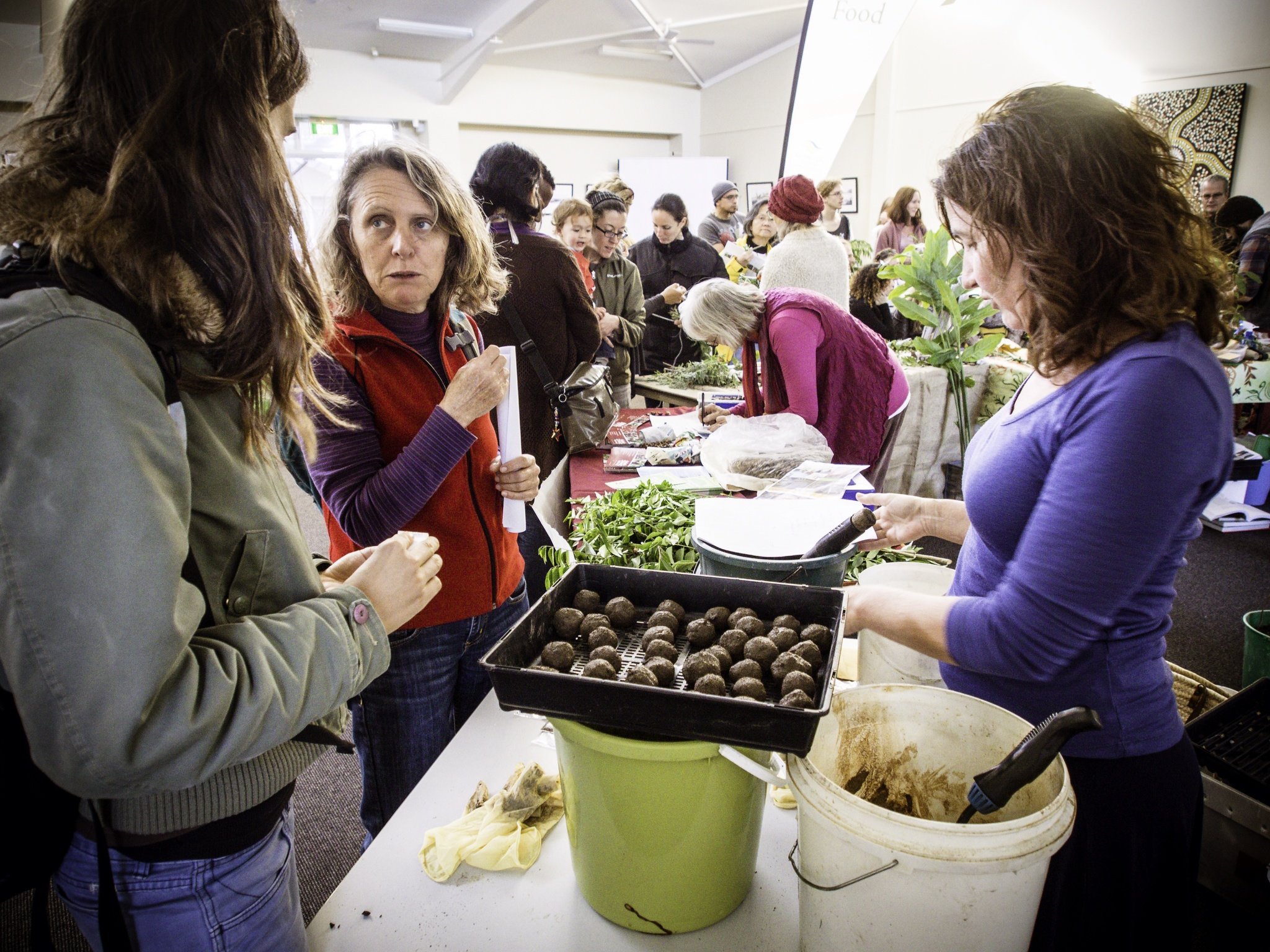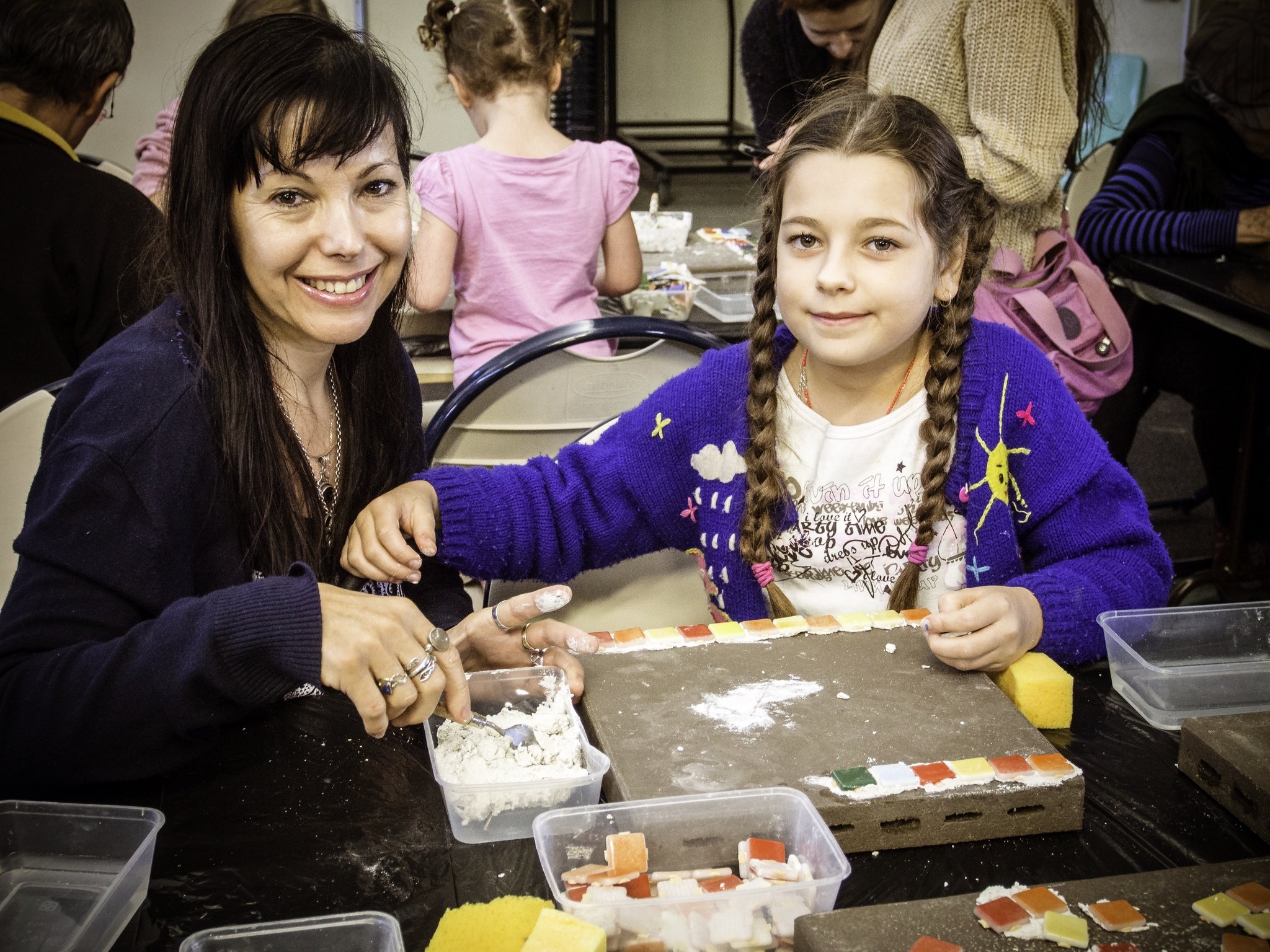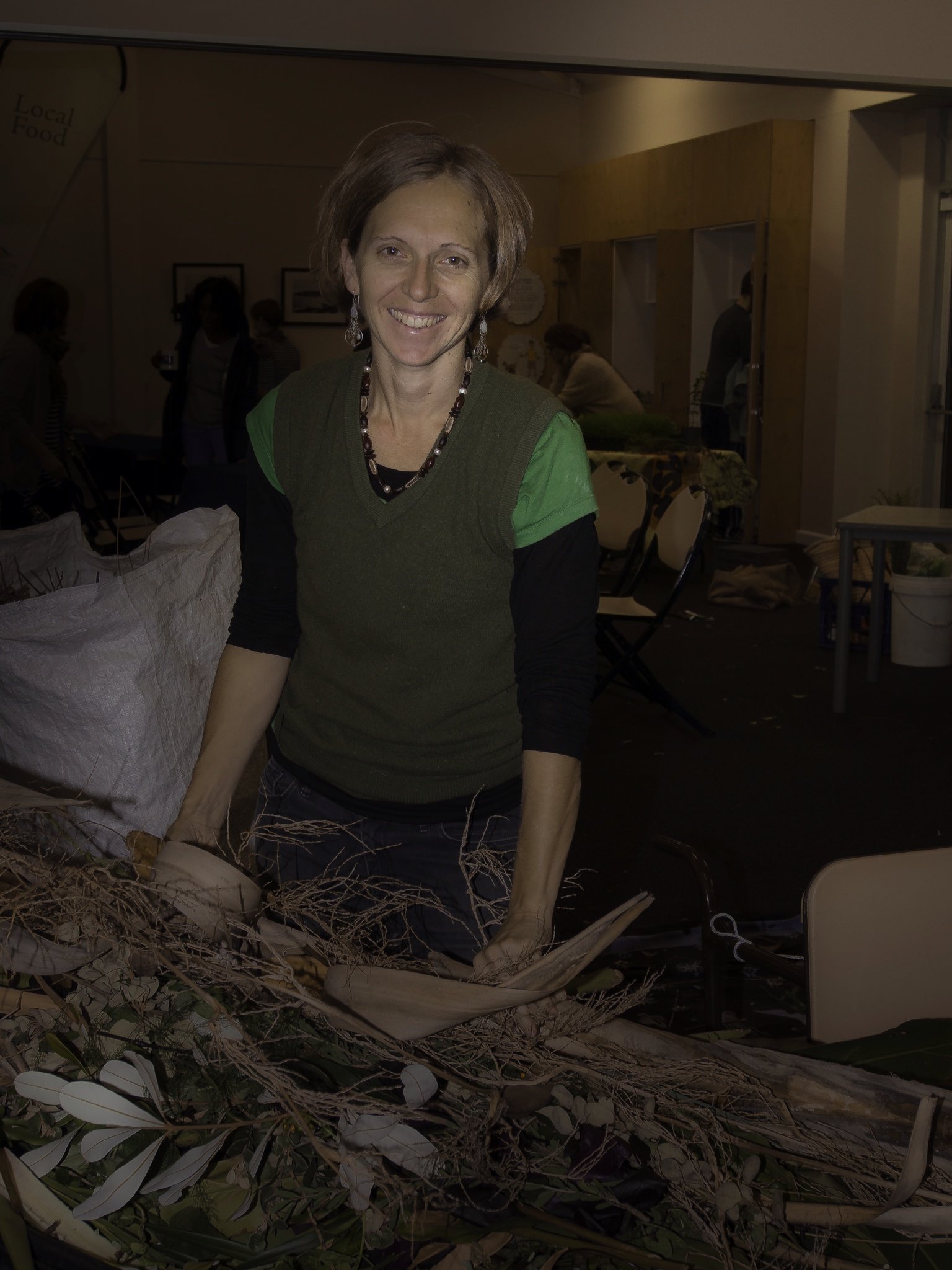 (below) The evening meal of kebabs was a DIY, participatory activity that brought conviviality to food preparation, where it belongs.
Women with plants... a section of galangal tuber for use in cooking or for planting (left) and a bundle of the herb, sage (right).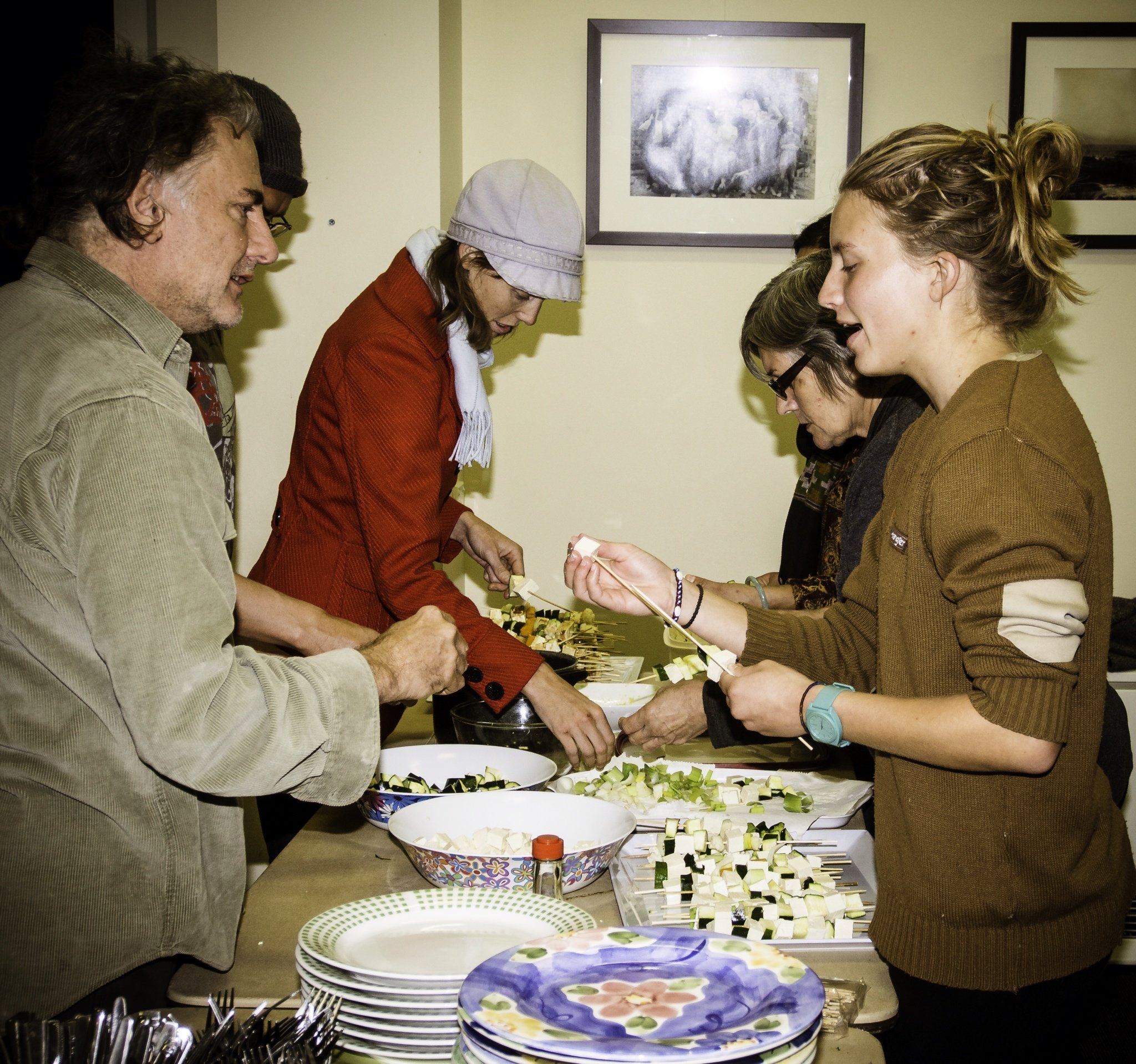 Rhubarb Food Co-operative participated in International Permaculture Day 2014. The Co-op is a member-owned organisation supplying affordable organic food. Members meet weekly at Barrett House in Randwick where they pack and take home their week's order, always a social activity.
Rhubarb, like other food co-ops, supports the livelihoods of Australian farmers by purchasing what they grow and supplying it to Co-op members in the Eastern Suburbs. More about Rhubarb:
http://rhubarbfood.org.au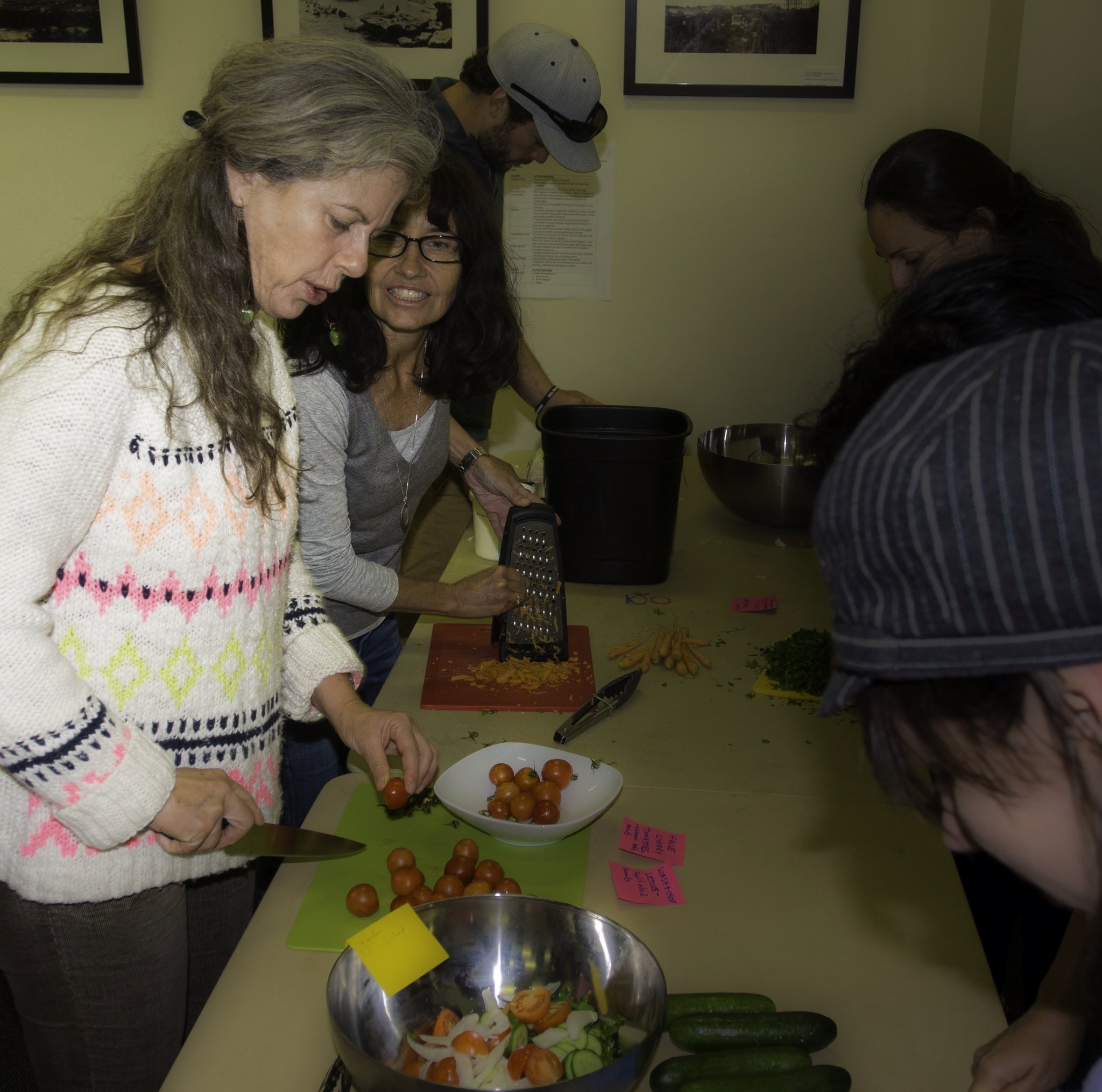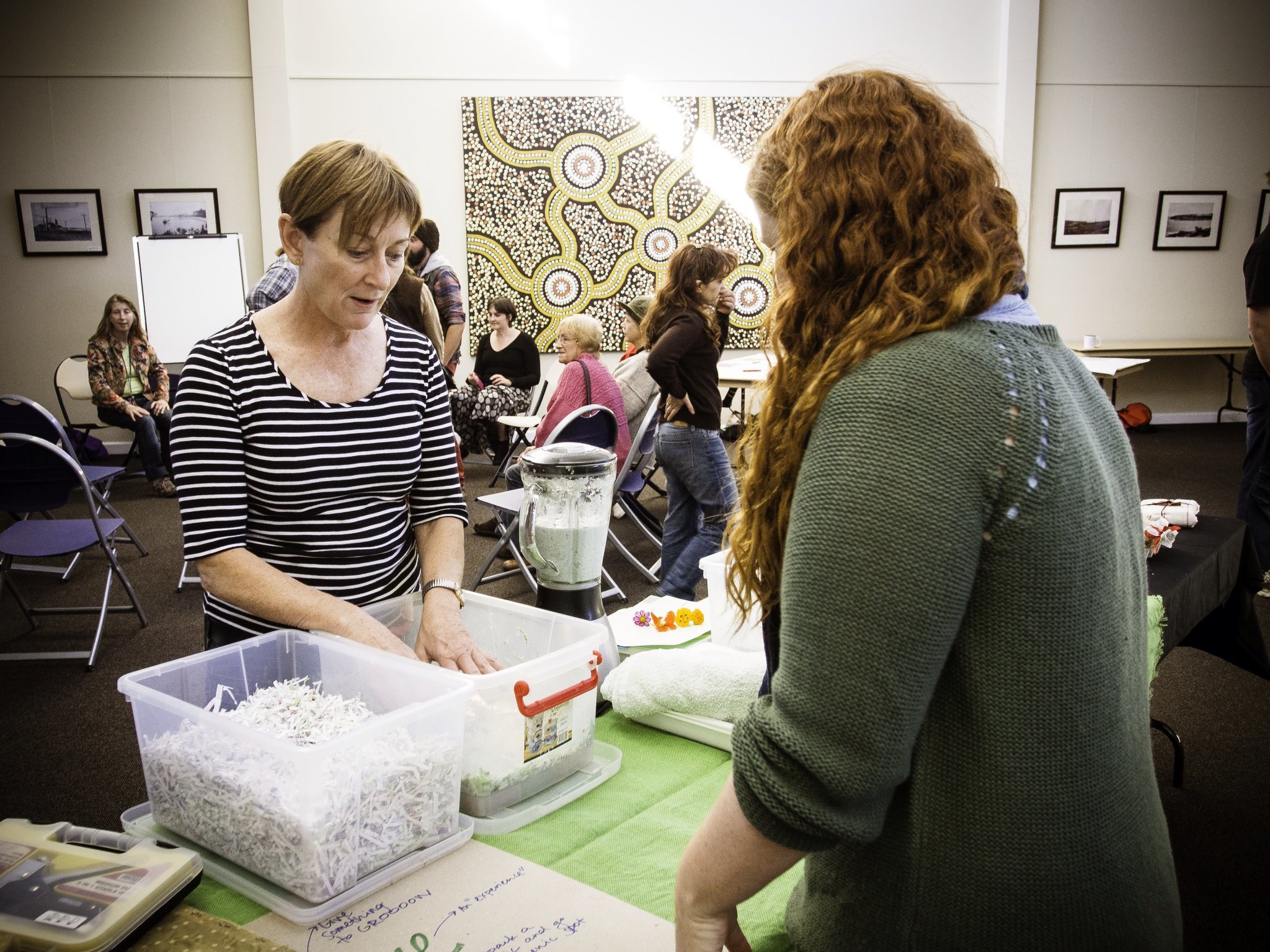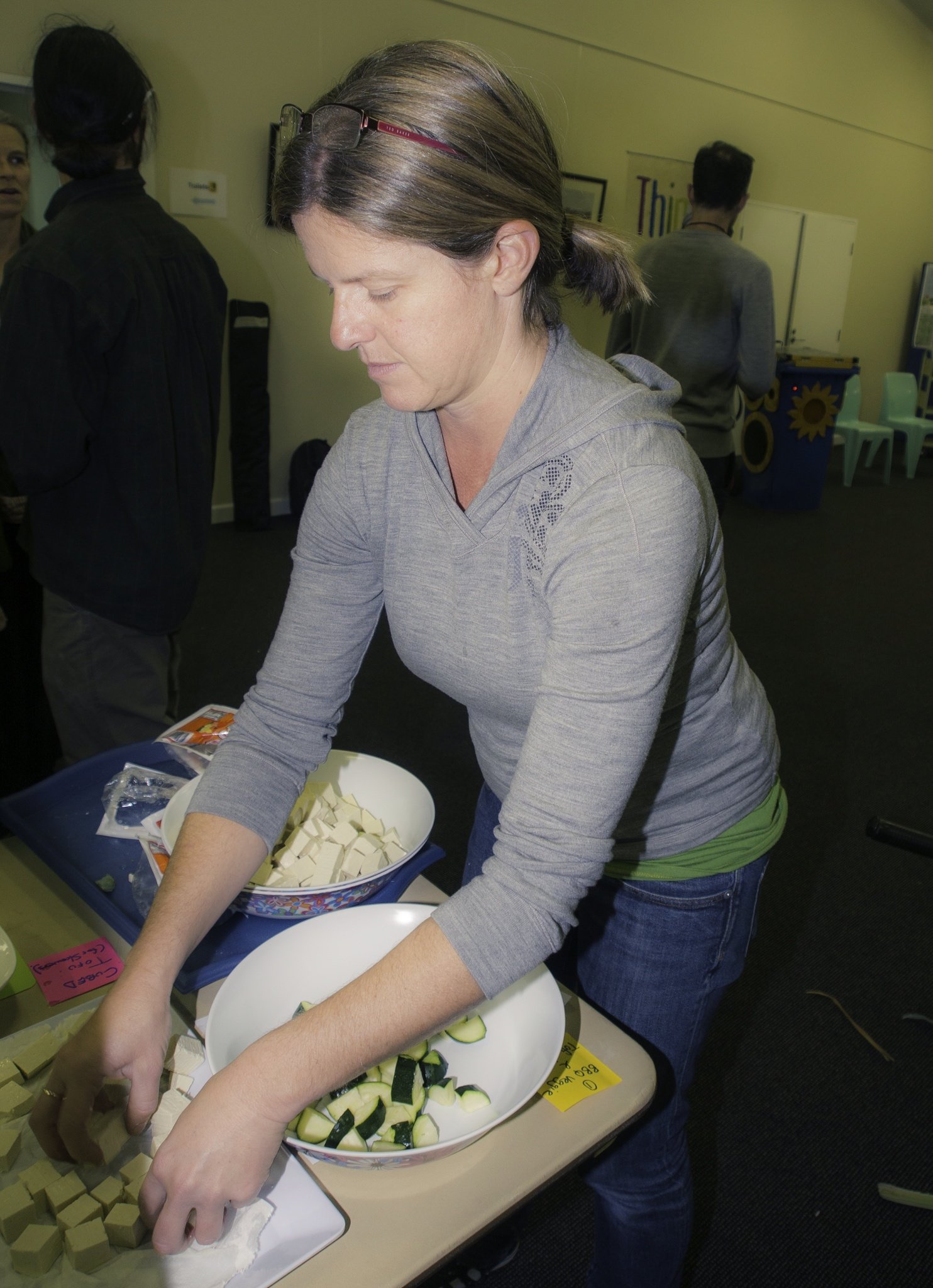 Conversations were part of International Permaculture Day 2014. At right, council sustainability educator, Fiona Campbell, led a conversation about local groups and networks using permaculture's needs/functions/yields thinking tool.
Rebecca leads people through the process of making seed bombs. The bombs, that's those round, brown balls in the tray, consist of a clay matrix with herb and vegetable seeds in it. The bombs can be thrown onto unused land so as to put it to productive use by feeding people.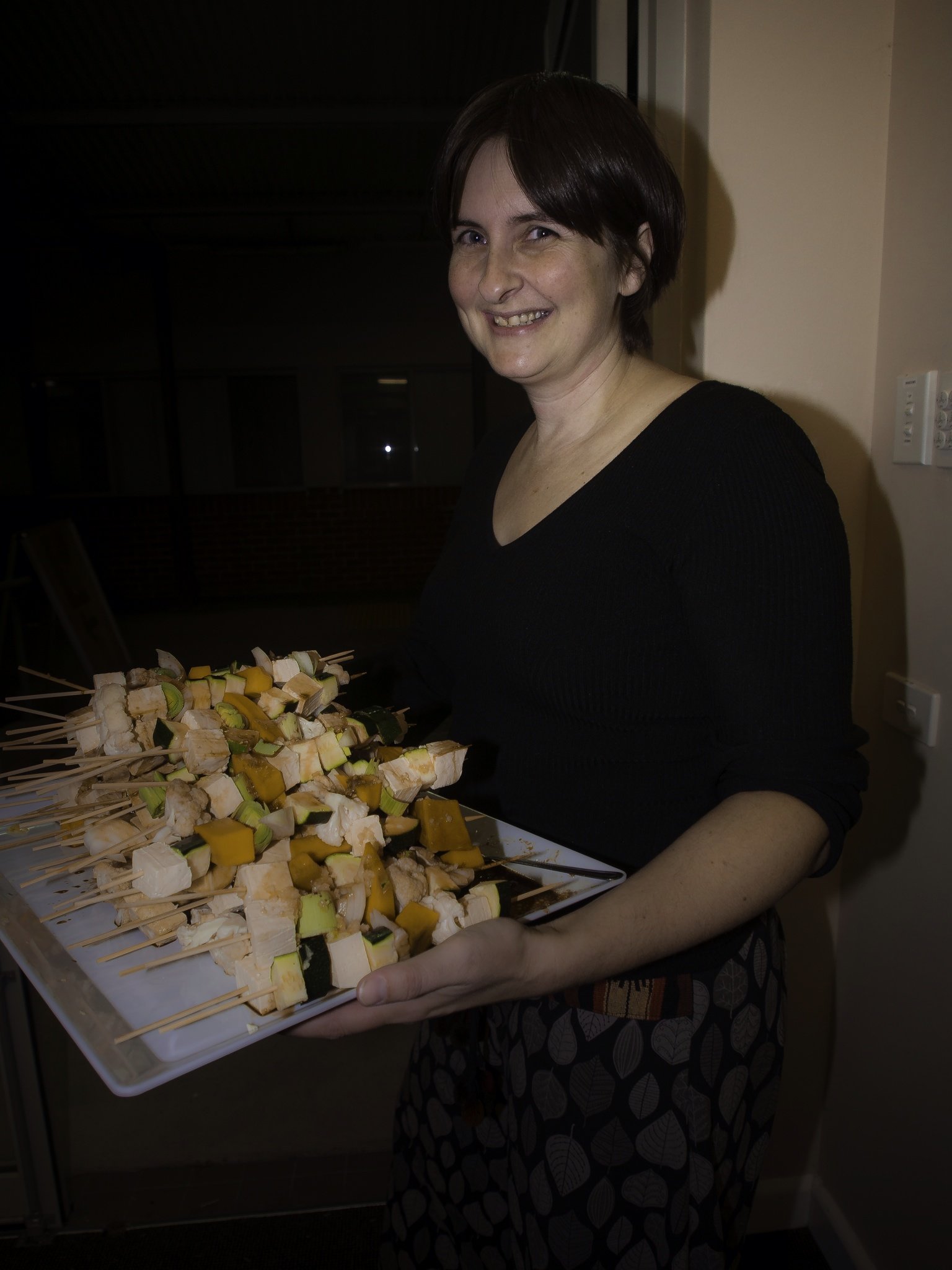 (below) Annette Loudon on her way to the barbecue with a tray load of tasty kebabs.
(right) Event organiser, Tina Dimetriou from The Event Organiser, decided she too should participate in food preparation for the evening meal.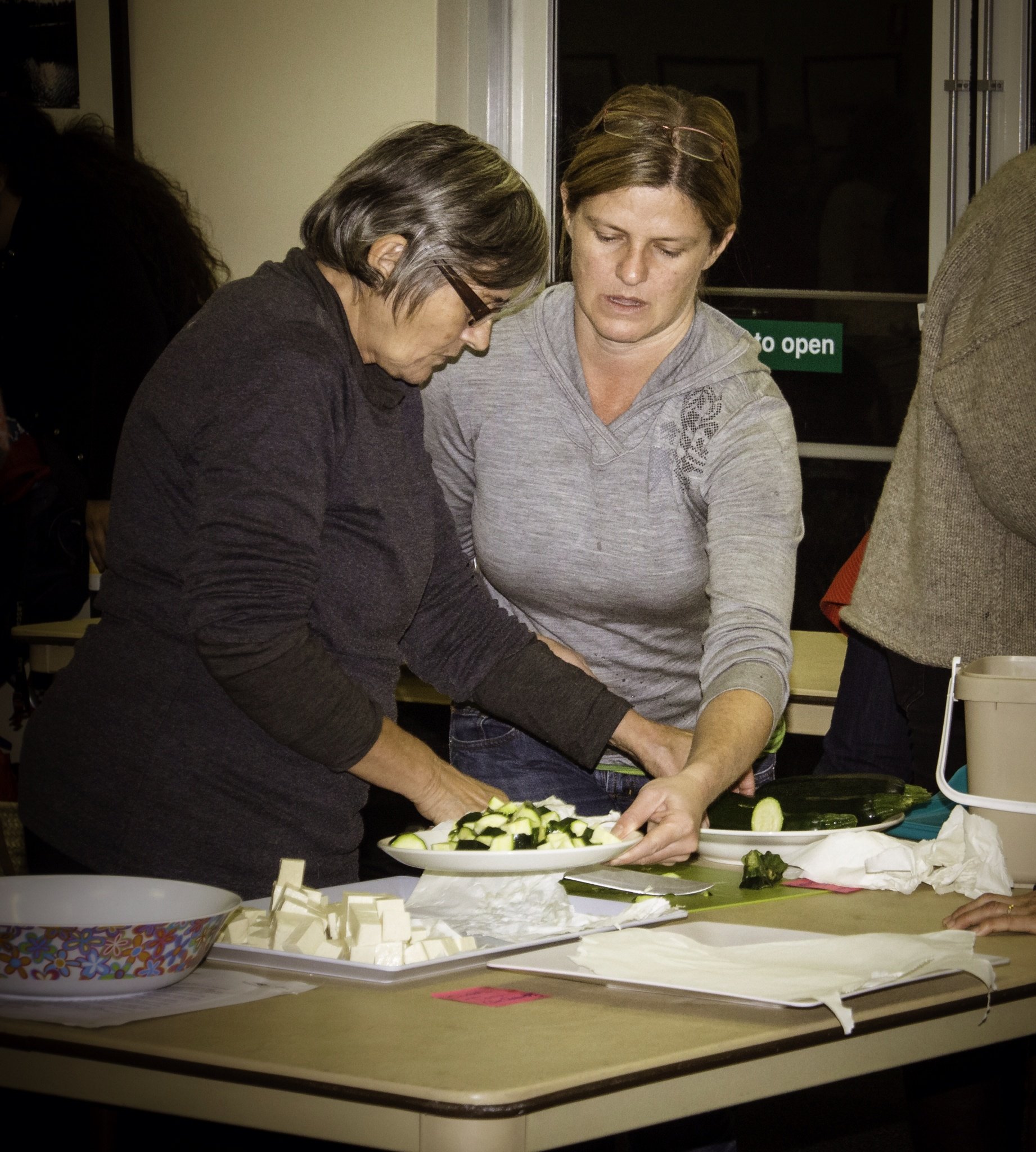 INTERNATIONAL PERMACULTURE DAY celebrates the people and projects making use of the permaculture design system. These photos are of the event at Randwick Council's Randwick Sustainability Hub in Sydney's seaside Eastern Suburbs.
The Randwick event, which took place on 4 May, consisted of workshops followed by participants sharing in the making of an evening meal, then a video — about bees — after which there was a discussion of ideas from the video.
A PLATFORM
Perhaps it's best to think of permaculture as a platform made up of a set of ethics and principles upon which people develop useful applications.
The design principles of permaculture — it's a combination word made up of 'permanent culture' — are applied to design, build and obtain human needs. Permaculture projects have focused on producing good food; the design of affordable, energy and water efficient homes; utilising renewable energies; as a type of whole farm planning; working effectively in groups, creating cashless, community-based economic systems for trading and exchange and much more.
Permaculture is an Australian invention develop initially in the late 1970s by David Holmgren (
http://holmgren.com.au
) and Bill Mollison in Tasmania. It has spread worldwide.
More on permaculture:
Permaculture Australia —
http://permacultureaustralia.org.au
PacificEdge —
http://pacific-edge.info
Community artist, Karen Weiss (right) led the mosaic tile making activity. The tiles will become mosaic stepping stones in the forest garden area of the Permaculture Interpretive Garden.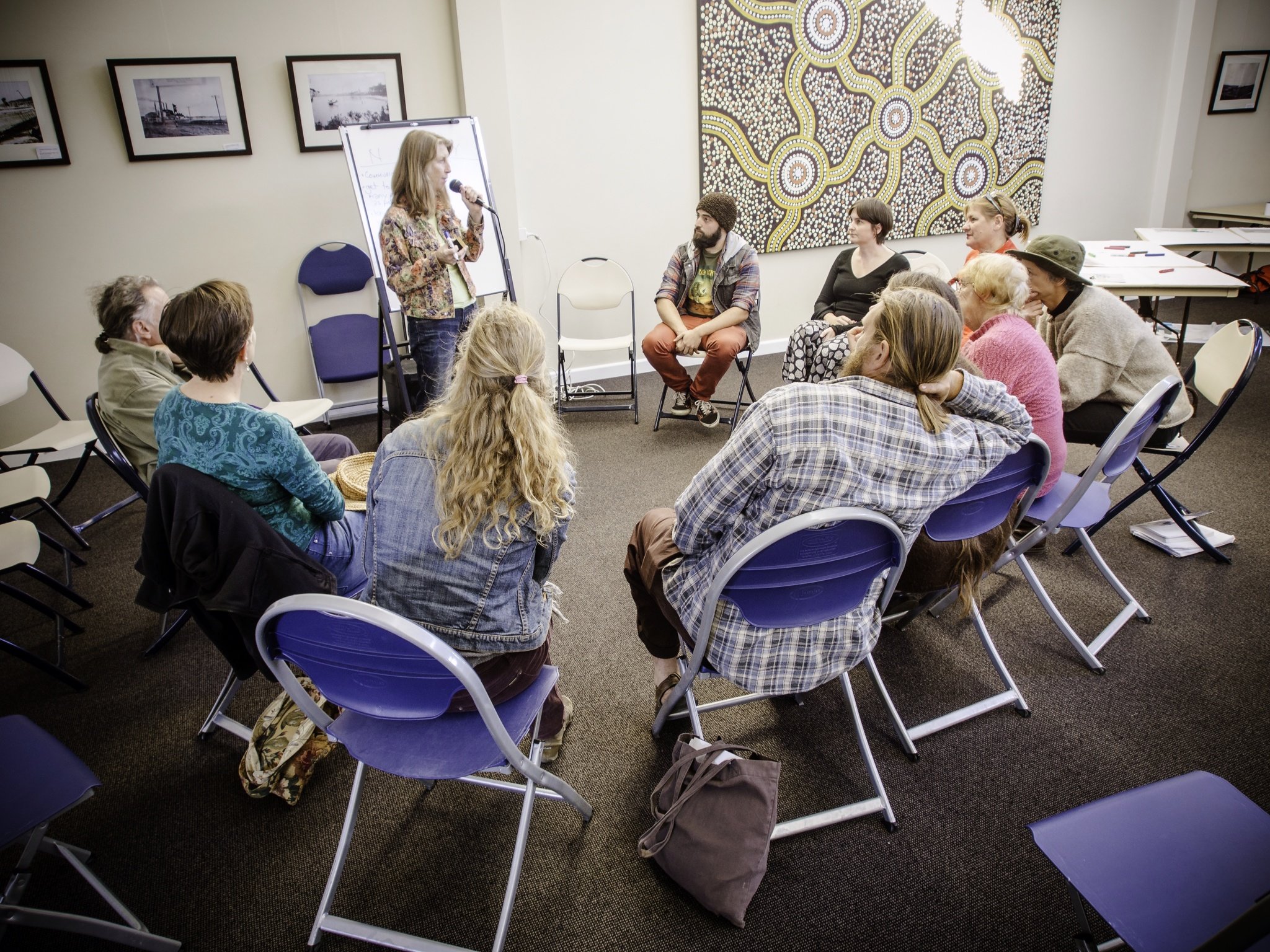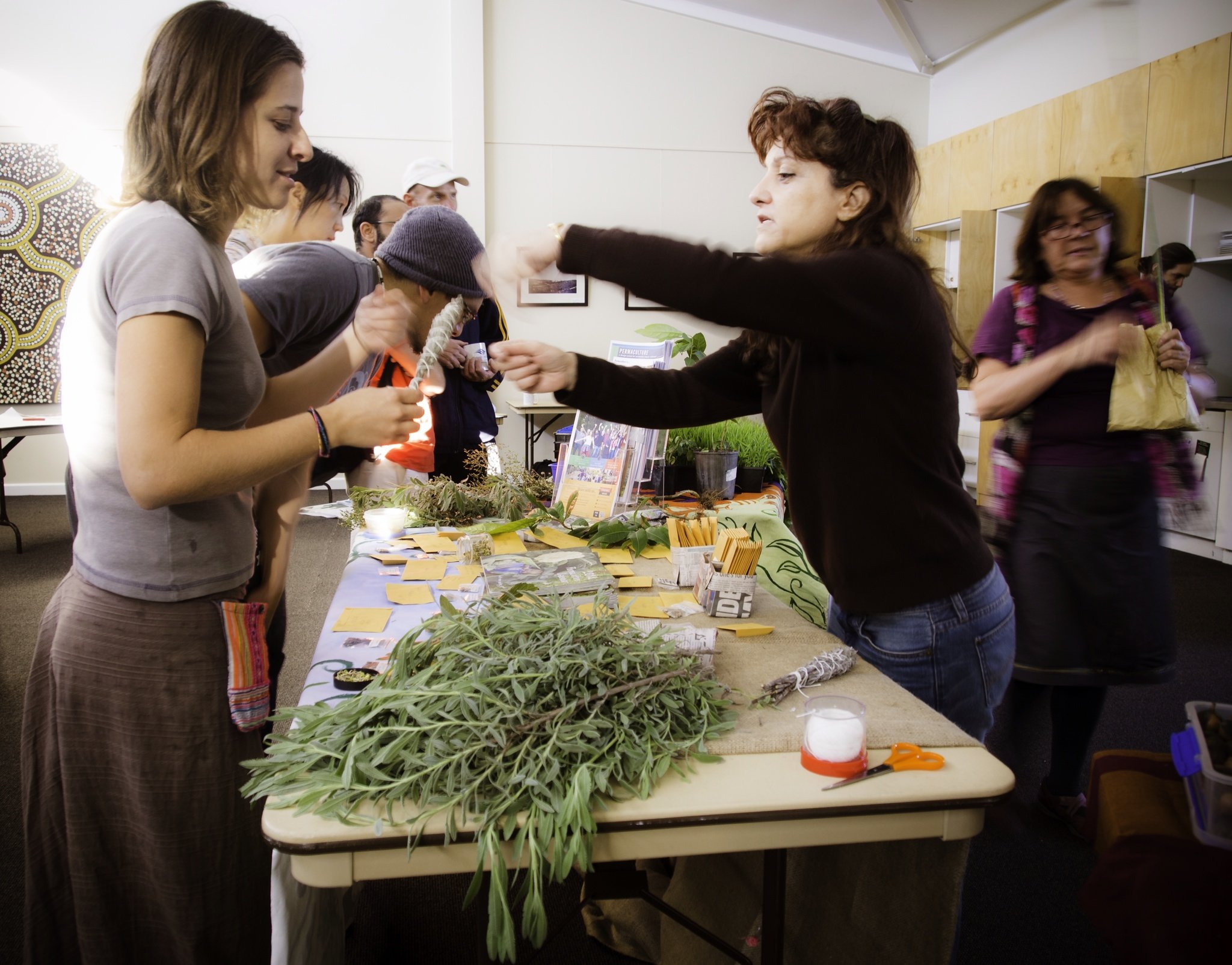 It's late autumn in Australia in May, and with a cold wind from the south blowing strongly through the adjacent Permaculture Interpretive Garden, International Permaculture Day 2014 was held mainly inside, with only garden tours and the bushfood and edible plant forage event taking place outside.