www.communitygarden.org.au
Facebook:
https://www.facebook.com/australian.communitygarden?ref=ts&fref=ts
Sydney Community Garden Network:
https://www.facebook.com/sydney.communitygarden?ref=hl&ref_type=bookmark
Pinterest:
http://www.pinterest.com/austcomgardens/
PHOTOGRAPHS...
COVER PHOTO: Devonport Community Garden, Devonport, Tasmania.
FIRST PHOTO: A welcoming sign at Whites Creek Community Garden, Annandale, Sydney.
PHOTOS & text: Russ Grayson www.pacific-edge.info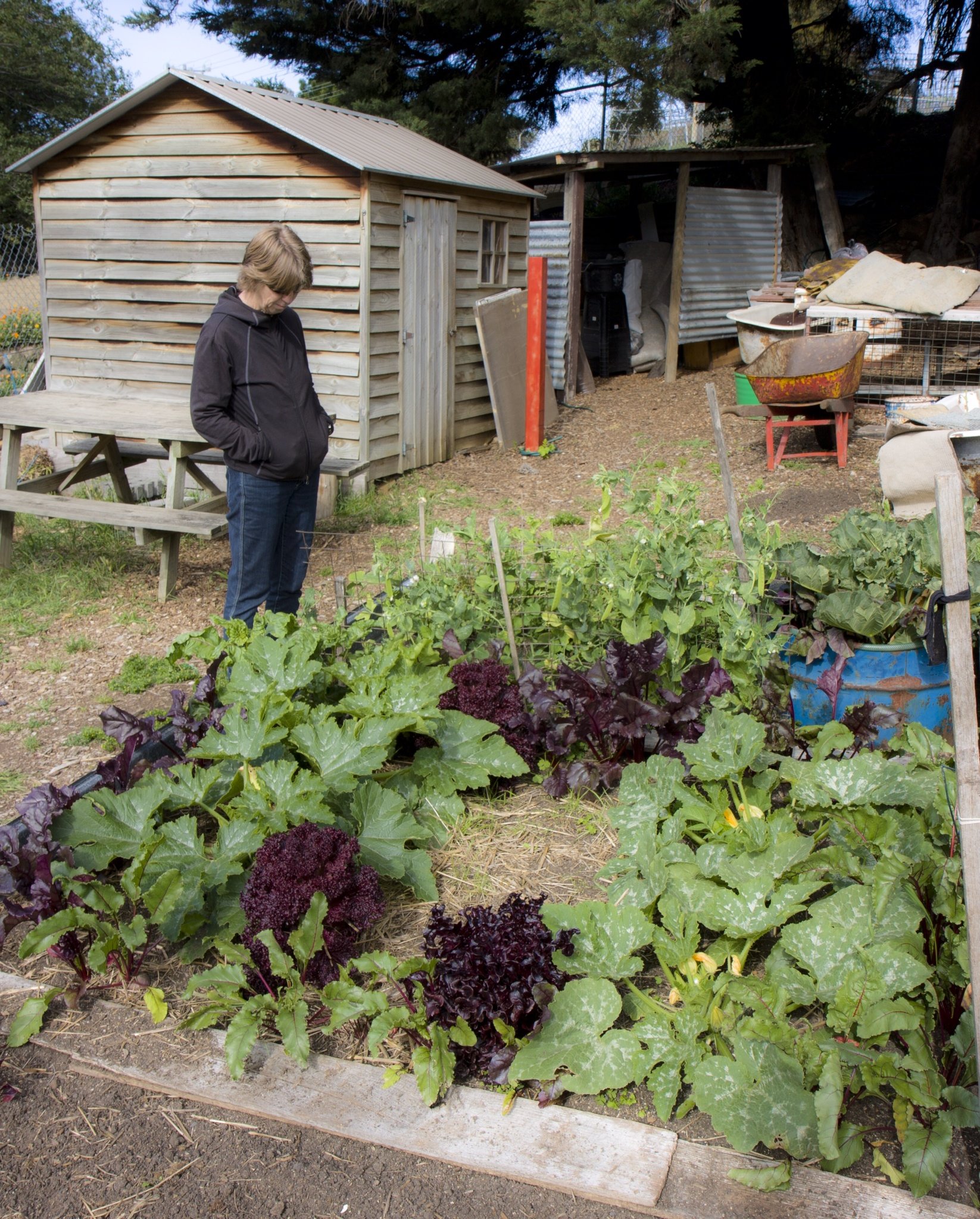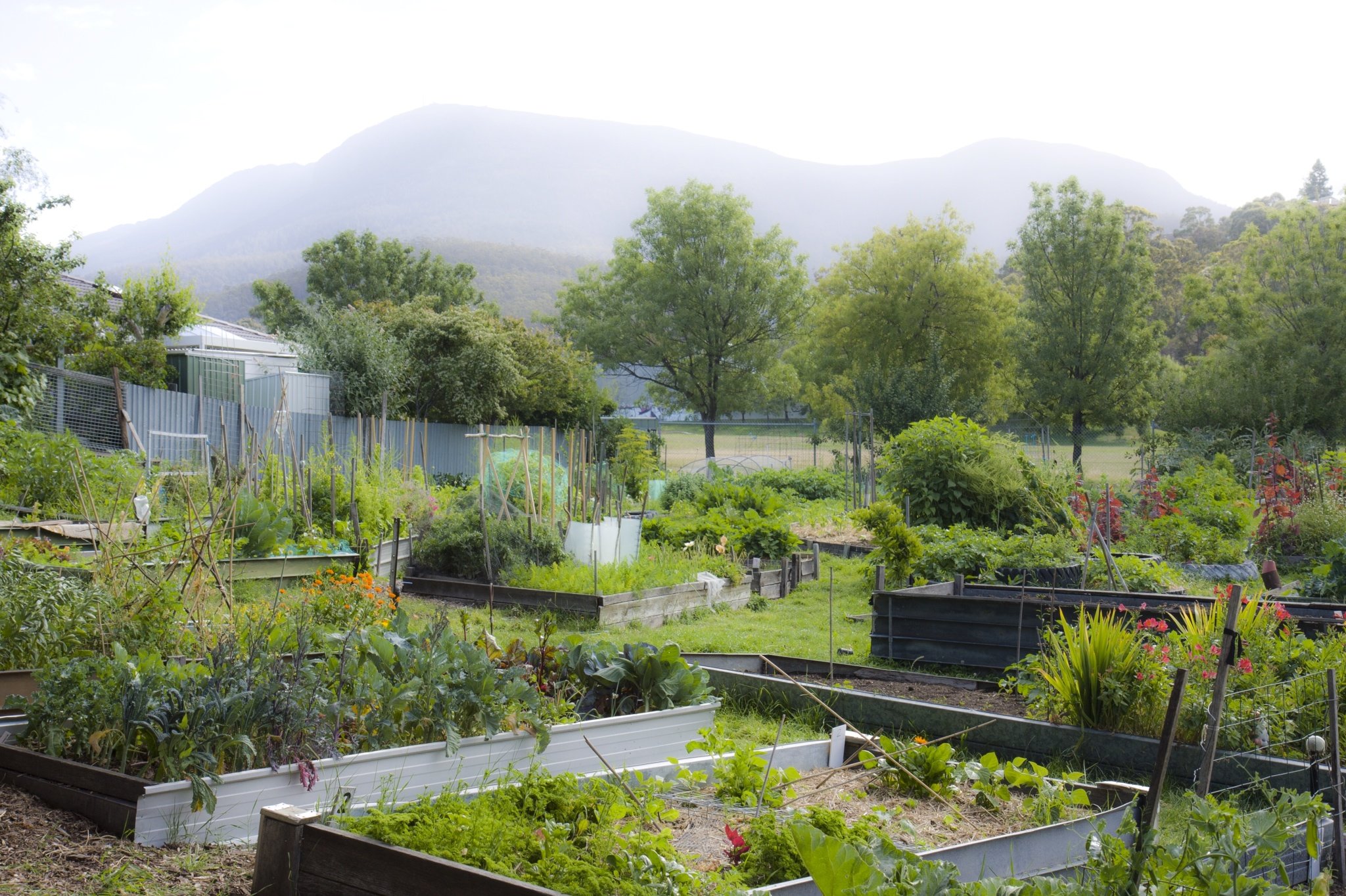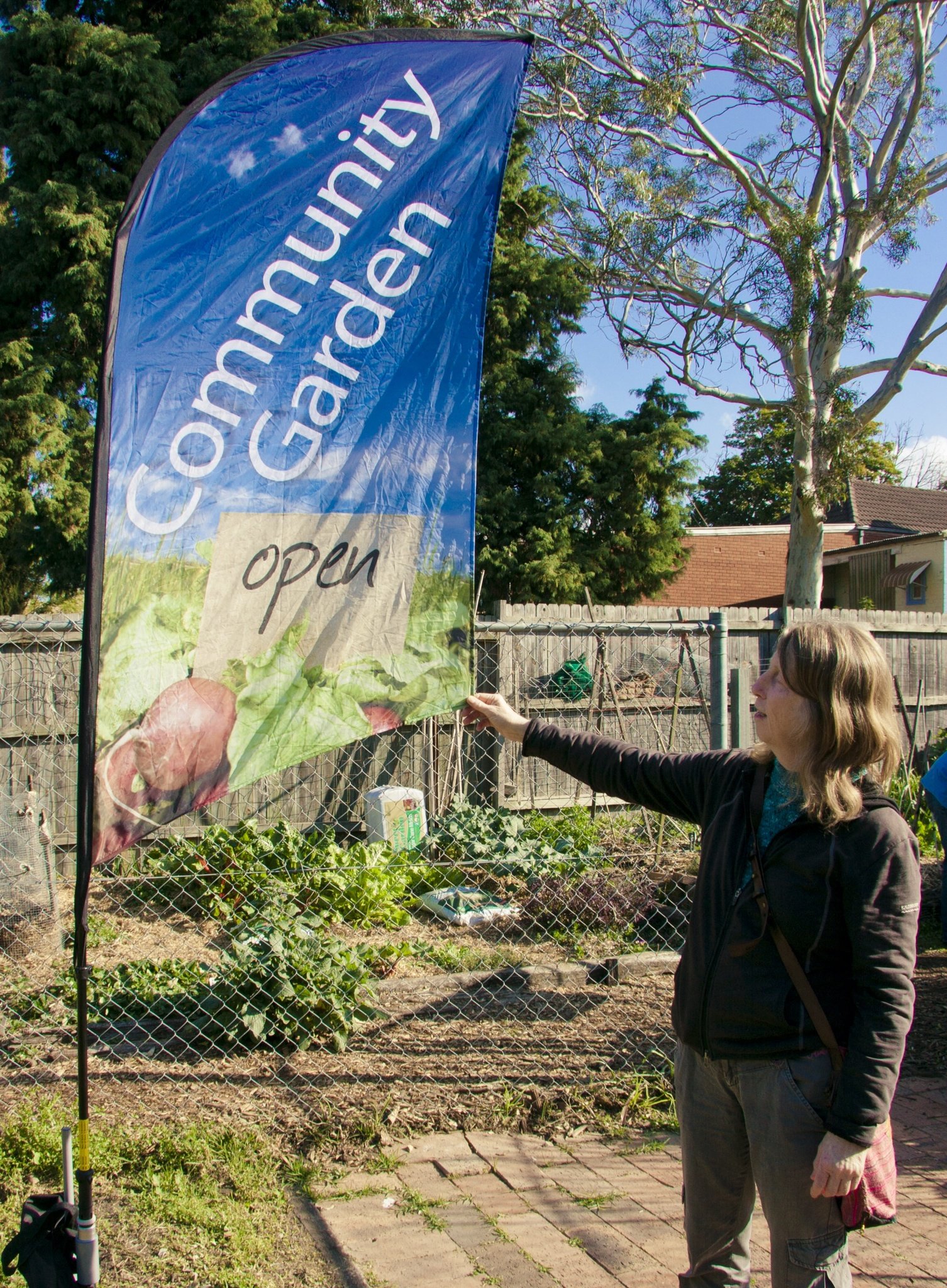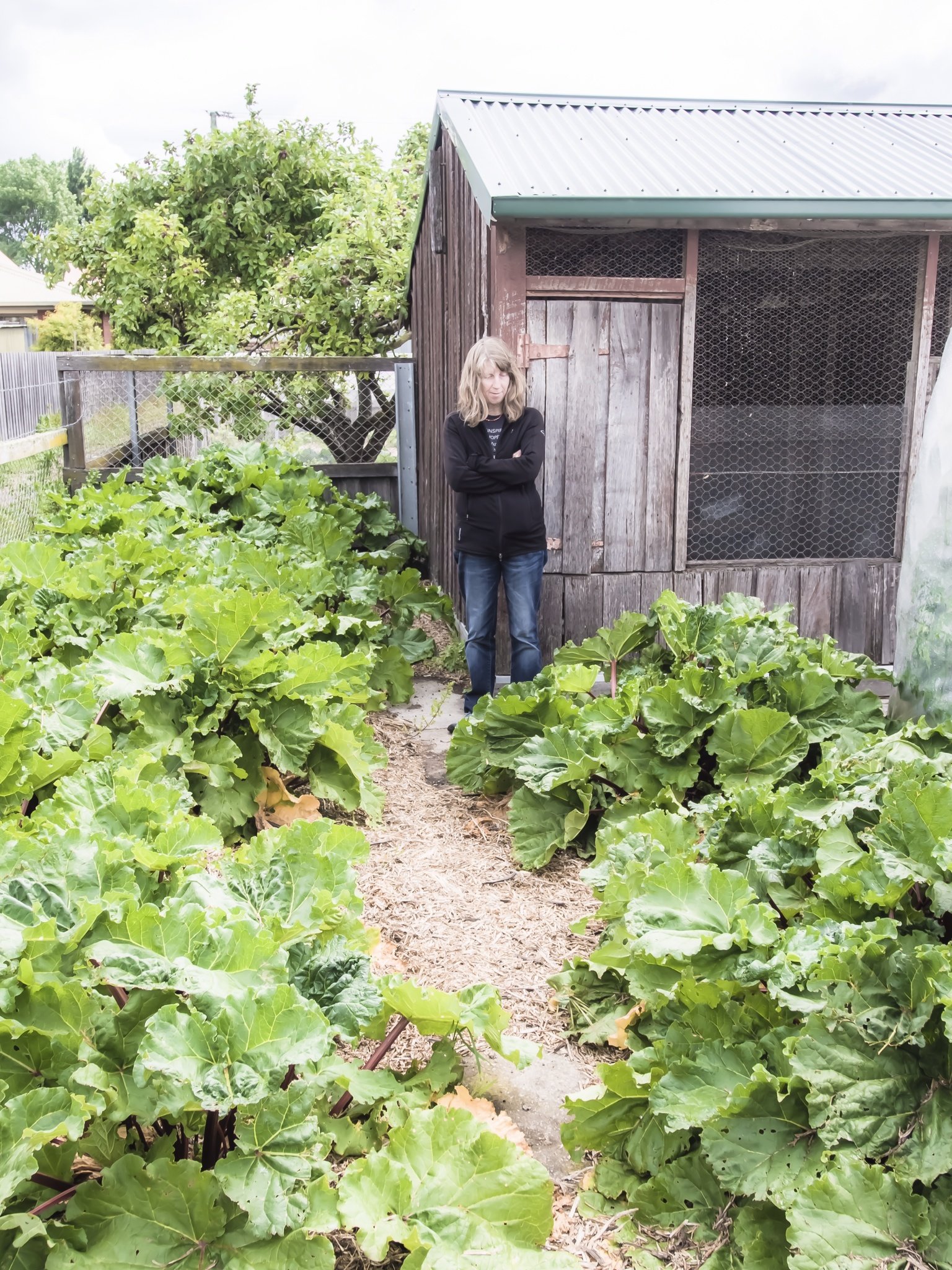 BELOW...
1. A woman finds solitude in the food forest at Angel Street Permaculture Garden in inner-urban Newtown, Sydney.
A food forest is a type of orchard designed in mimicry of the natural forest. Shade-loving, low-growing plants occupy the forest floor while root crops occupy the topsoil layer immediately below. Above, there's a vertical layer of shrubs and small trees, like the tamarillo or tree tomato with its tangy fruit, and the banana, while growing above the shrub layer is the tree canopy of taller fruit and nut trees.
2. The giant leaves of rhubarb frame a busy scene at James Street Reserve Community Garden in the inner-urban enclave of Redfern, Sydney.
The garden is small — occupying only half of a pocket park, however the community's idea of reclaiming what was a seldom-used, unpleasant patch of public open space has turned it into an agriculturally biodiverse patch where people grow a little of what they eat at the same time they grow those interpersonal connections that make our cities convivial places of opportunity.
3 and 4. James Street Reserve Community Garden, Redfern.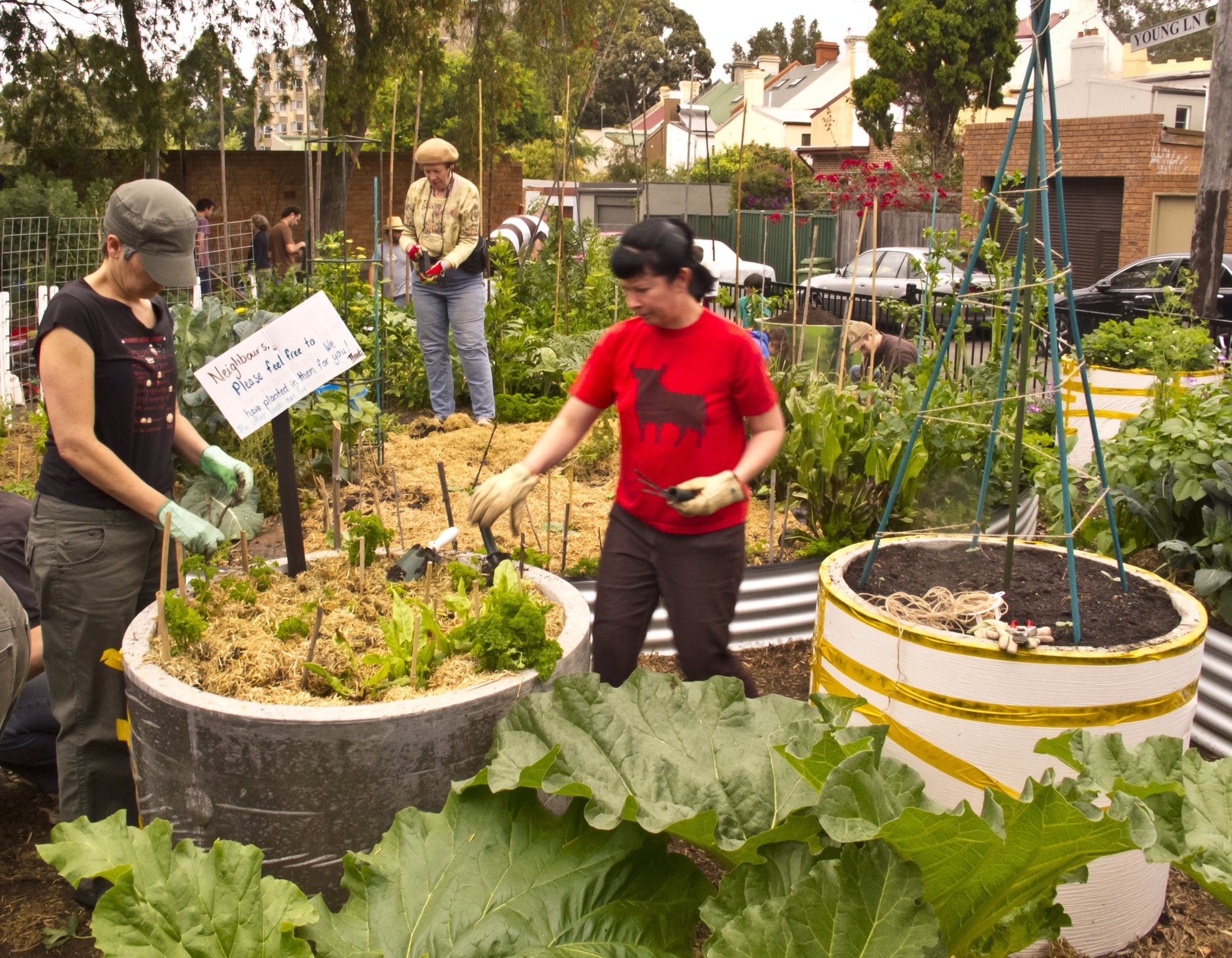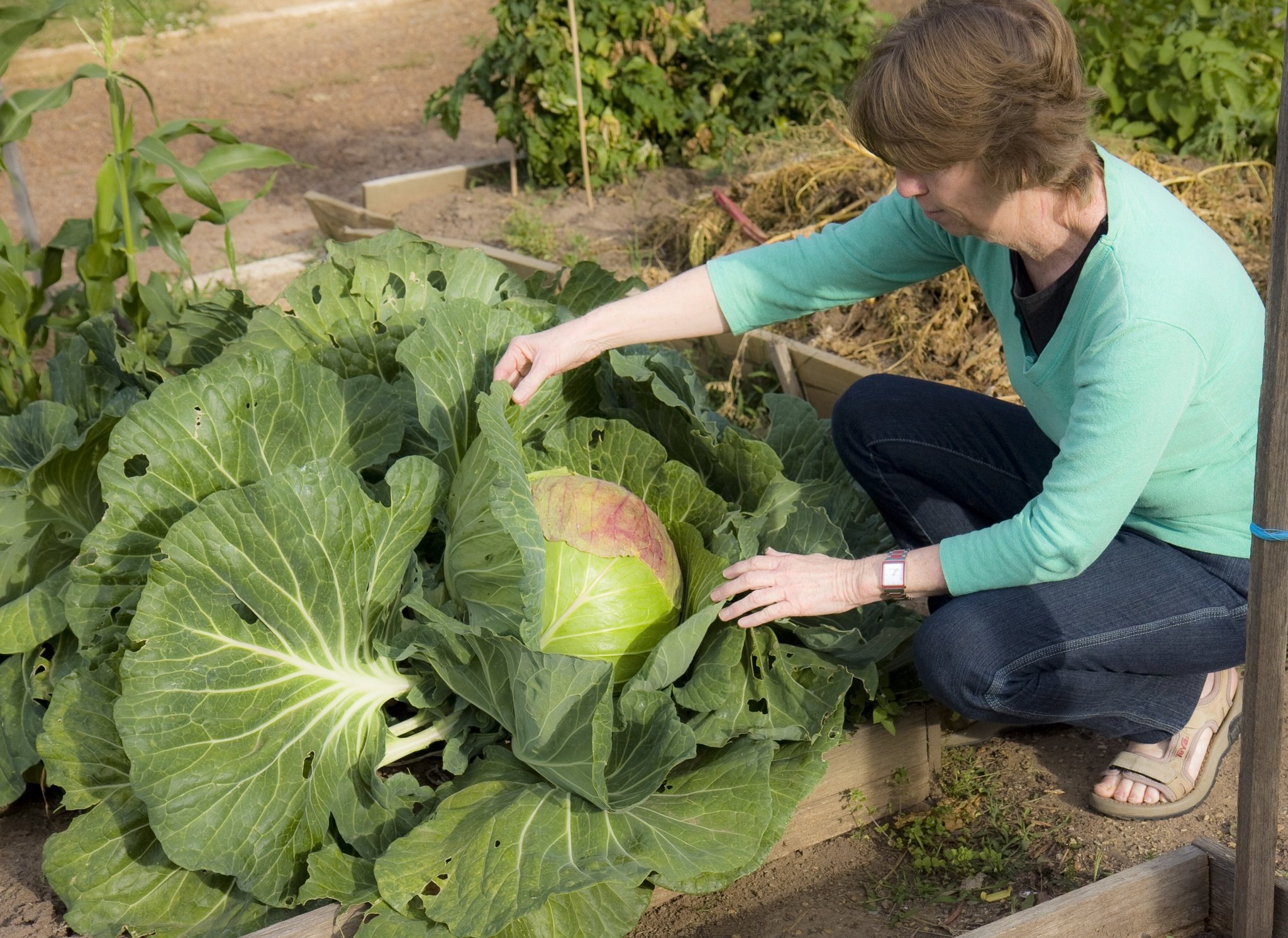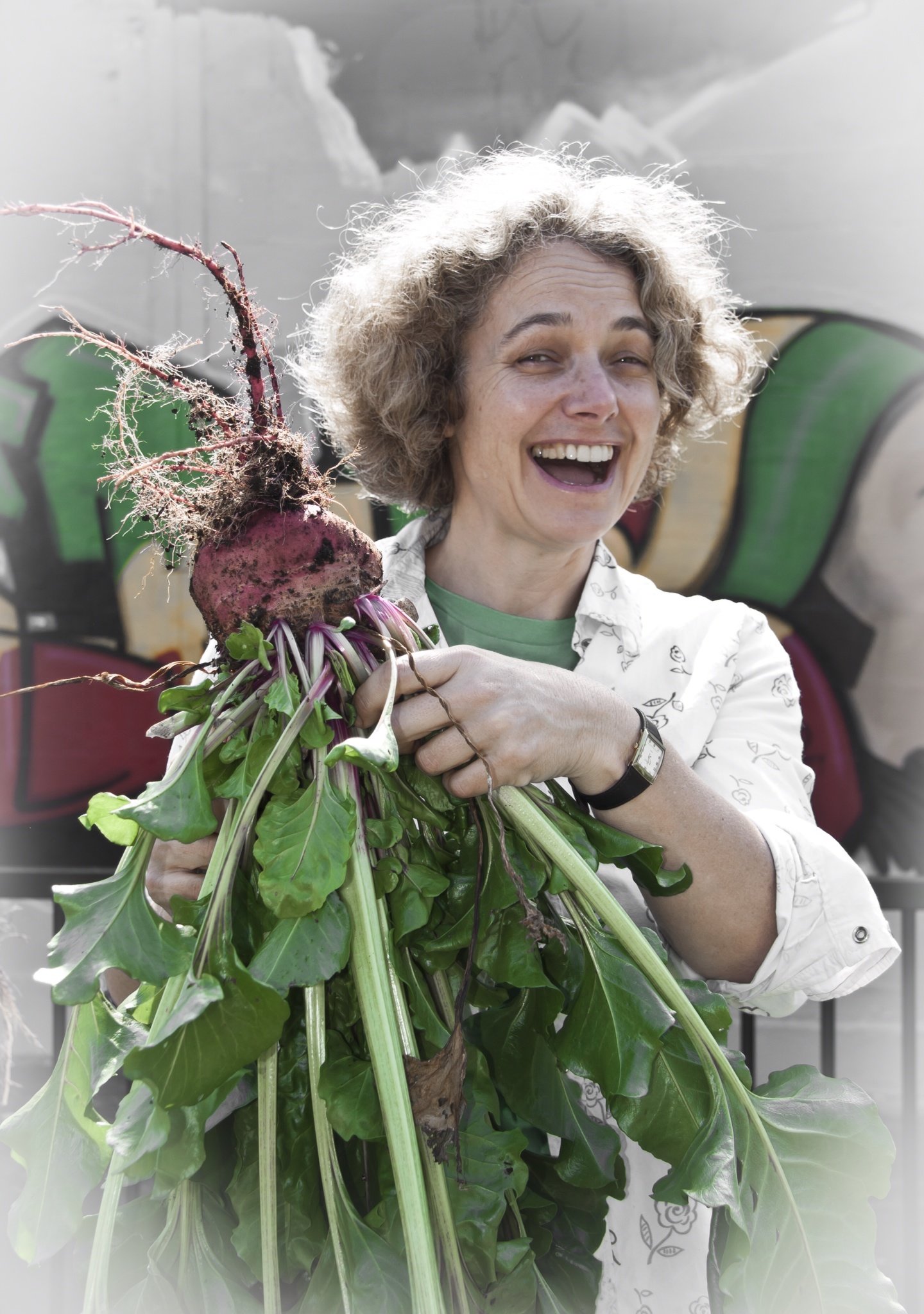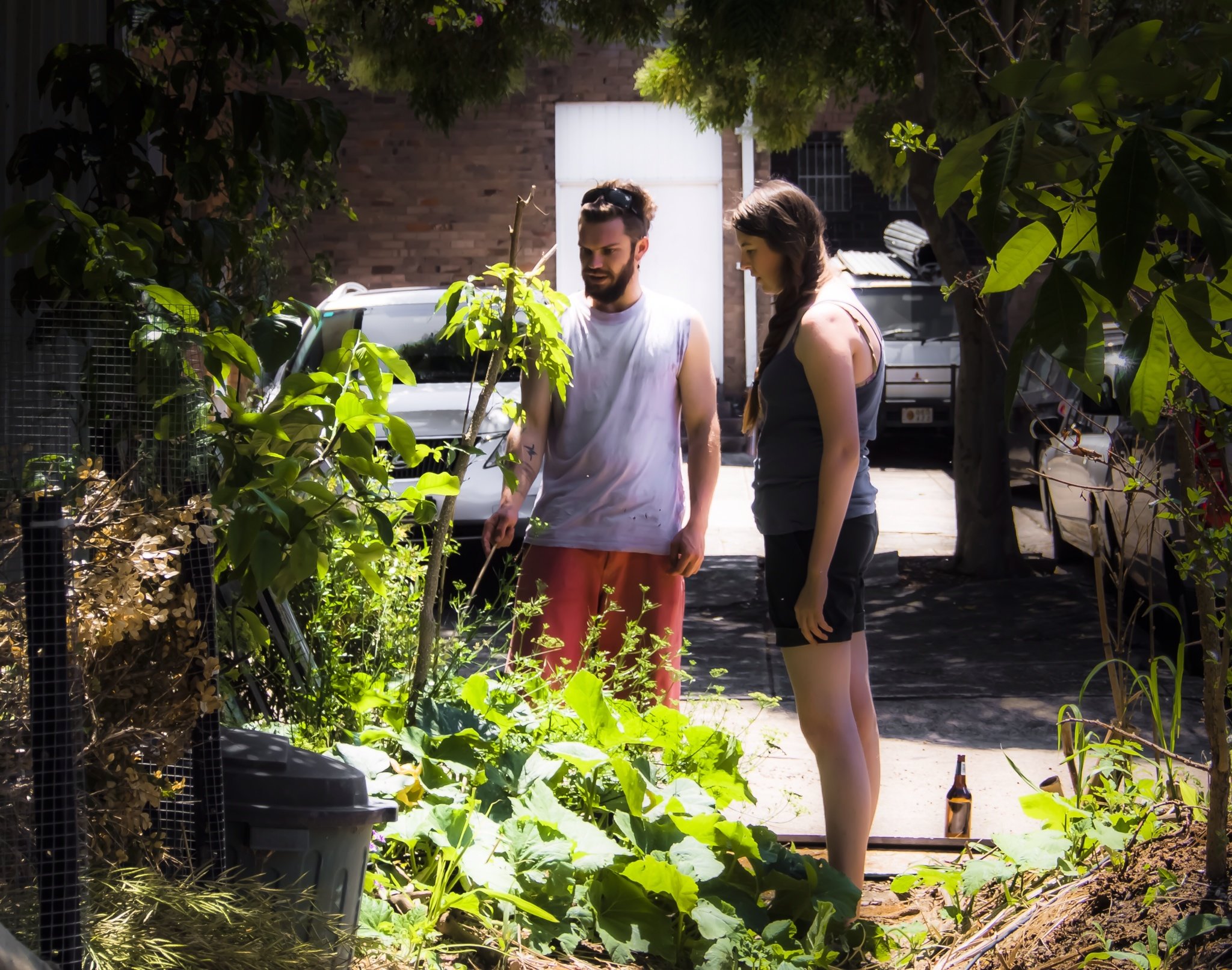 1. Far from Tasmania, across Bass Strait, you find the Fern Tree Community Garden in the city of Adelaide, South Australia. Adelaide enjoys a Mediterranean climate, suited to citrus, figs and other fruits that like hot, dry summers and cooler, wetter winters.
Seen behind the freshly-mulched vegetable gardens is the community garden's cement-rendered strawbale meeting and office building.
2. It's the turnip harvest at Brisbane's Beelerong Community Farm, up north in the subtropics.
The cylindrical device seen in the photo is a bilk compost roller. Opening like a clamshell, material for composting is tossed in, water sprayed onto it, the device closed and then rolled along periodically by energetic people. The mass compost roller was developed at Northey Street City Farm, also in Brisbane.
3. Way over on the west coast, in Perth, community garden developers chat in the shade of the eucalypts, out of the hot summer sun. A domed cobb oven is seen adjacent. Lockridge Community Garden occupies part of a suburban park, offering gardening as a public recreational activity.
4. At St Kilda, Melbourne, a community garden uses land adjacent to a community sustainability education centre.
5. Walls have been erected around allotments at Common Ground Community Garden in Wellington, New Zealand, to protect the plants from the sometimes ferocious winds.
Sister Loyala, seen on the right, is a nun at the convent that gave some of their land for use by the Common Ground Community Garden. The sister maintains her own, large organic garden elsewhere on the church land that produces fresh, nutritious food to the convent.
6. (sign). Many Australians believe that most of the reptiles in the ACT (Australian Capital Territory, with the national capital at Canberra) are to be found inside Parliament House. Some of the authentic kind, however come into Cook Community Garden.
7. Bird netting — to keep the flying creature off the crops — is seen here at Cook Community Garden, a large garden on Canberra's urban-rural interface.
8. Visitors inspect leeks growing in a suburban Canberra community garden.
9, 10. Designers from the Australian City Farms & Community Gardens Network lead a community garden planning session in the NSW North Coast city of Coffs Harbour.
In design, the gardener needs analysis accompanies the site analysis to bring together the social and site planning so that the community garden meets the needs of those who will manage it and yield both social and food dividends.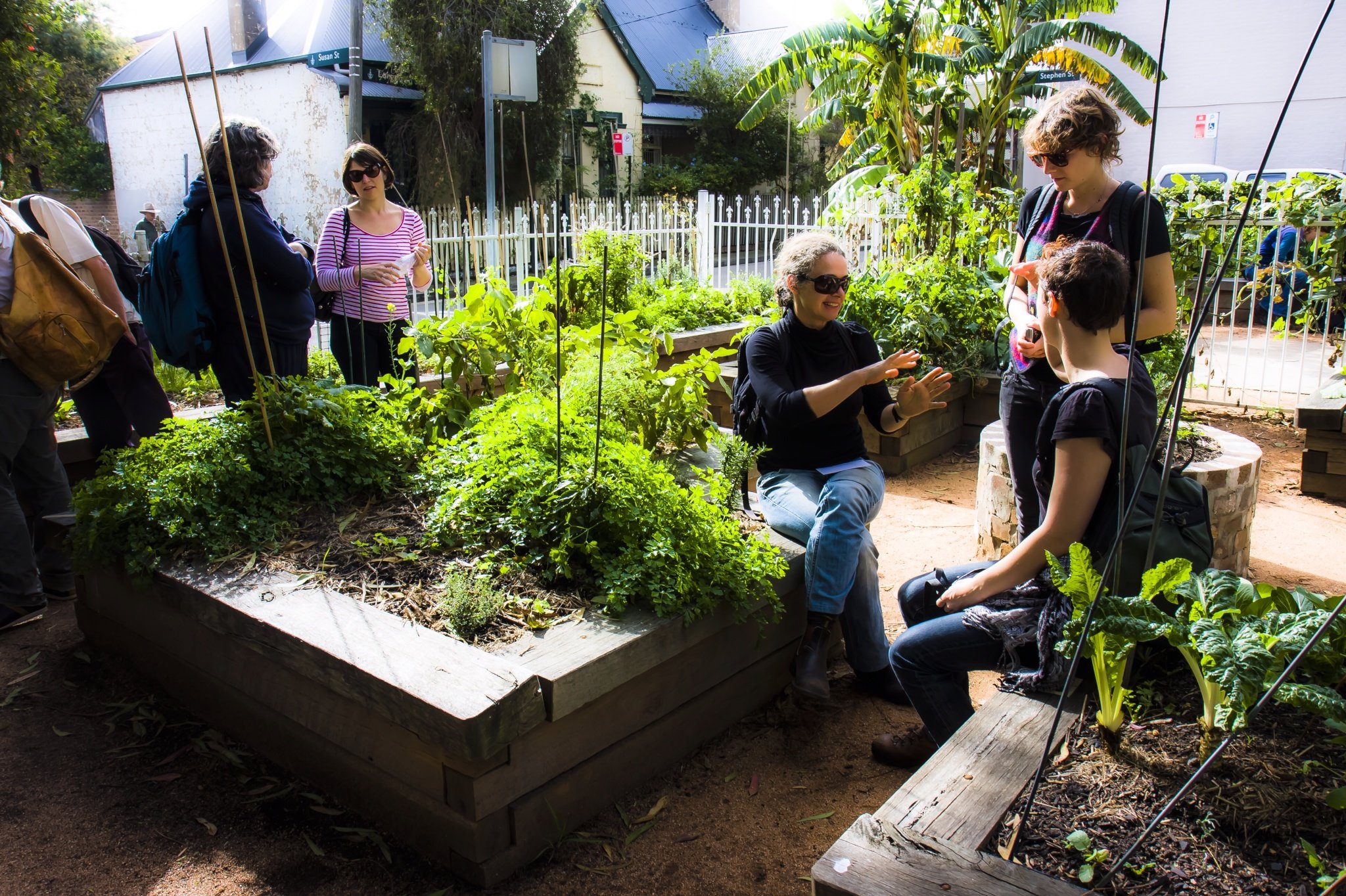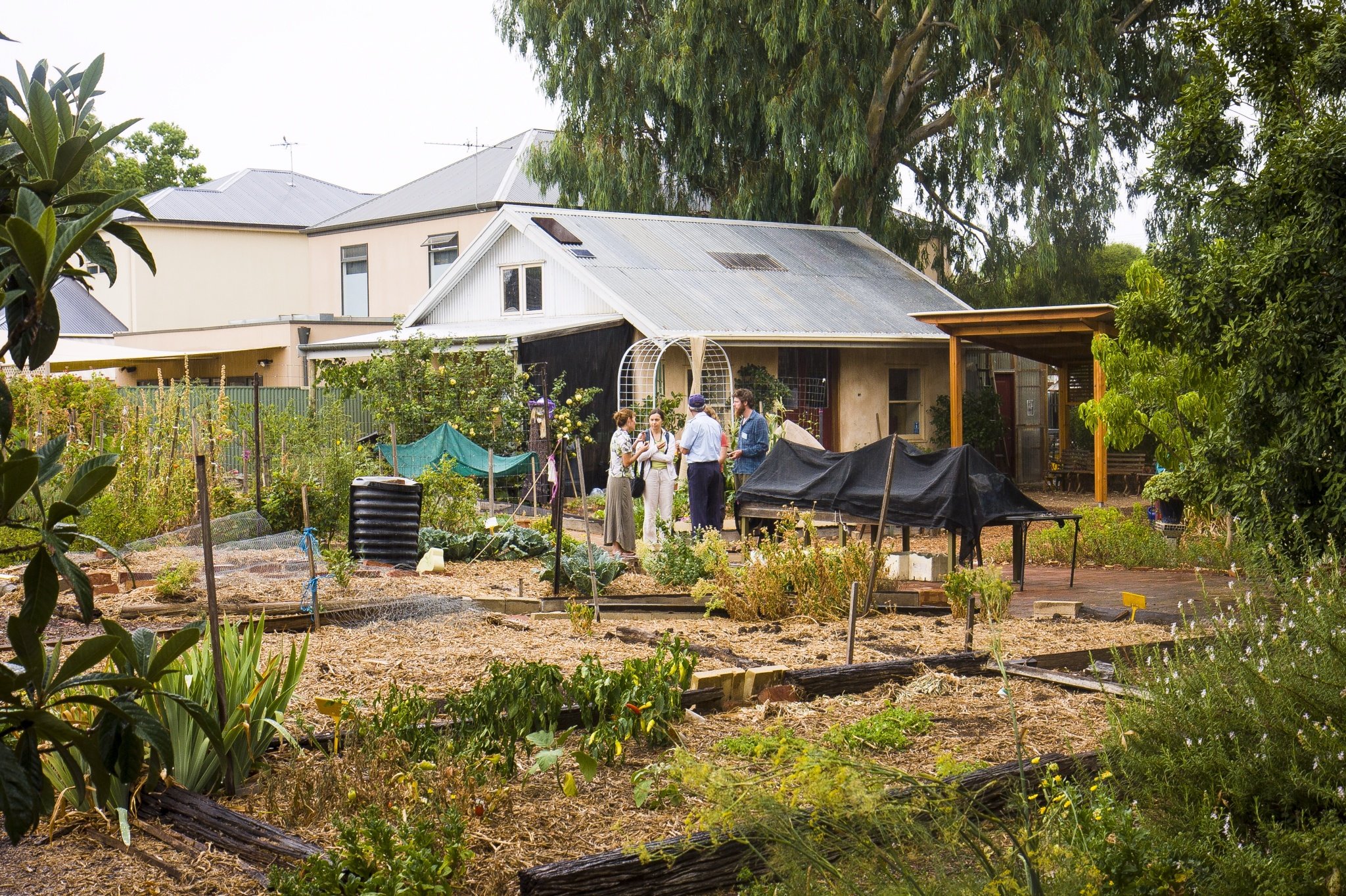 BELOW:
1. Signage is a way to announce the presence of your community garden and make it a welcoming place for visitors. The big sign at Glovers Community Garden in Rozelle, in Sydney's Inner West, is made of mosaic tiles.
2. There's nothing like sharing food after a workshop in the community garden. Here, Glovers community gardeners eat and socialise with visitors.
3. Gardeners at Greg Hewitt Memorial garden share roots of the vegetable, Jerusalum artichoke, with visitors. Swapping seed and propagation material, like those roots, is common among community gardeners. Doing so diversifies the range of crops grown in the gardens and introduces gardeners to new crops.
4. You can grow community gardens on private as well as public land. On Bondi Road, not far from Bondi Beach, there's a small community garden, complete with banana trees, on the property of an apartment block.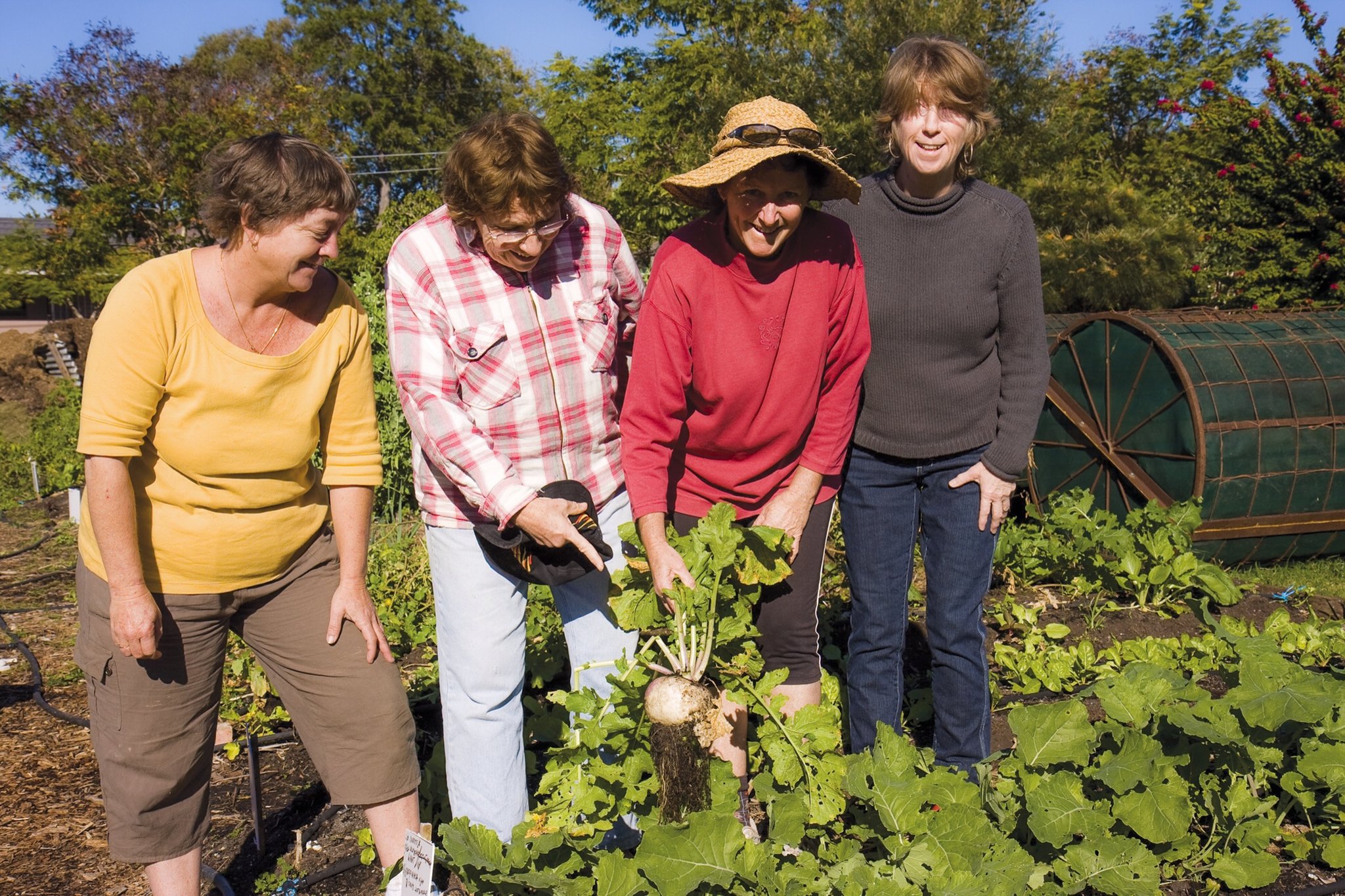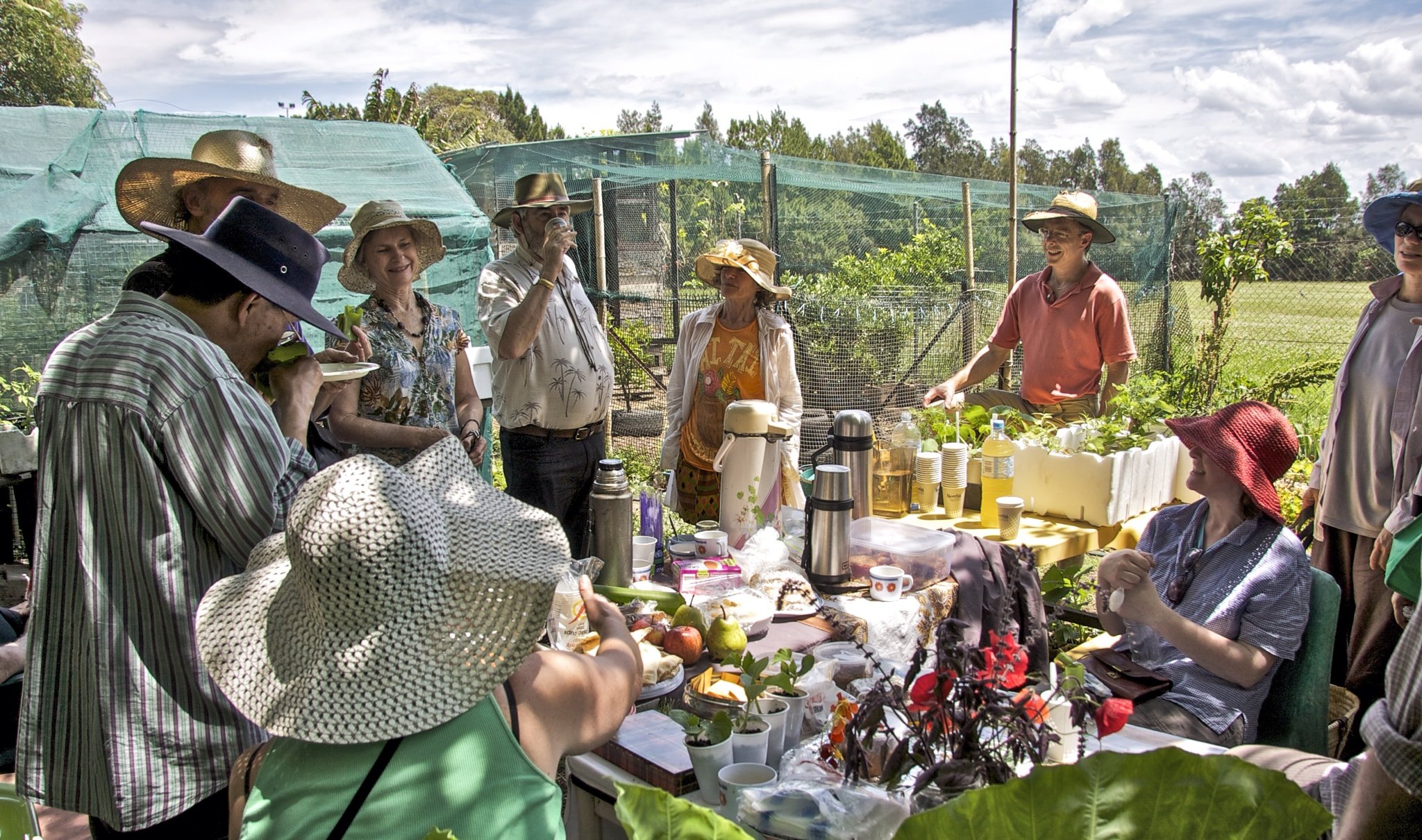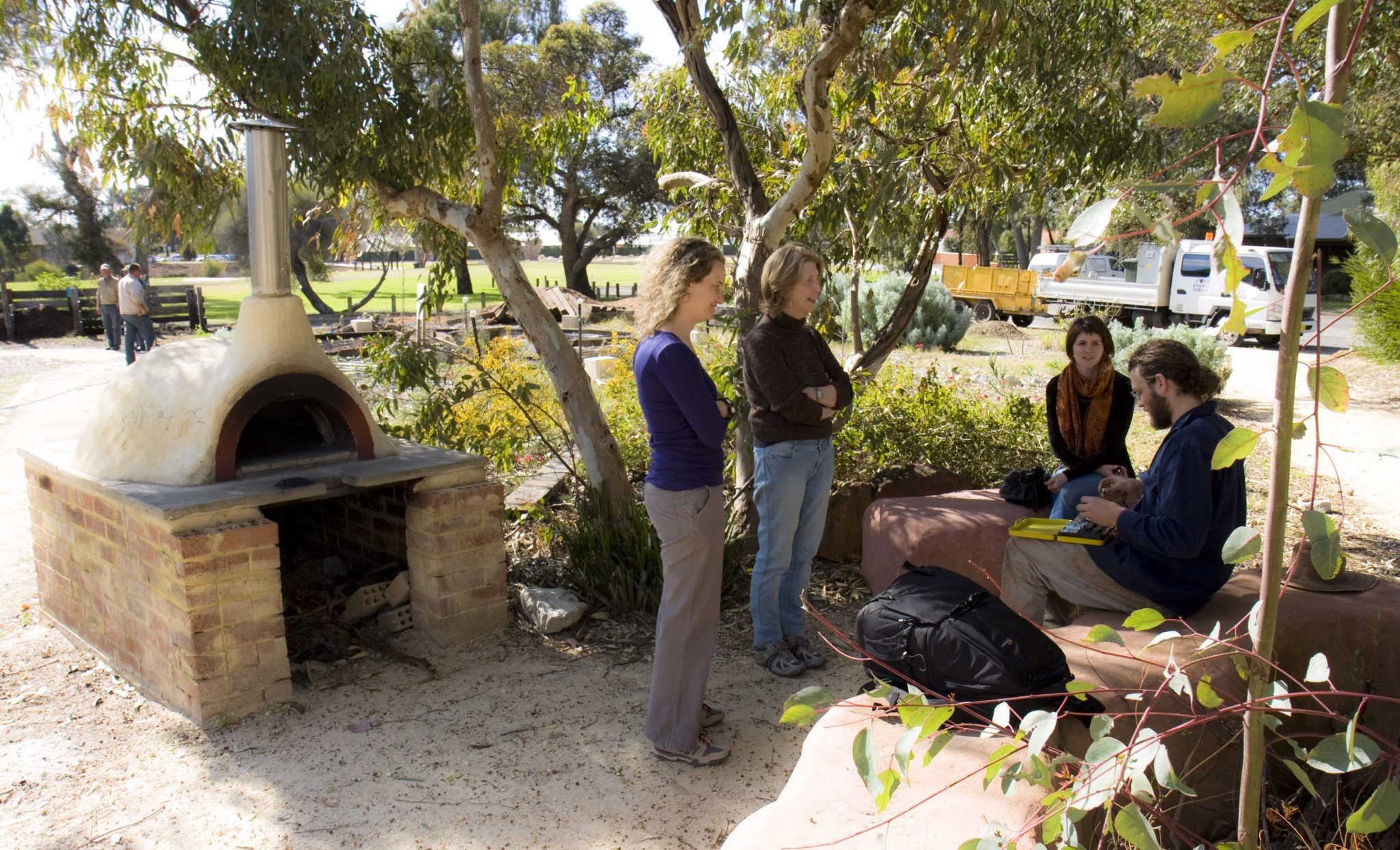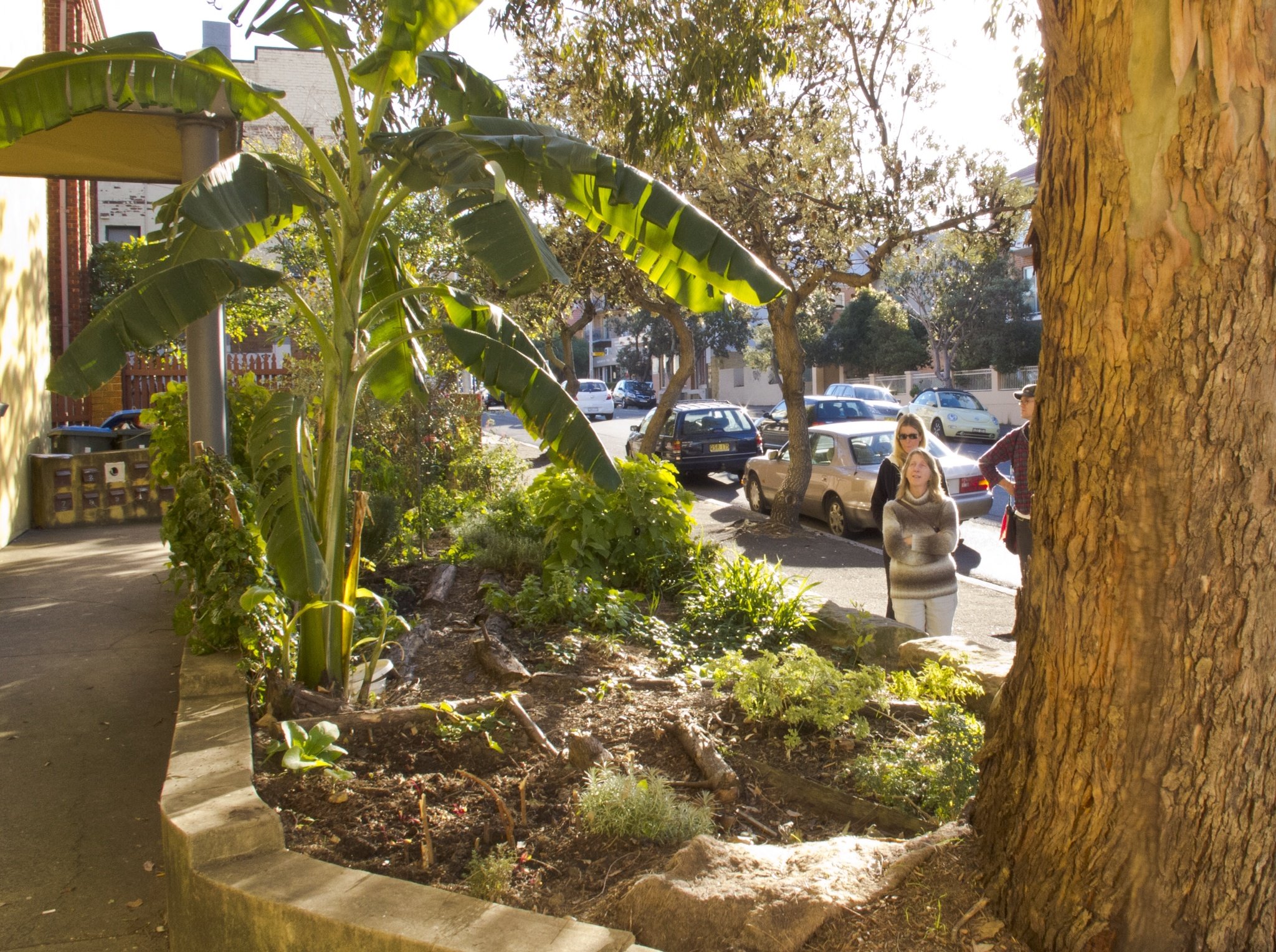 ...it's an idea whose time is now, as thousands of citizens replace monocultures of lawn with polycultures of edible plants... turning parks and derelict land... council, church and school property... into urban mini-farms.
It's happening all over Australia, from far Darwin to chilly Hobart, west of the Great Divide and east too, from the land's western extremity in Perth to its eastern edge at Byron Bay.
But it's not only vegetables and fruit, flowers and herbs that are being grown in our increasing number of community gardens. It's communities, too, as people come together to collaborate in the planning, building and management of community food gardens large and small and, in doing so, learn to work cooperatively with others.
The purpose of this photo essay, essay number one, and others in the series is to provide a glimpse over the fence of our community gardens to show their diversity of design, plants and gardeners...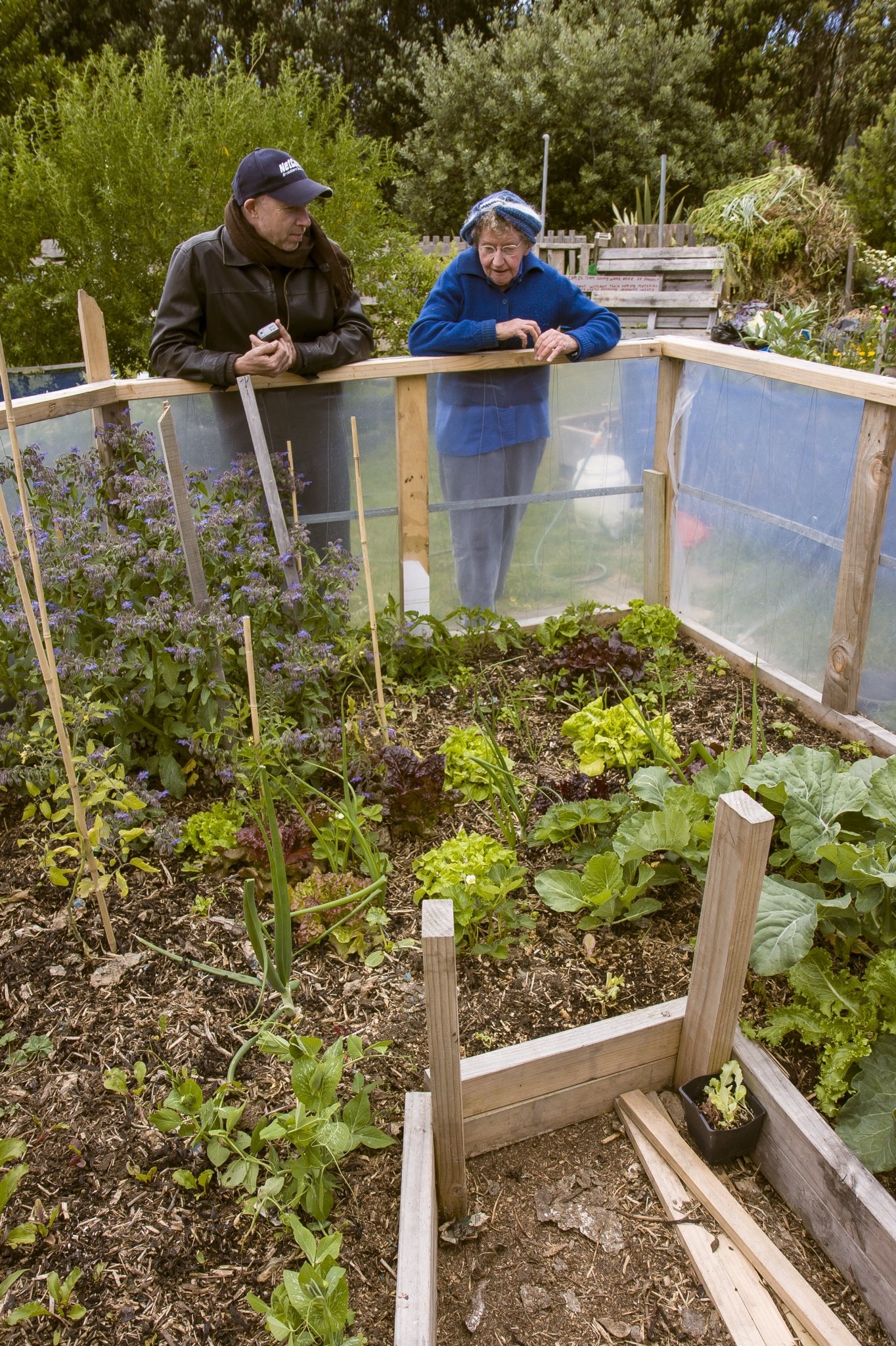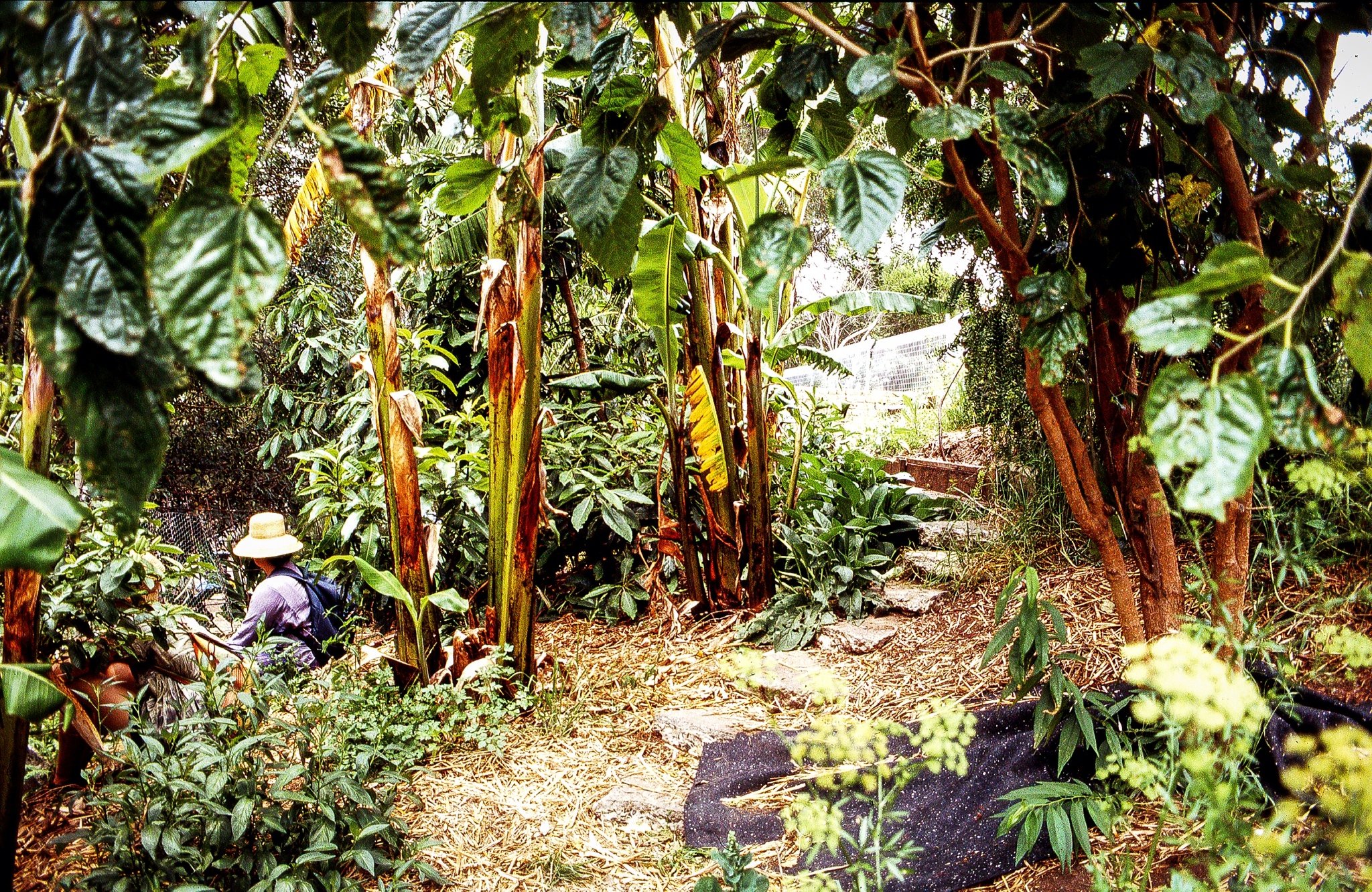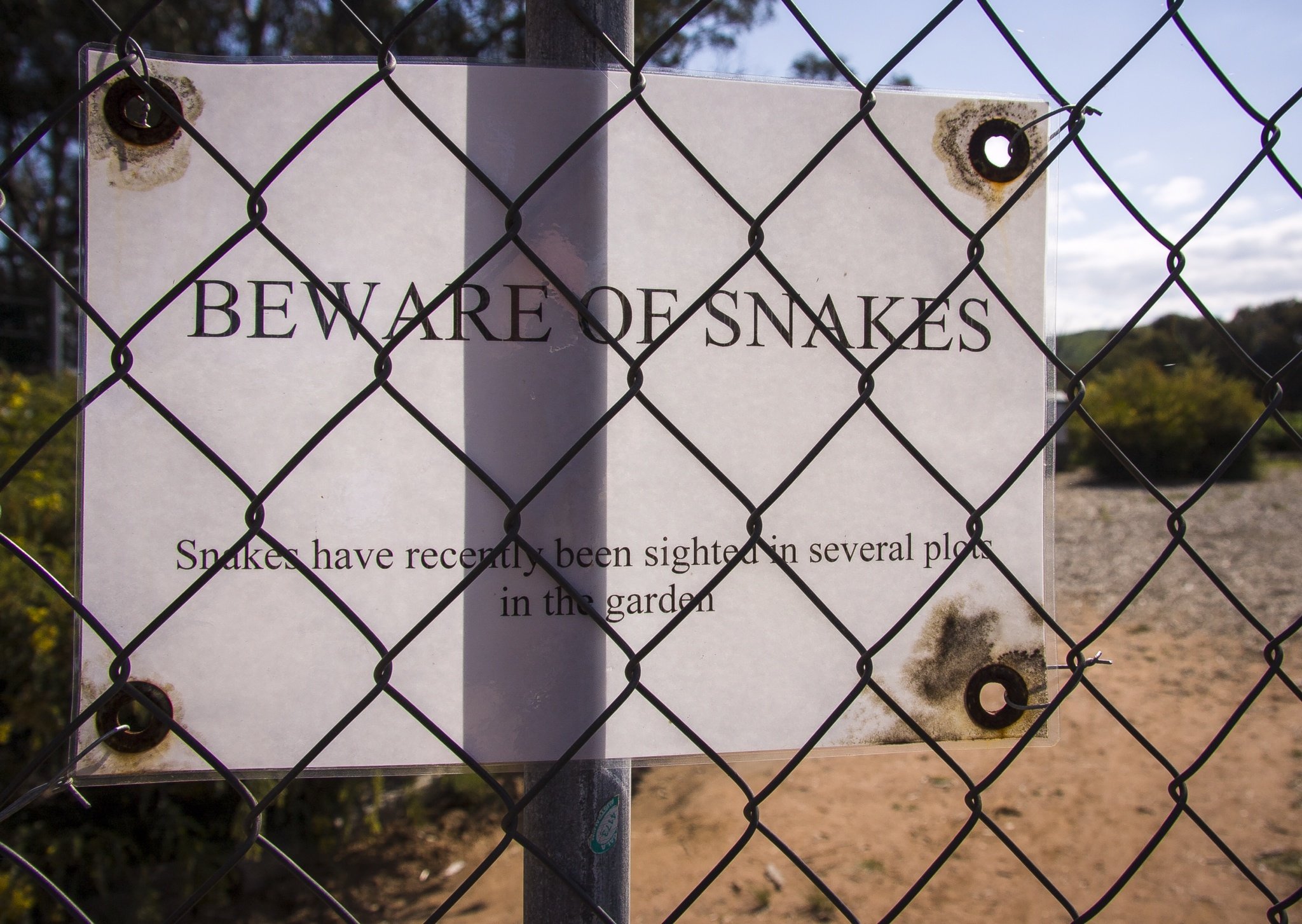 BELOW:
1. A few gardening enthusiasts have taken over a strip of derelict, seldom-used footpath in Marrickville, in Sydney's Inner West, and turned it into an edible jungle.
2. Tommy — a man with the imagination to envision a flourishing, edible garden where dereliction previously reigned. Tommy is the chief instigator of the Marrickville footpath garden.
3. The raised garden beds at Newtown Community Garden were thoughtfully designed to serve as seating so that the gardeners could engage in that most important of community gardening activities, socialising.
4. In Ashfield, the council constructed a small community garden of raised garden beds at their community centre, creating Eora Community Garden.
Raised garden beds are favoured by some councils because they lift the root zone of vegetables above any undetected soil contamination.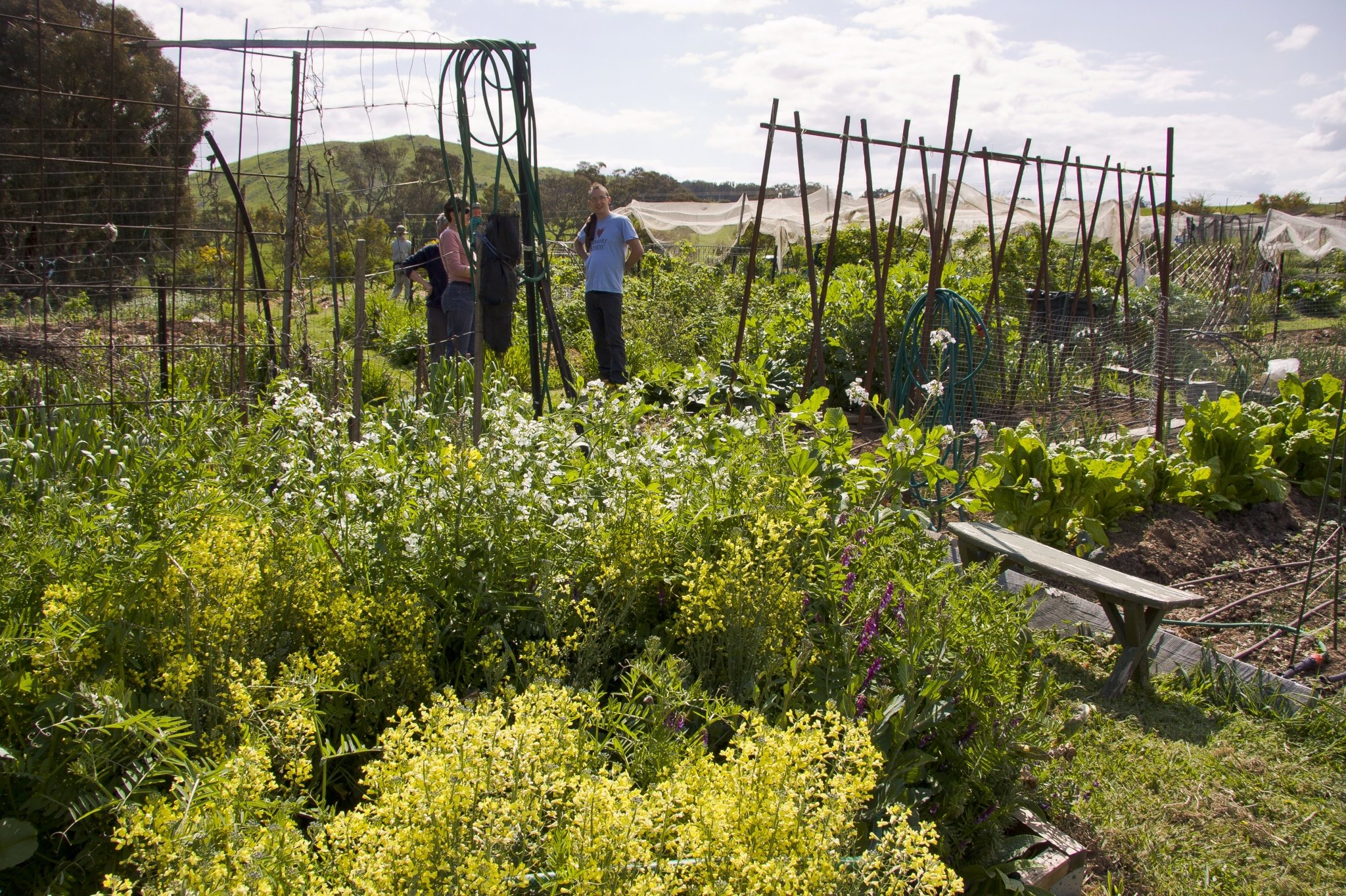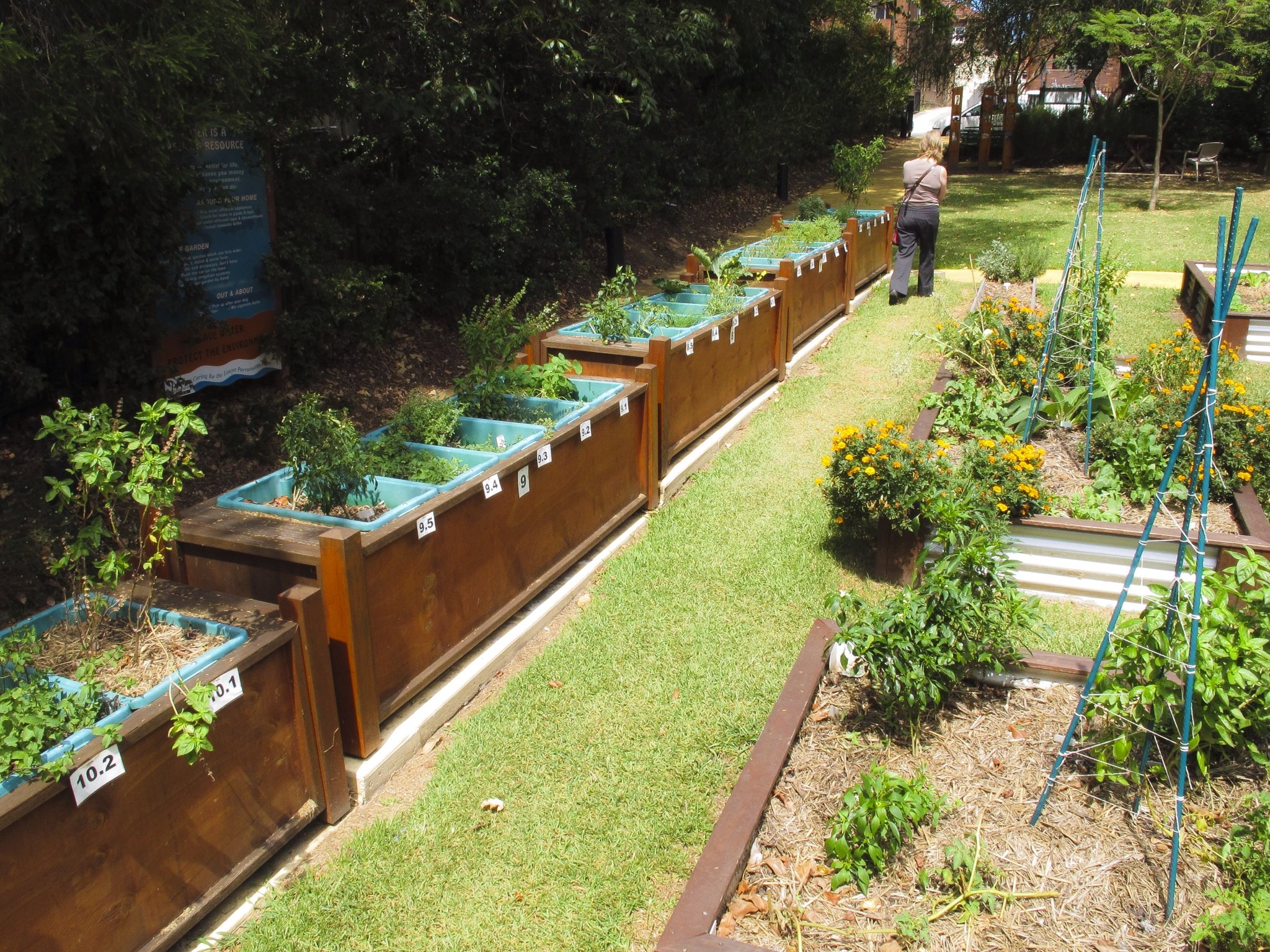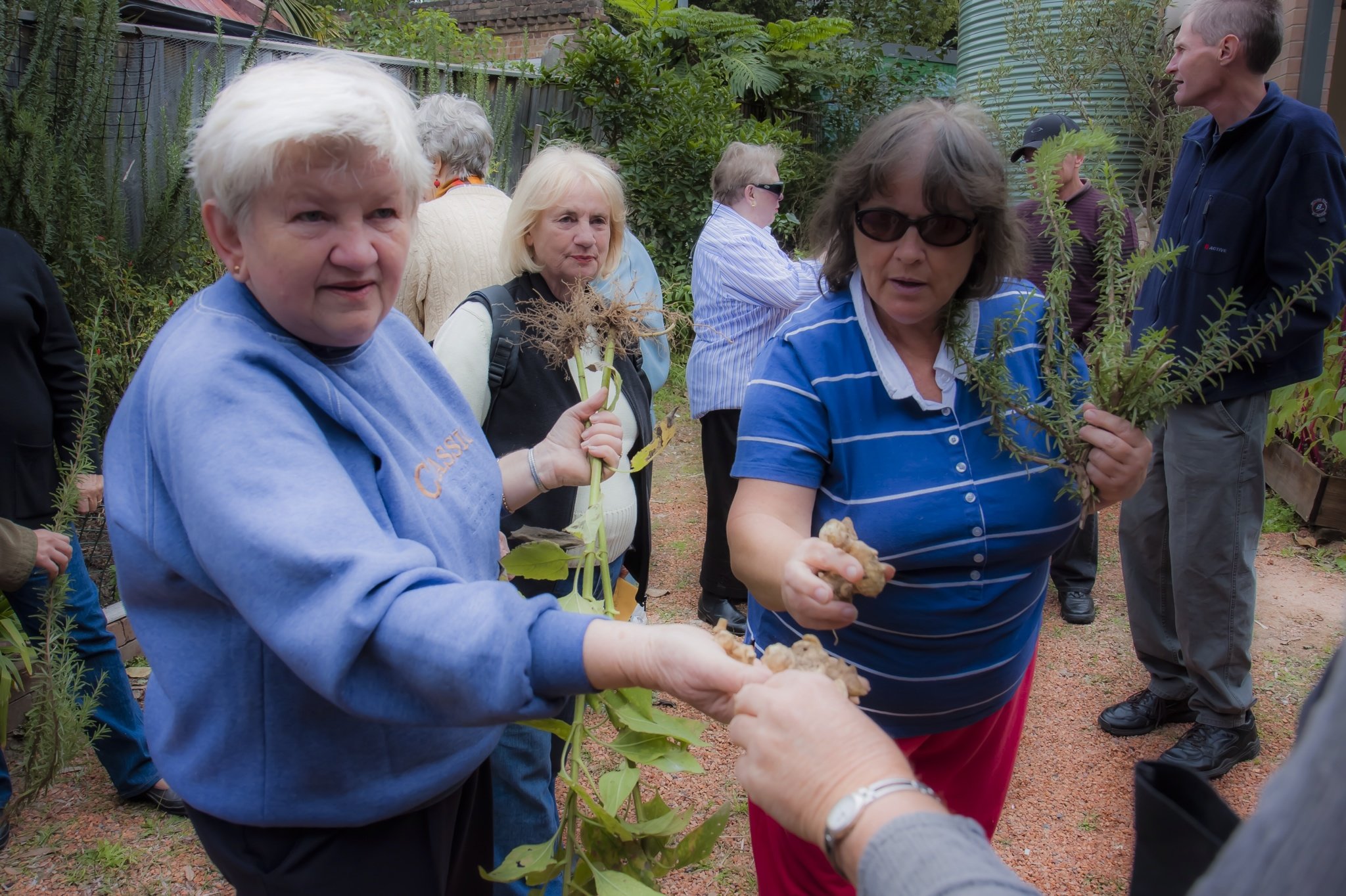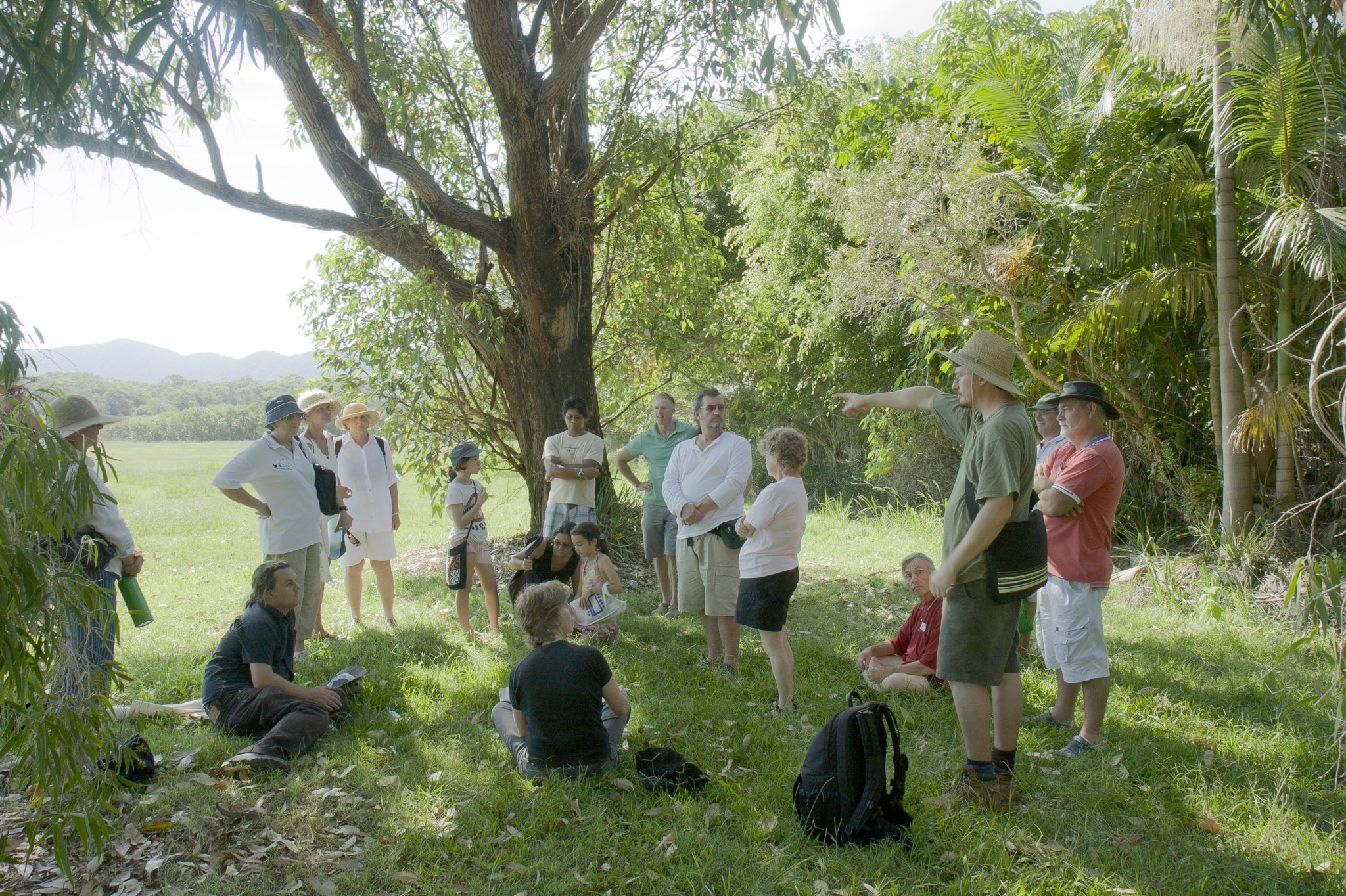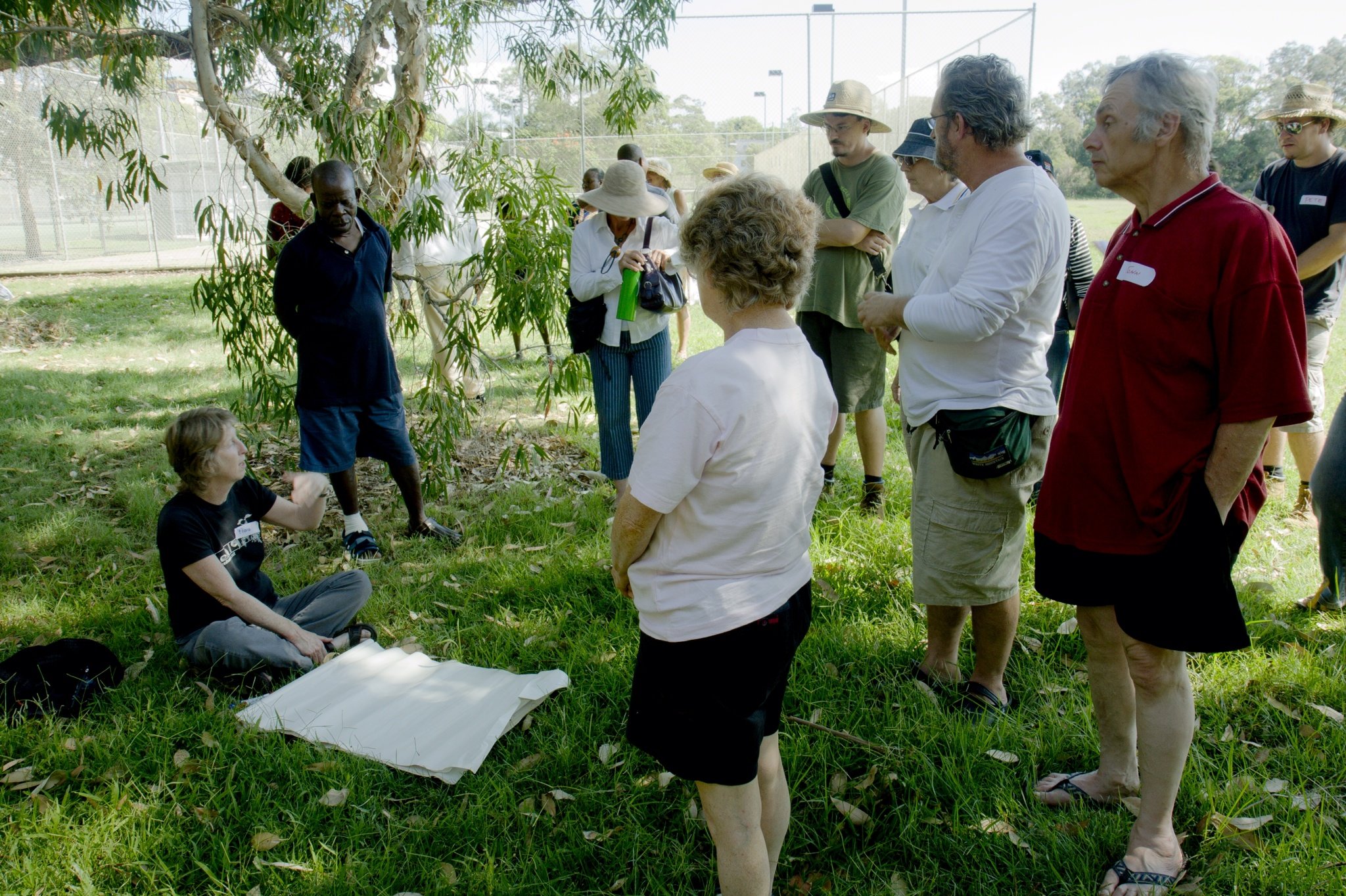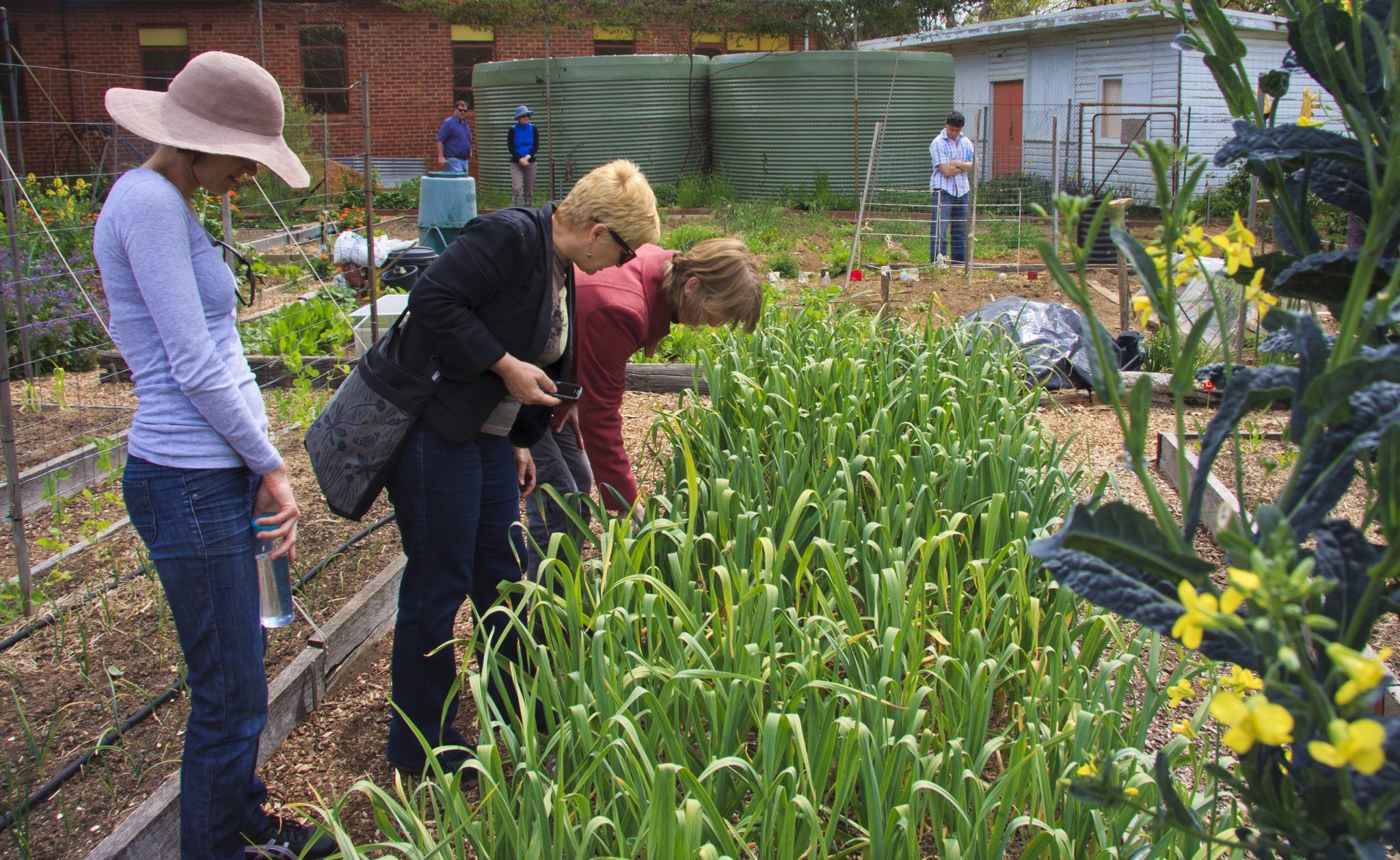 BELOW:
1. Hobart, Tasmania, is a long way south of Sydney, down there in the cool temperate climatic zone. That means gardeners can grown all of those stone fruit and tasty berry crops that Tasmania is famous for.
There, if you go to Lenah Valley, you encounter the Creek Road Community Garden.
2. Creek Road Community Garden, like most of the city of Hobart, is dominated by the massive bulk of Mt Wellington. Sometimes in winter the summit shines with the whiteness of freshly fallen snow.
3. Another Tasmanian community garden — this one in a rural town just off the Midlands Highway. Oatlands Community Garden is small but it's productive.
4. In Launceston, a small city in Tasmania's north, there's a community garden that is not so small. Punchbowl Reserve Community Garden occupies part of what was a council depot. The garden's productive allotments sprawl over the terrain.
5. Fiona checks out a large cabbage at Punchbowl Reserve Community Garden.