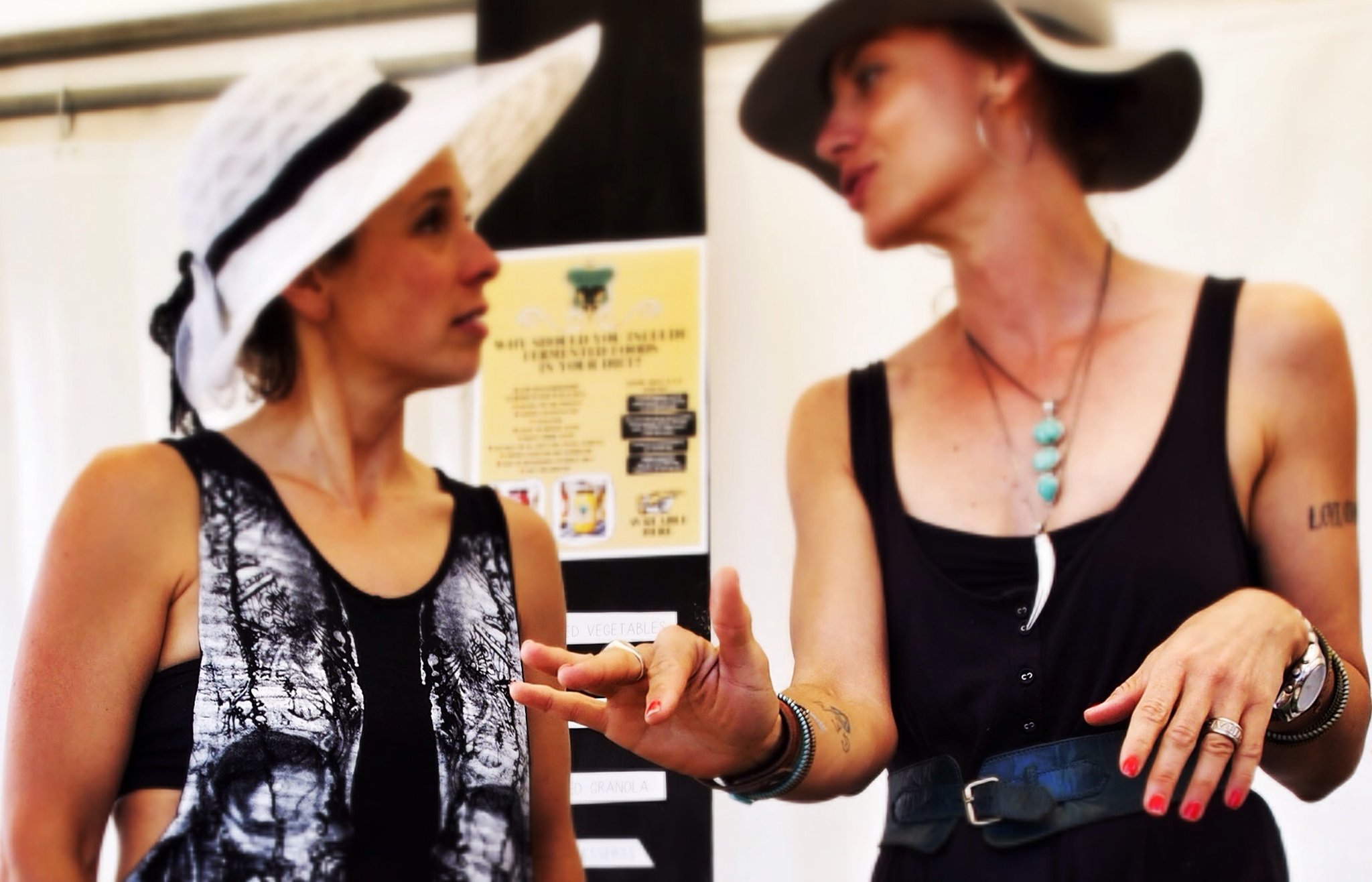 A day in the Spring sunshine...
The Bondi Food Collective is a local initiative sourcing organic food from Sydney region farmers and food processors.
Visit the tasty collective's crew at: Facebook.com/BondiFoodCollective
Below:
• The crew.
• Shann has a word with Rebecca and her husband, who started Rhubarb Food Co-op, an Eastern Suburbs social enterprise supplying fresh, organic foods to members.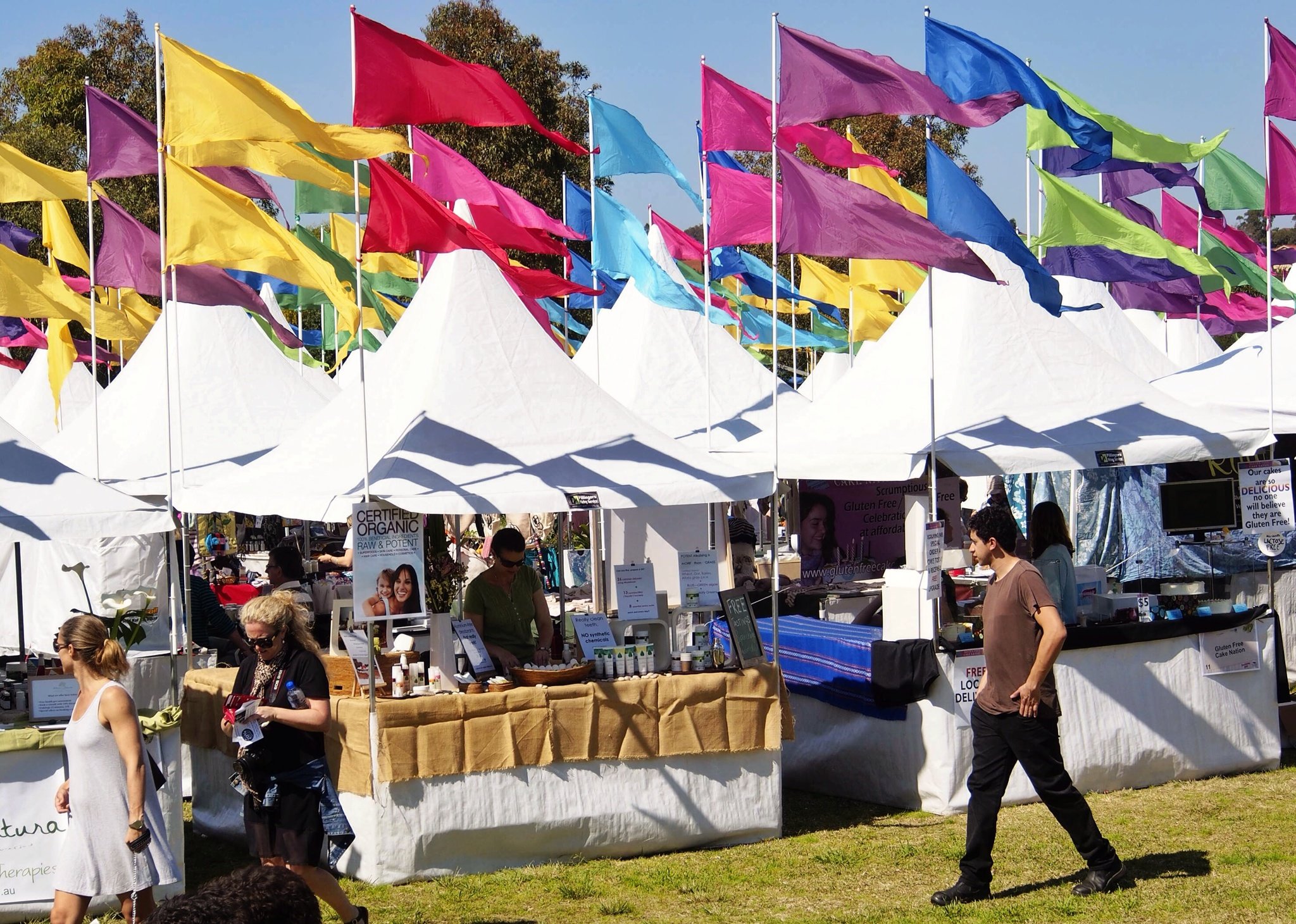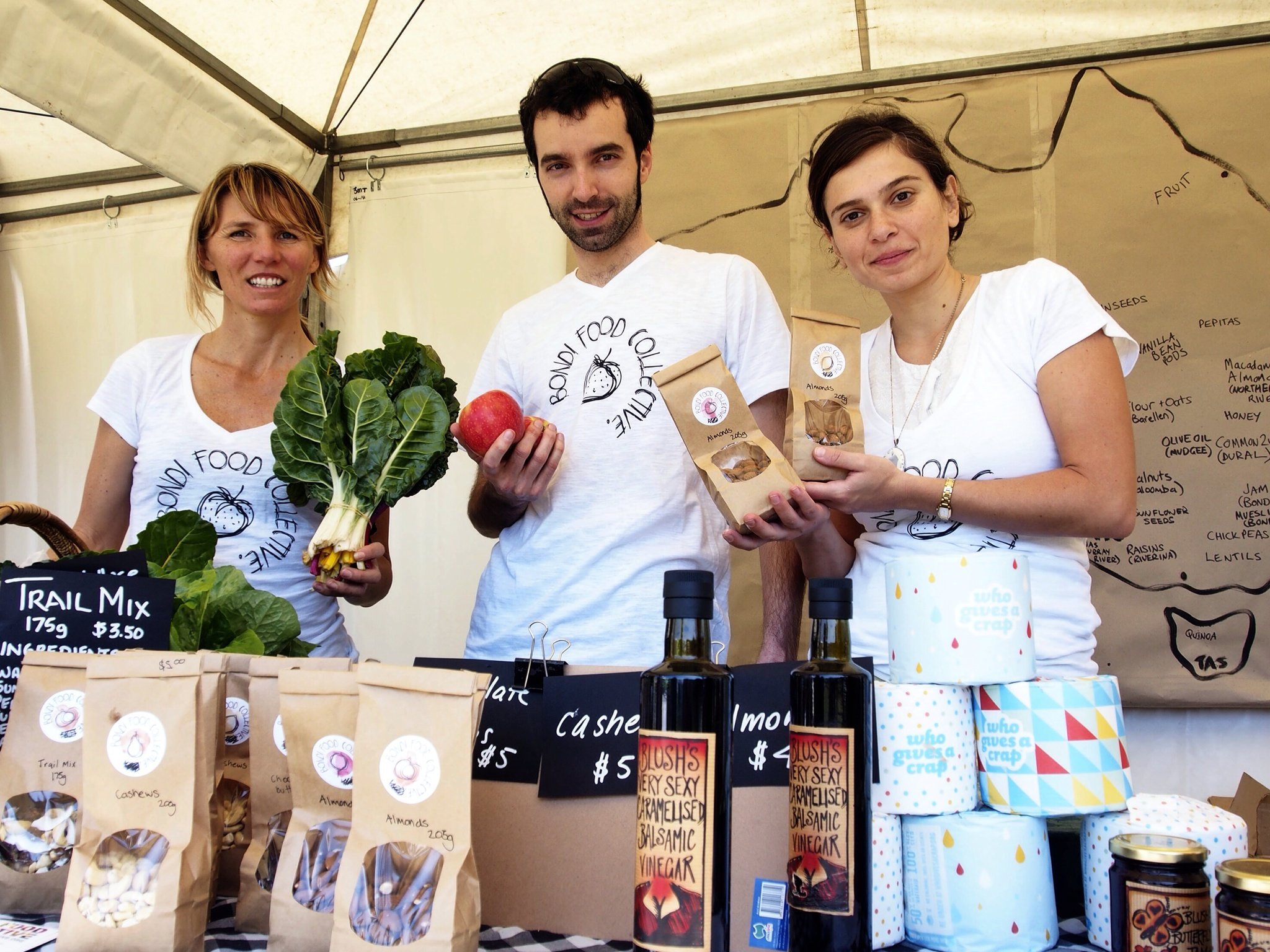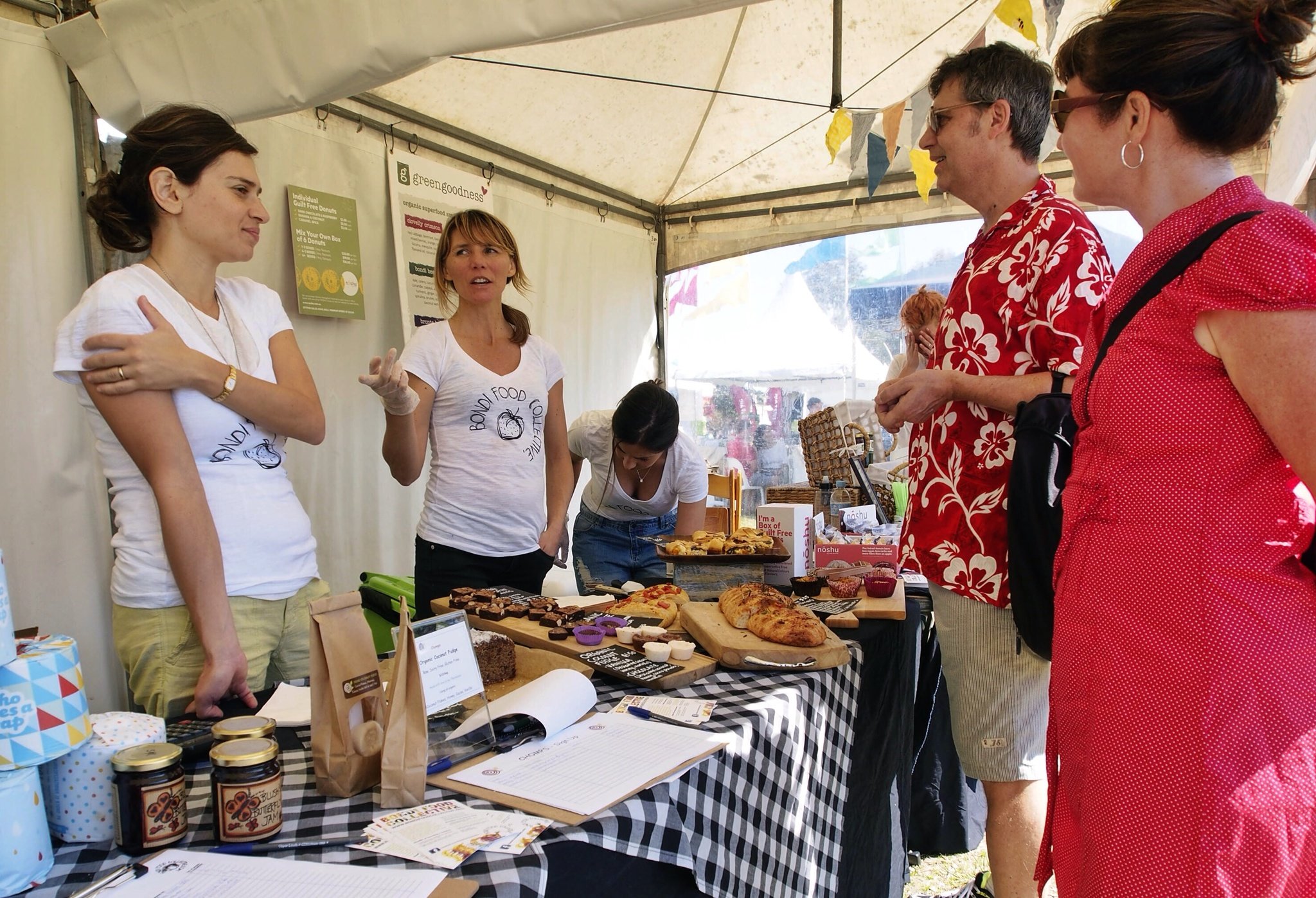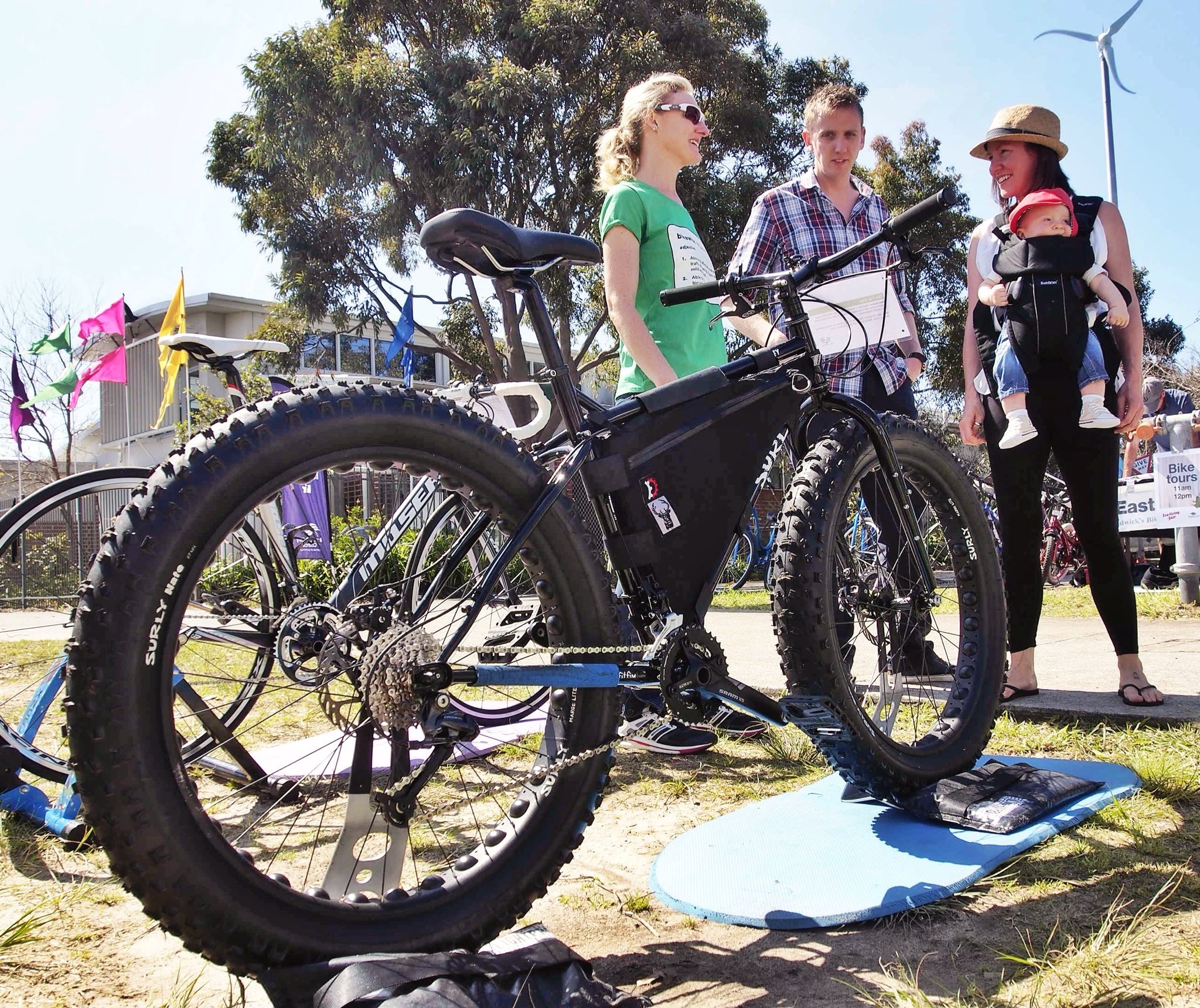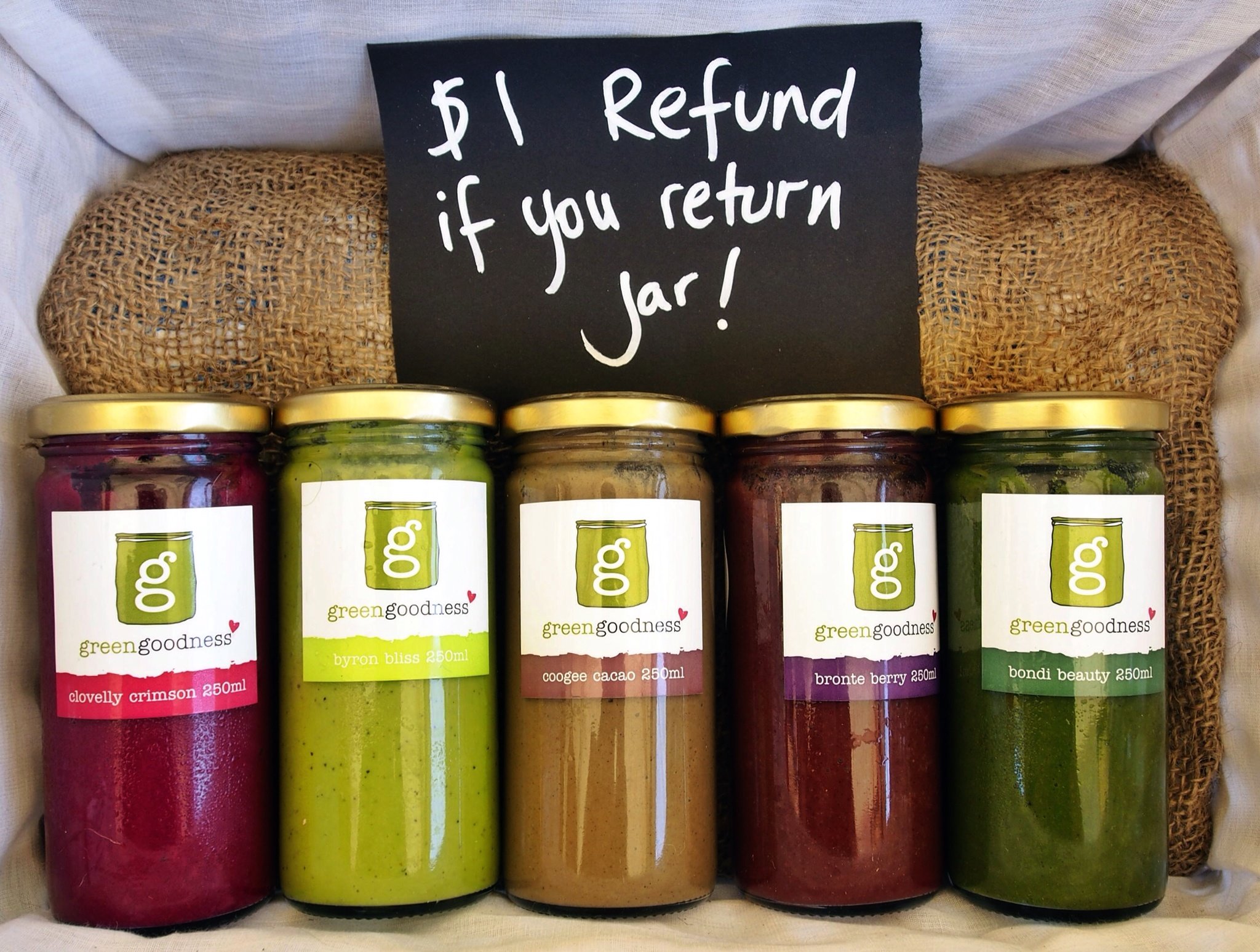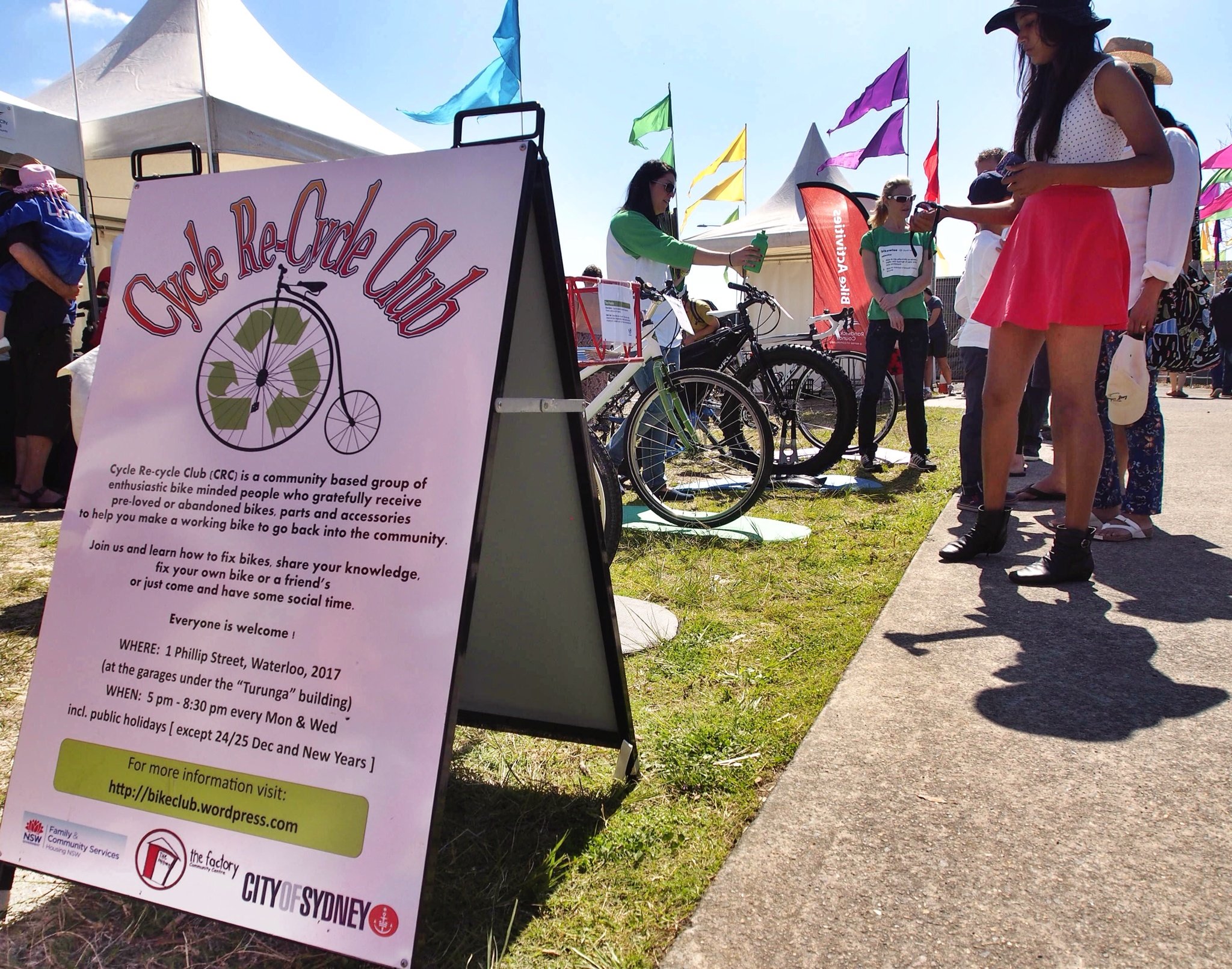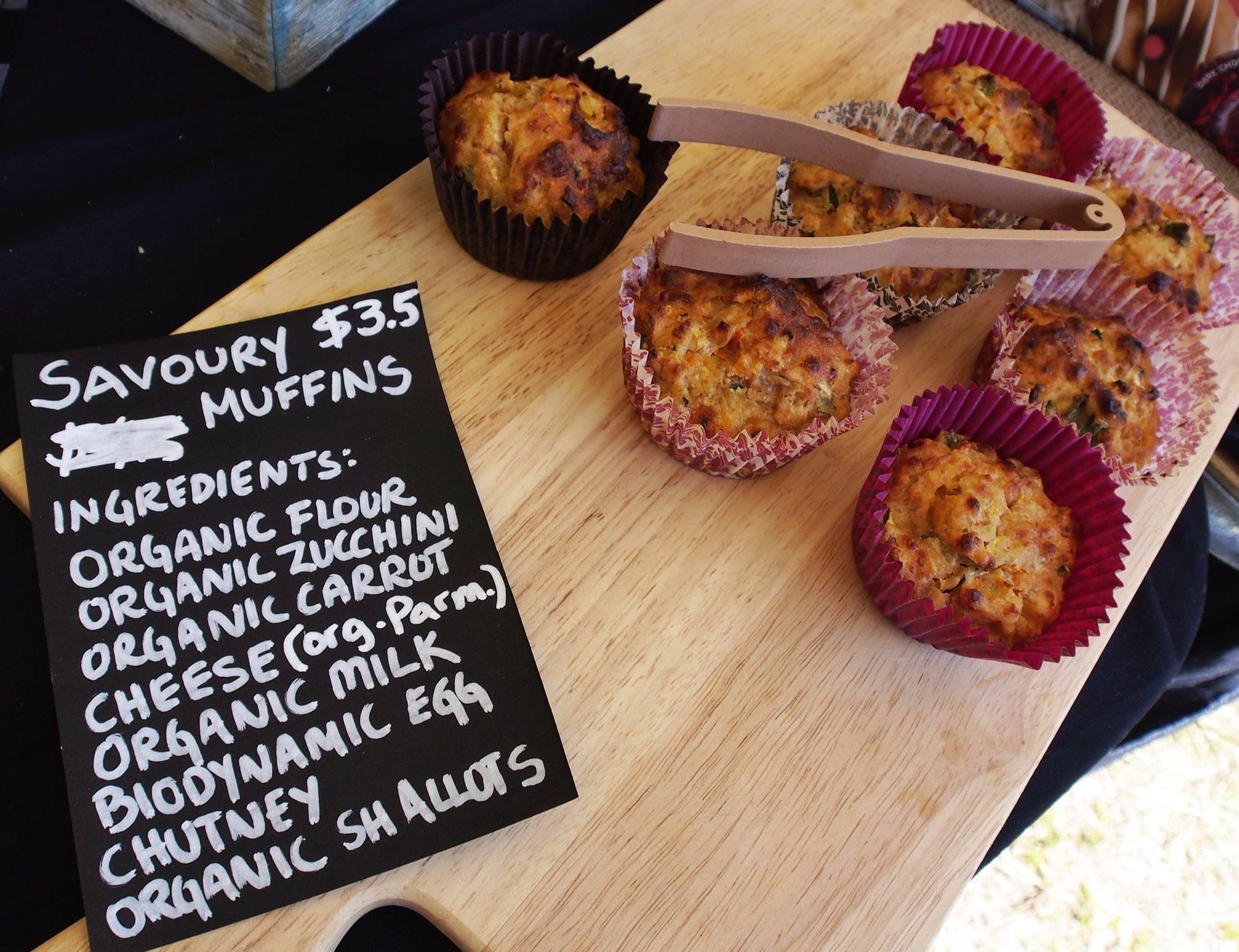 Food... yep, it's something we all have in common...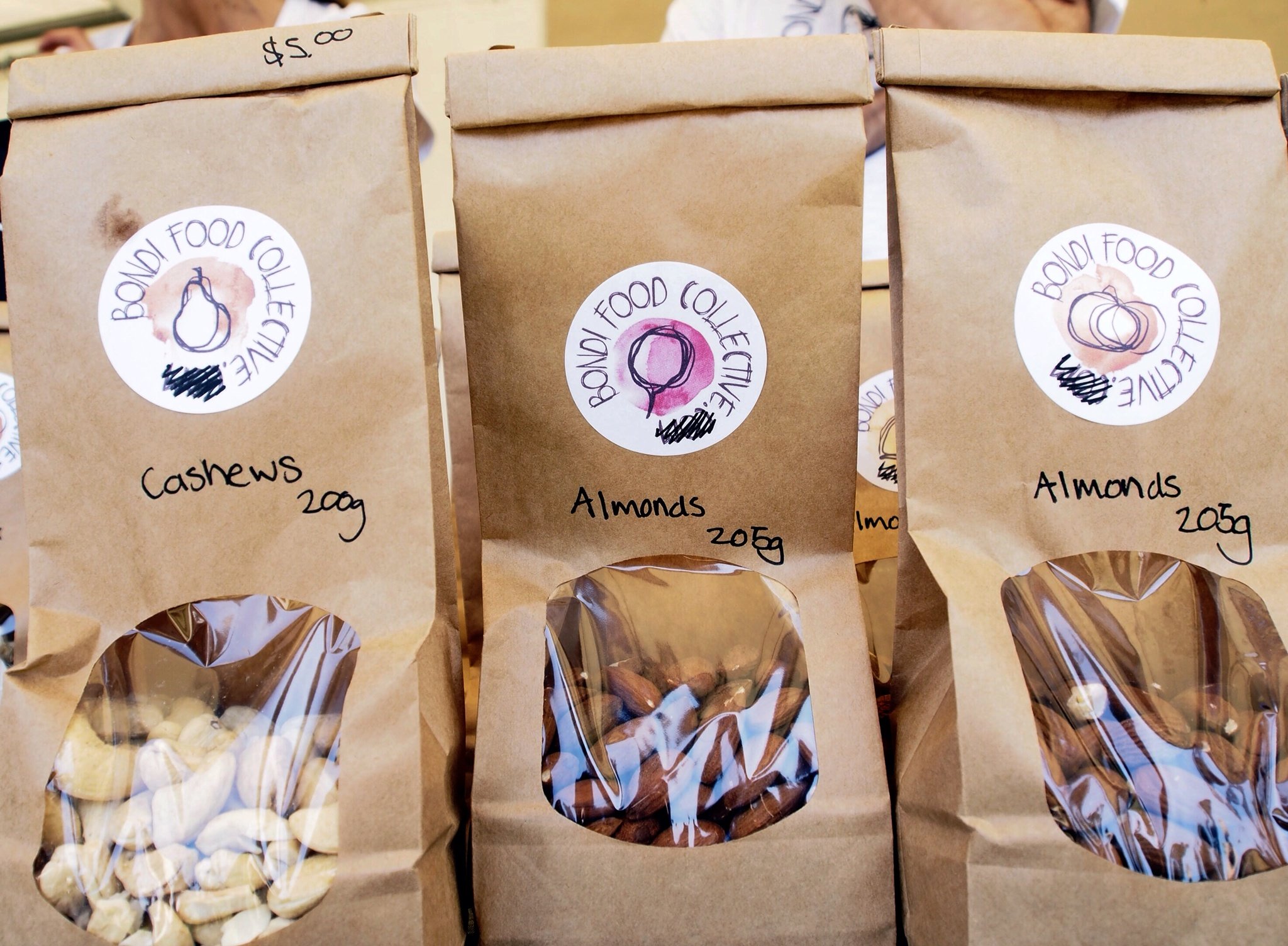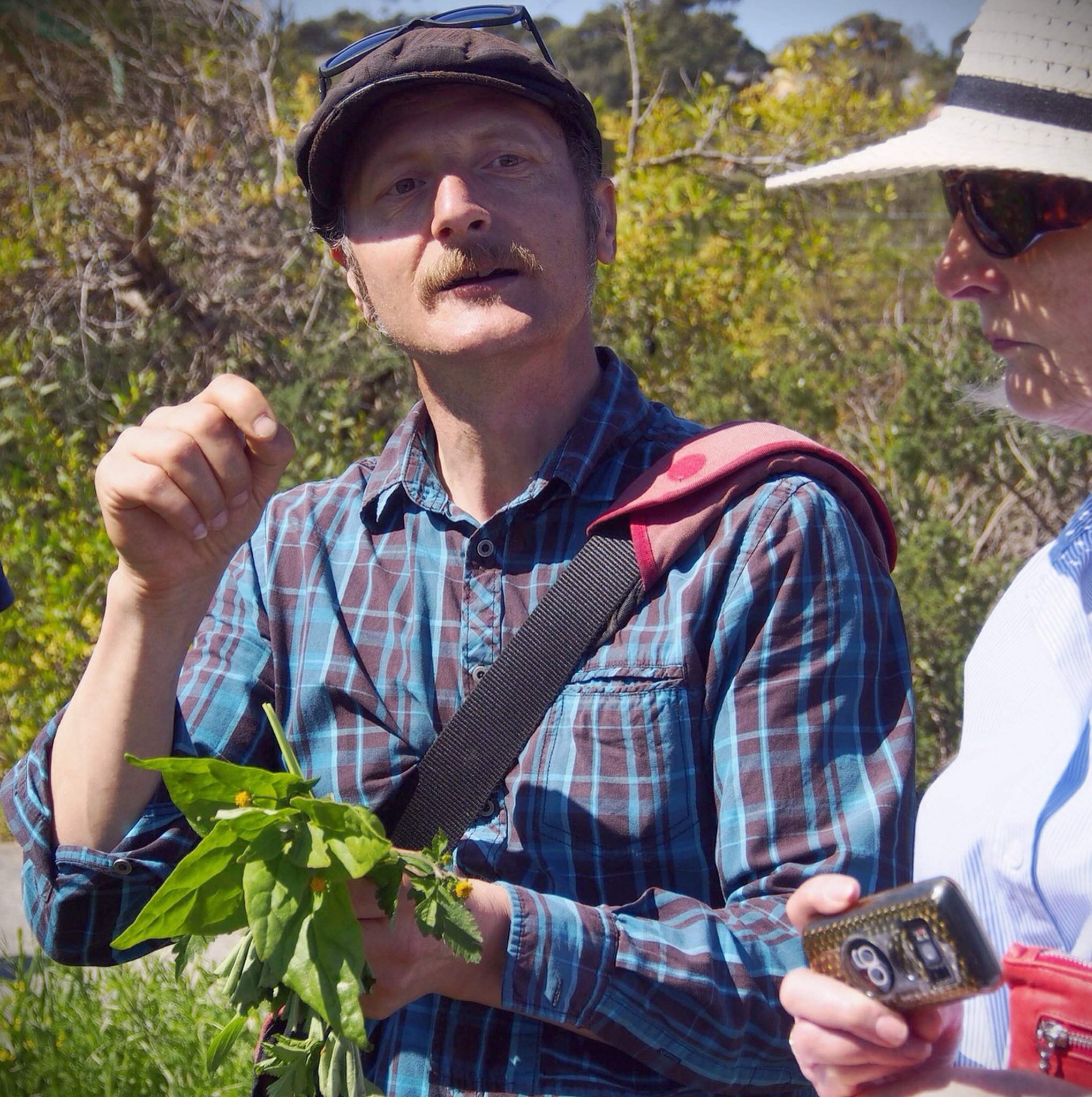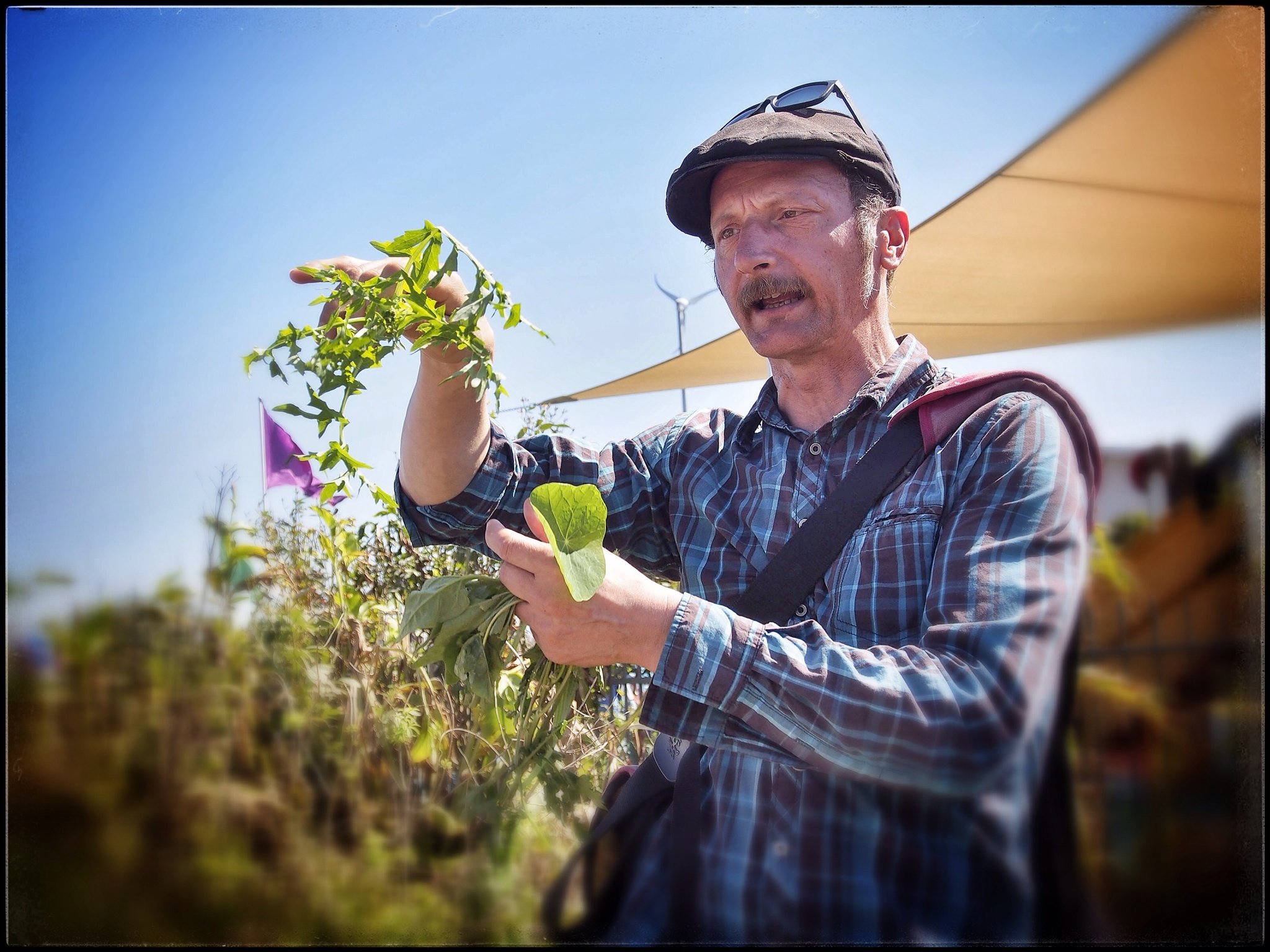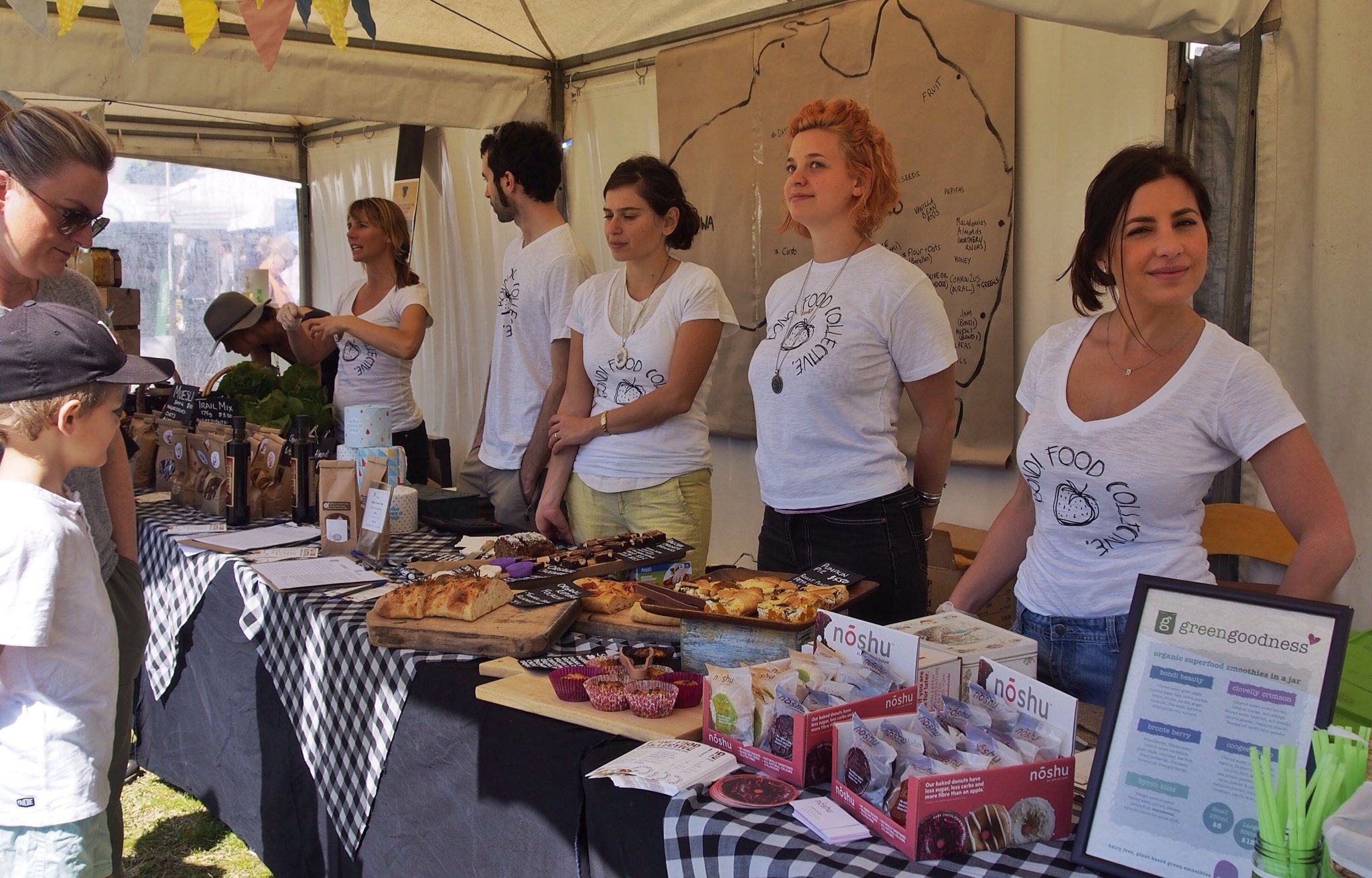 Local eastern Suburbs woman, Emma Daniell, is a community garden designer and educator, an educator on Randwick Council's science and sustainability program for schools, and a community educator in food gardening, composting and seed saving.
People dropped by Emma's table for free seeds and some seedy talk.
Below: Emma with one of her favourite books and, below that, going through the heritage variety vegetable and herb packets.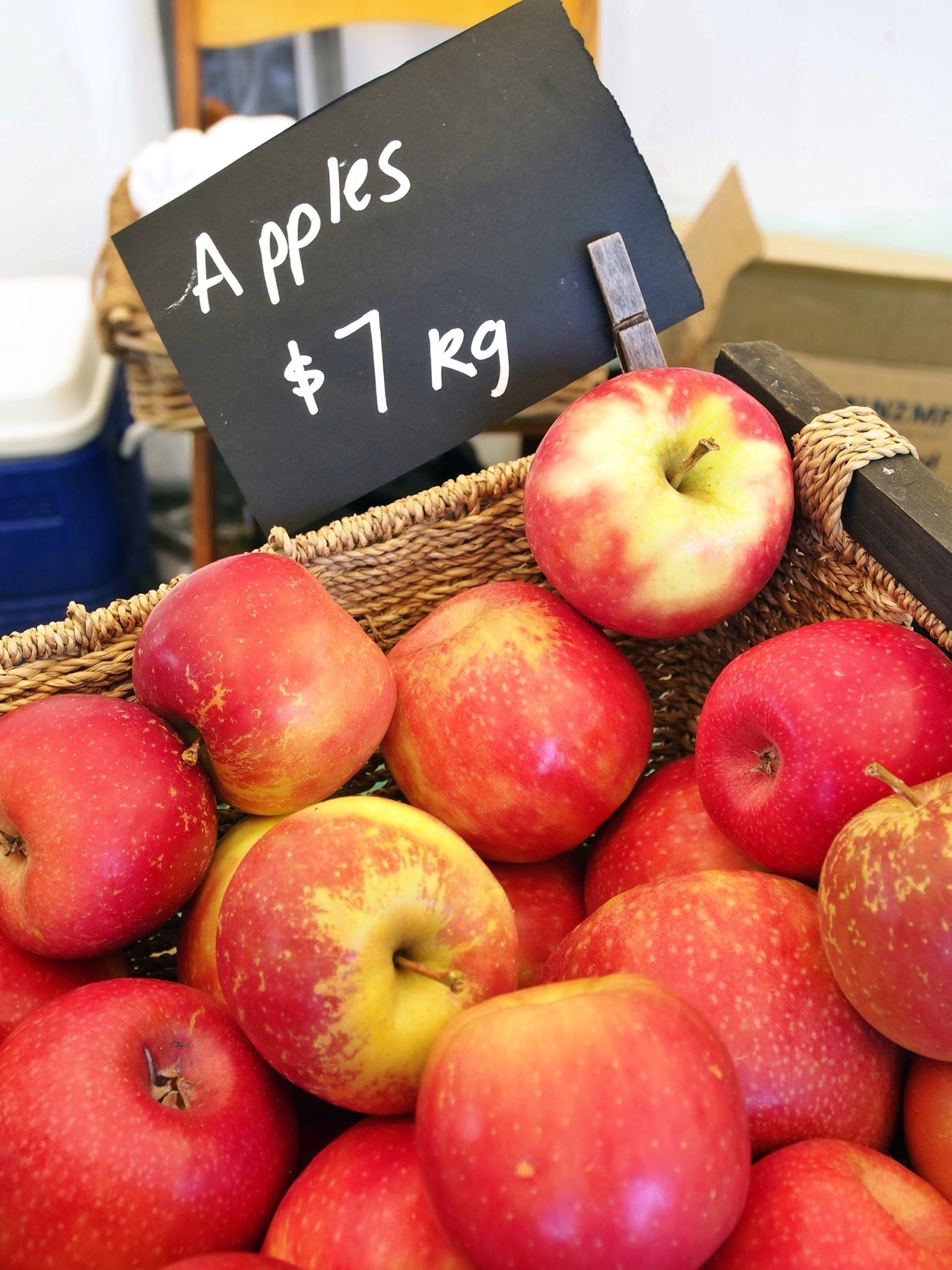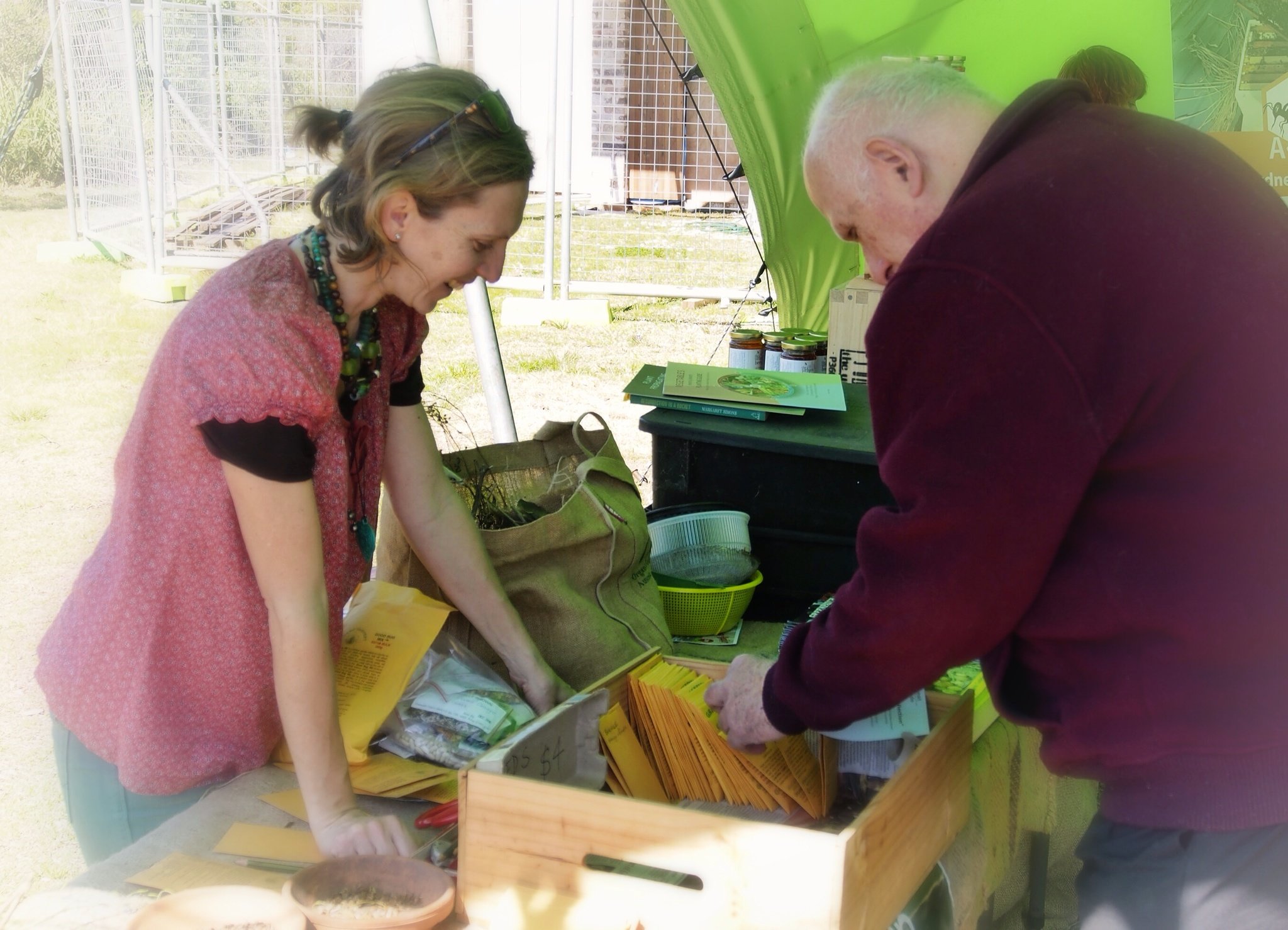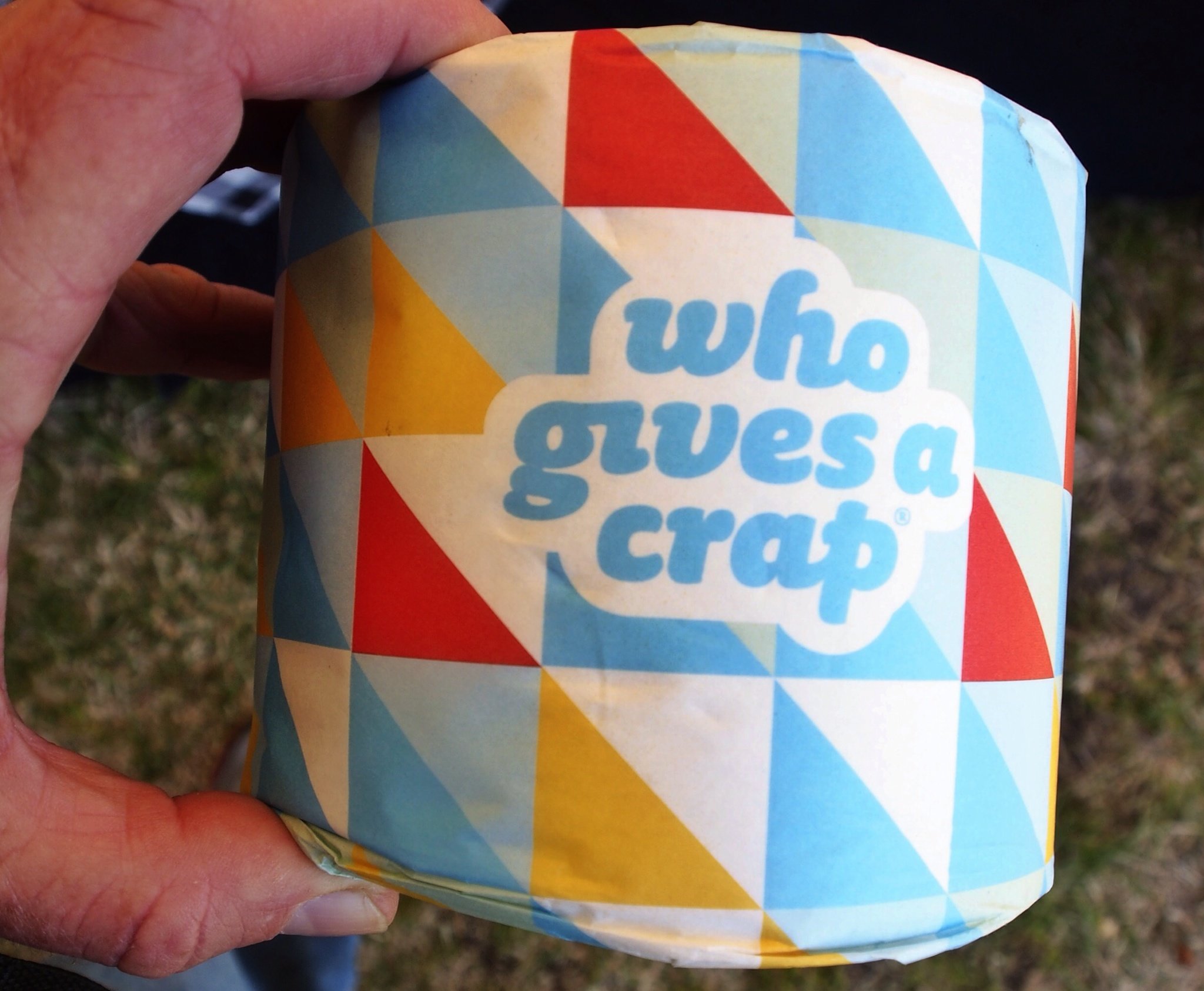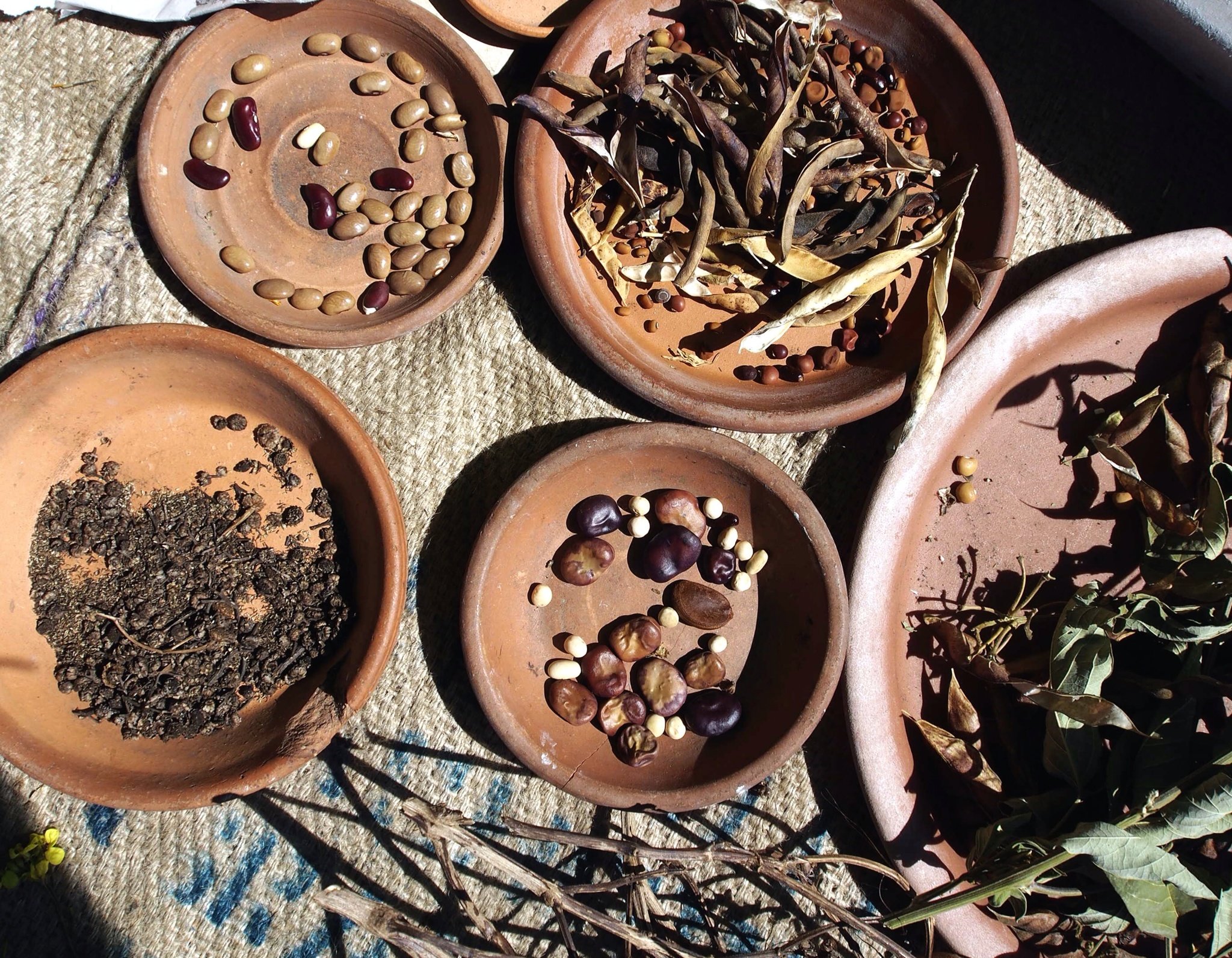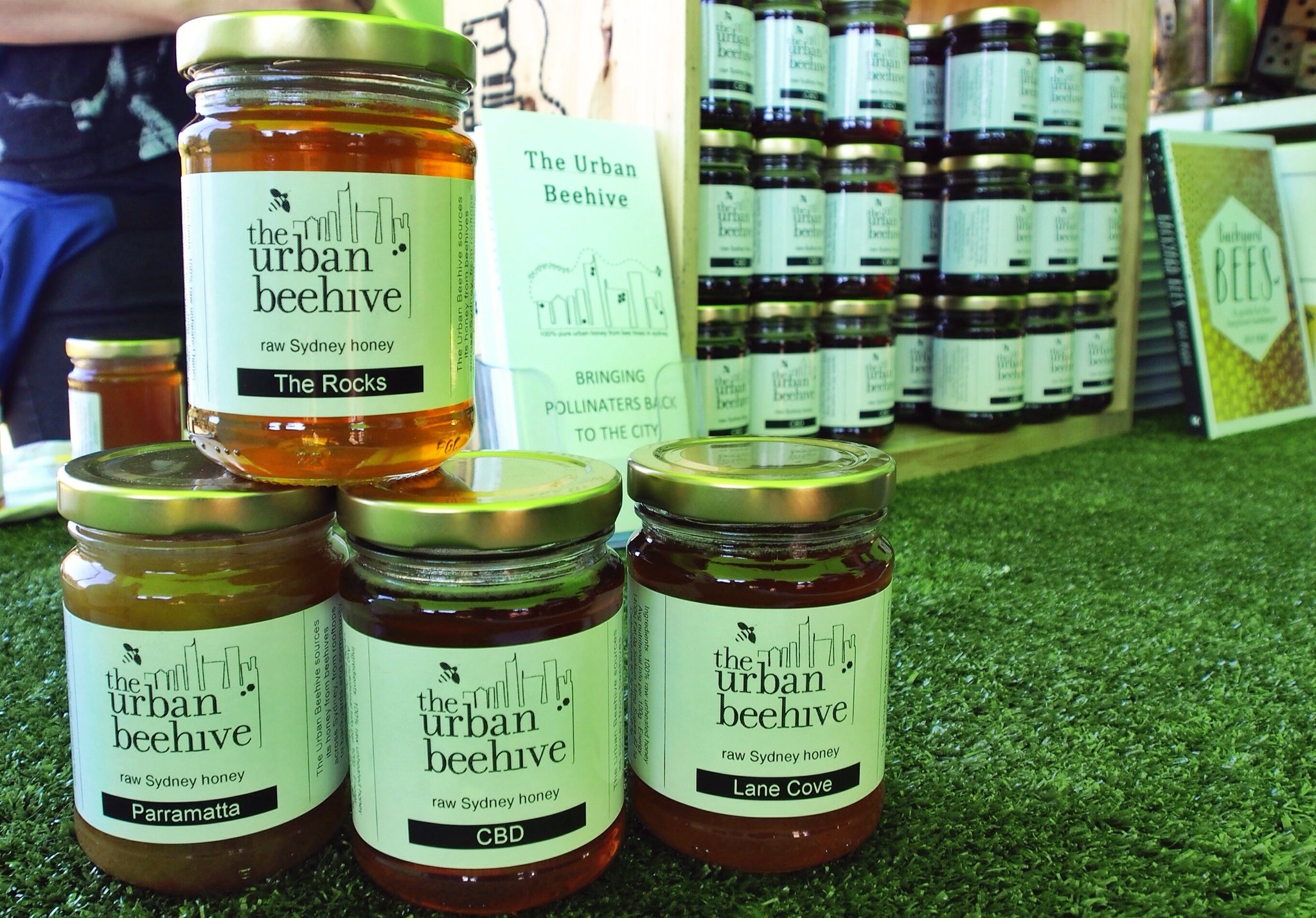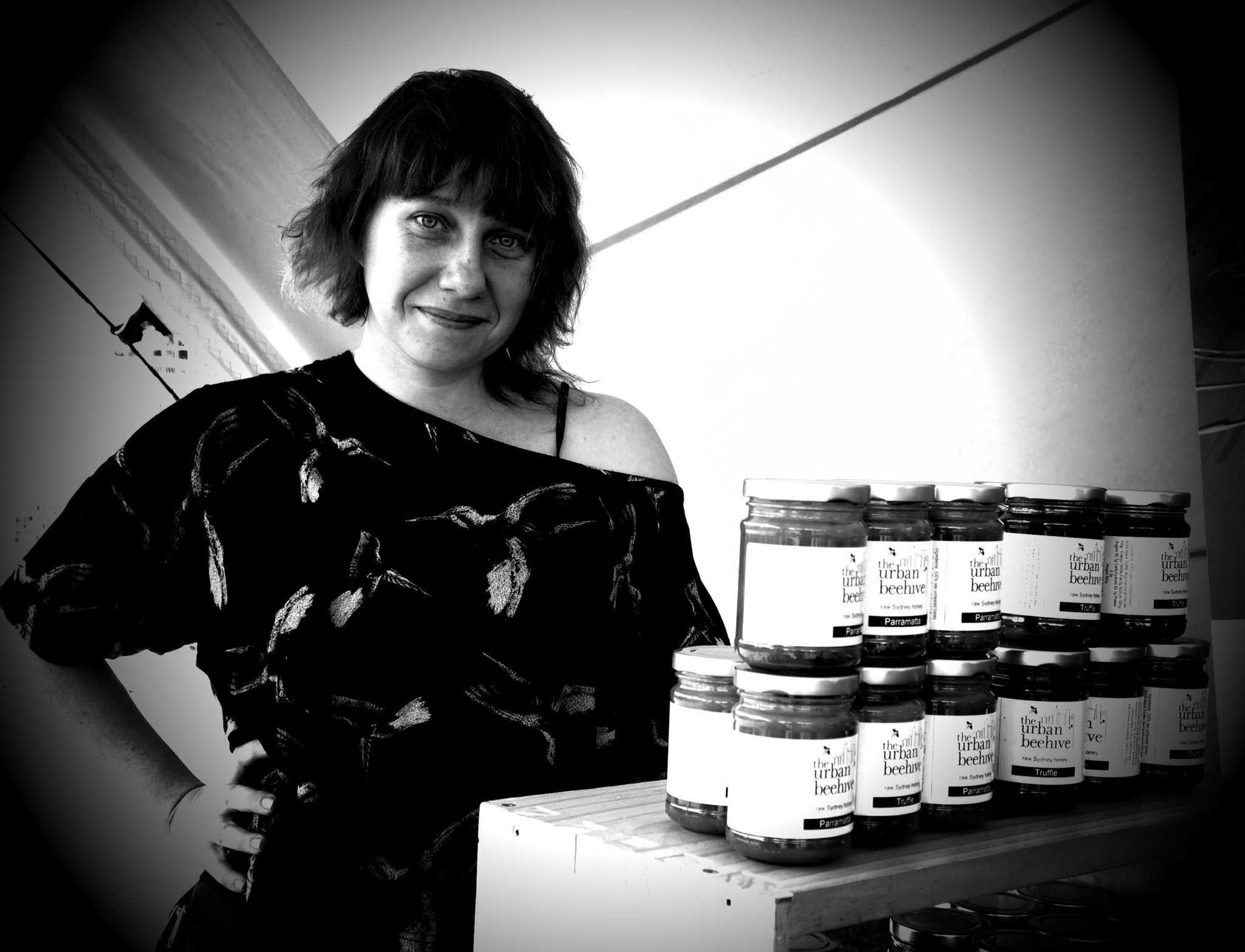 You find plenty of smart young women at Randwick's Ecoliving Fair (as well as some clever males too, let's not forget!), and one of them is Rachel Bajada.
Rachel spent quite some time perfecting a donut that doesn't trash your health. It improves it. That's because Rachel has replaced yucky, sticky, carbohydrate-laden sugar with the yummy goodness of the sweet herb stevia and has discarded the chemical concoctions of your bland, ordinary donut in favour of ingredients of more natural origin. It's vegan, it's baked not fried and it's called Noshu.
noshufoods.com
Healthy revolution in the kitchen is the mission of Brenda Boeder and Vivian Cordua... a healthy food revolution, that is, fermented.
The Raw Sisterhood make and offer fermented vegetables, raw desserts, raw sprouted granola and crackers, fermenting workshops, catering and they wholesale their products too.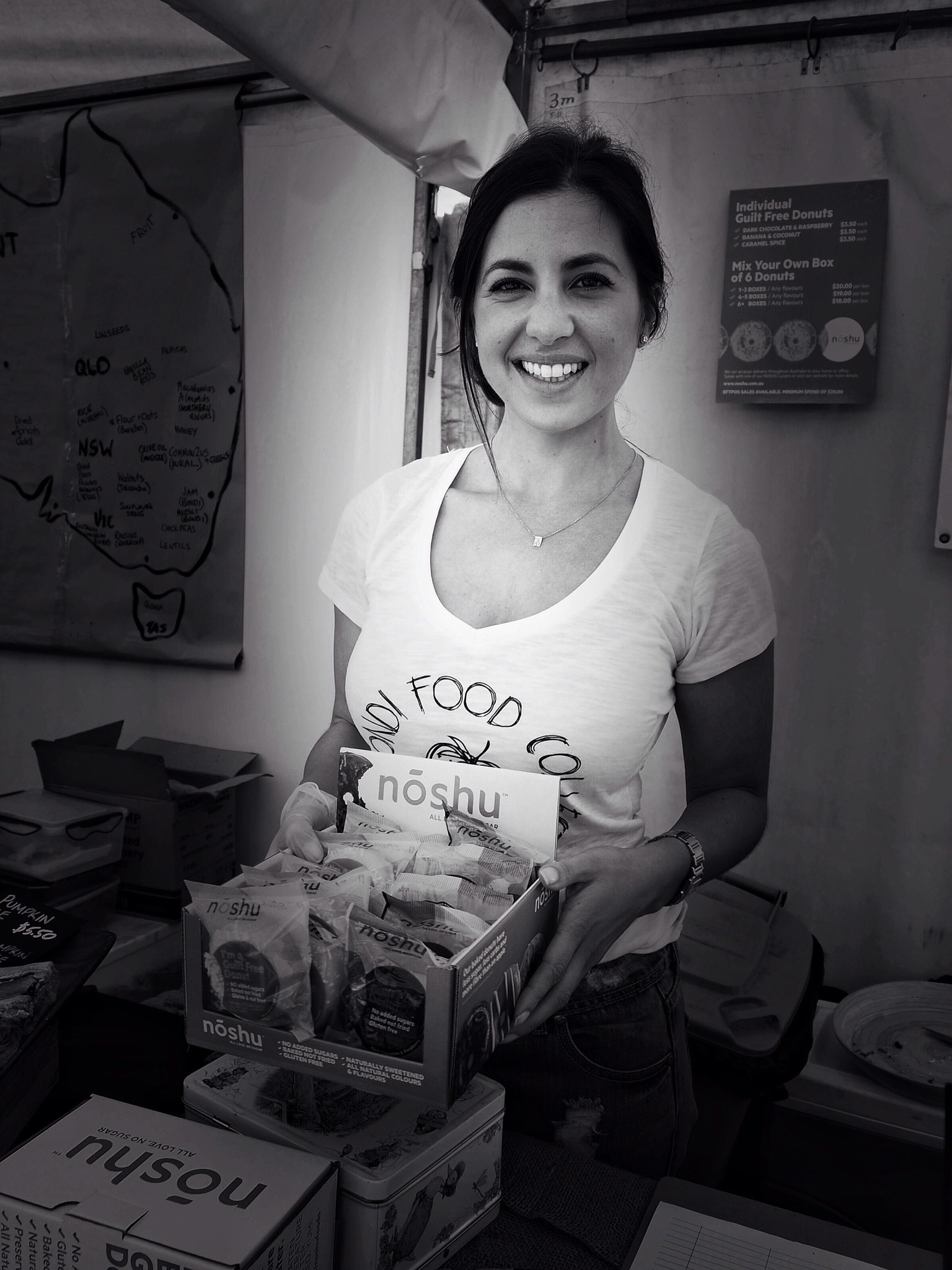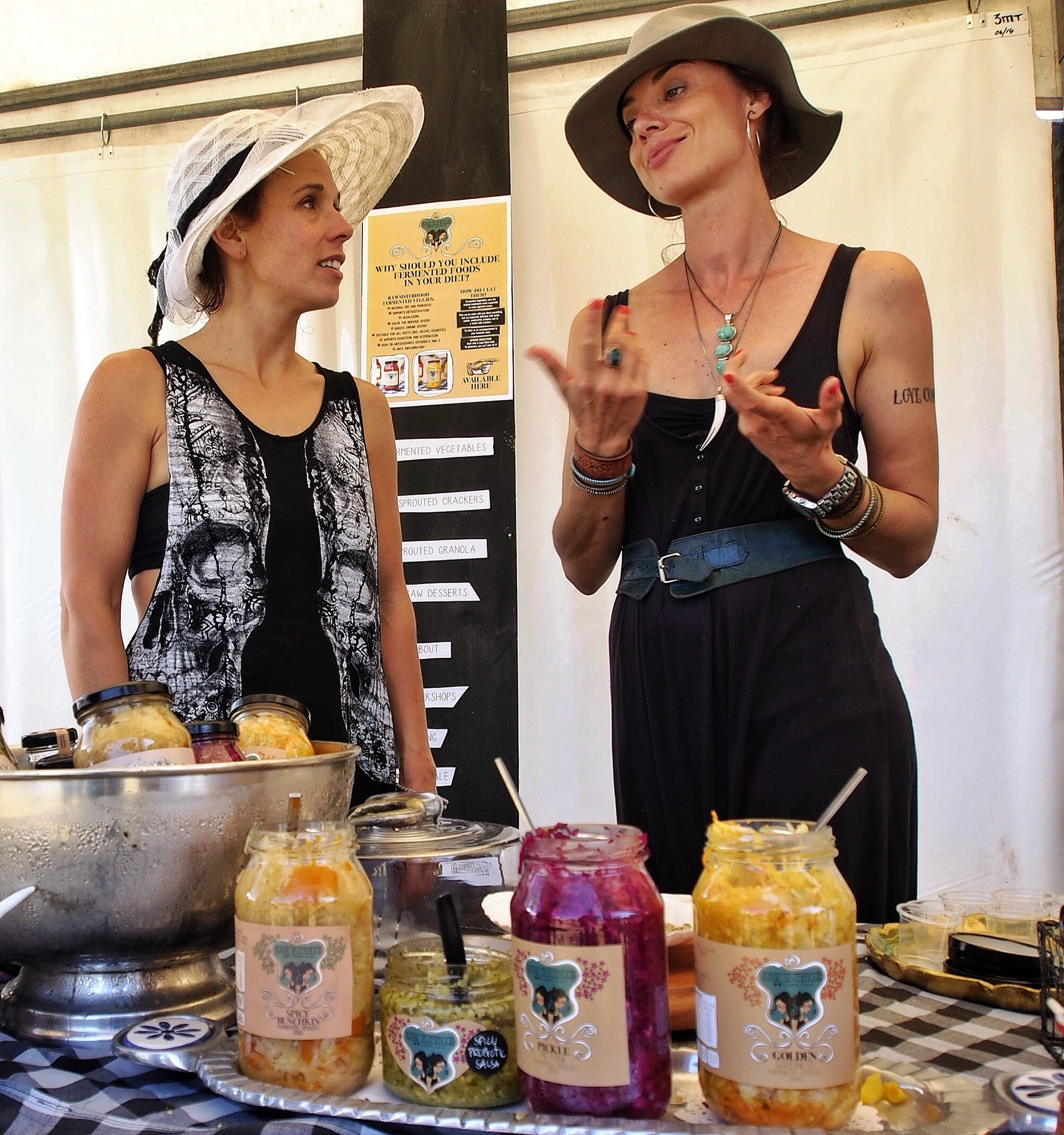 A quiet clucking was heard...
IN THE FIRST MONTH of Spring people converge on the Randwick Community Centre in Sydney's coastal Eastern Suburbs for the annual Ecoliving Fair, an initiative of Randwick City Council's sustainability unit. The temporary tent city occupies the village green and the Fair spills into the adjacent Permaculture Interpretive Garden.
Themed around sustainable urban living, the Fair showcases products and services, children's activities, music, workshops and, importantly, food. Bicycling always has a presence with free cycle maintenance and new machines on display.
Here's a few photos from the September 2014 Ecoliving Fair...
At the Randwick Ecoliving Fair, the sustainable and community food theme was carried through to live food.
Chooks are always a popular attraction and those on display brought children and adults to learn more about keeping these most productive and companionable of birds in your backyard.
For those who two-wheeled their way to the Ecoliving Fair there was valet parking. Bicycling is always a feature of the Fair and local bicycle organisations were again present.
The fat tyre machine is said to be rideable on sand and in snow (so where's the snow anywhere near Sydney? ... plenty of sand, though)... there was free bicycle maintenance and, in the last cycling photo below, music powered by human pedal-power energy...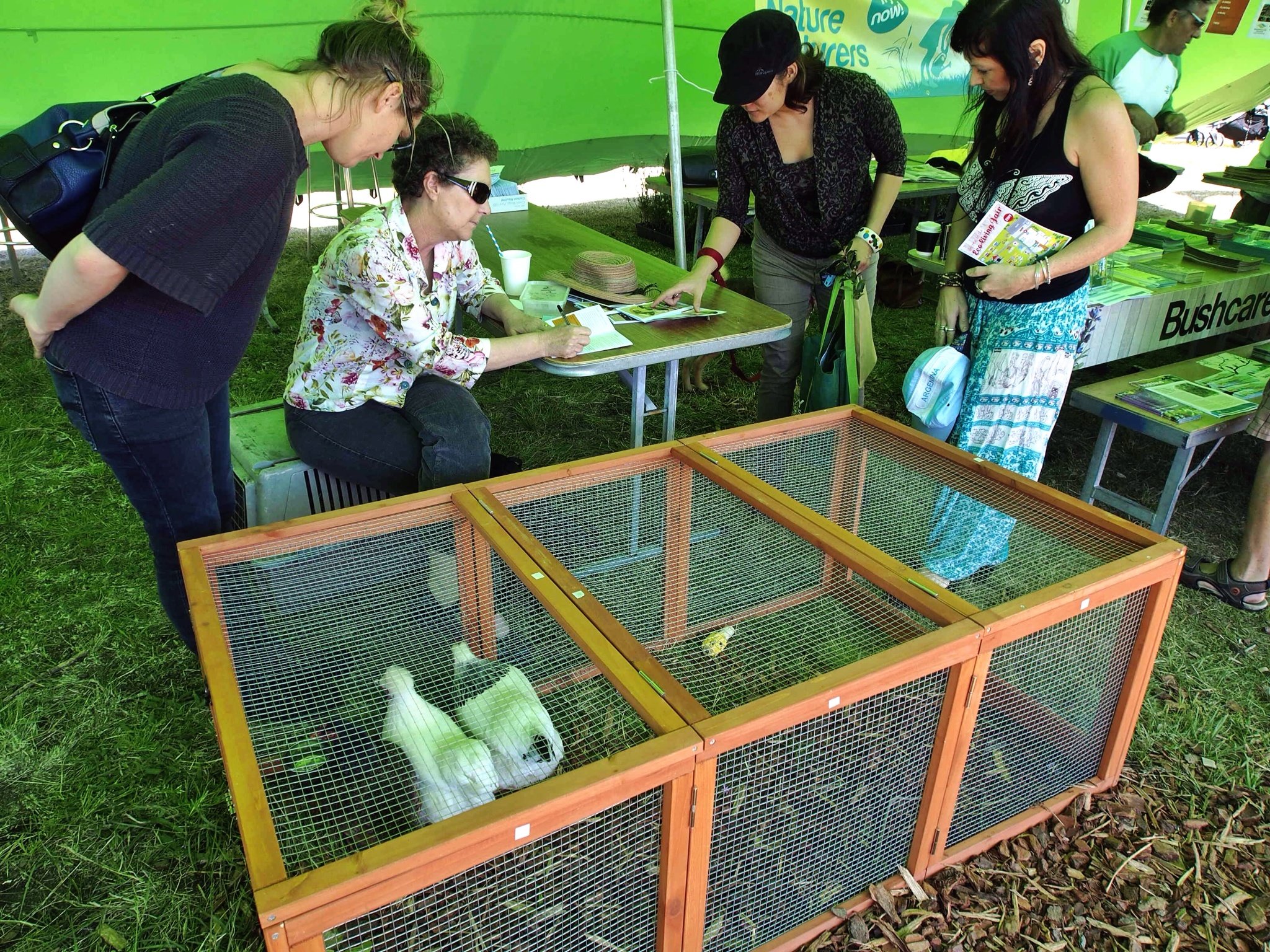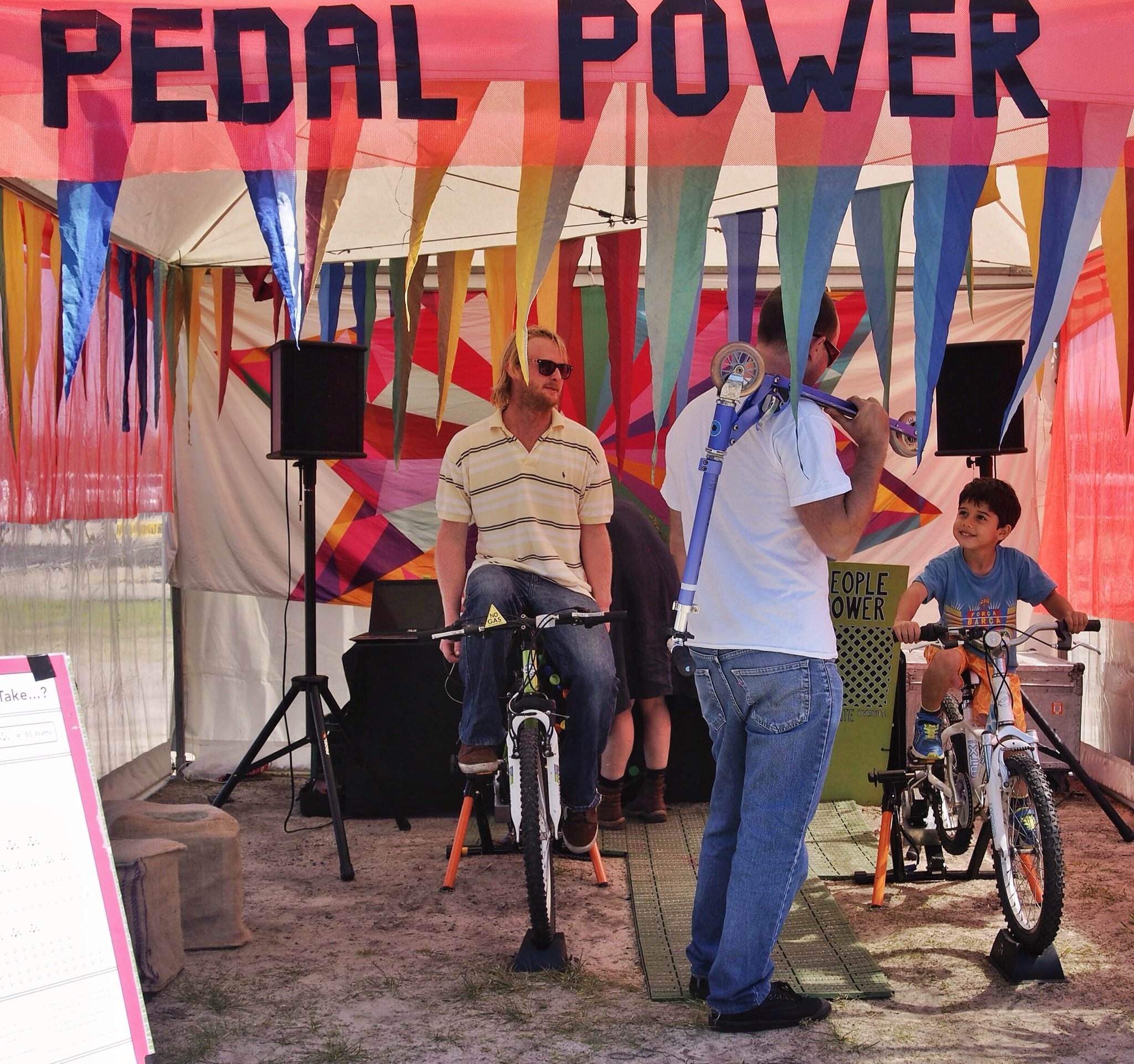 A highlight of the Ecoliving Fair was Diego Bonetto's weedy walk in the Permaculture Interpretive Garden to find and talk about weeds of food and medical value.
Diego explores the city seeking wild edibles and is perhaps the most knowledgable of the city's wild food aficionados.
Diego is seen in the photos with a handful of New Zealand spinach, an Australian bushfood (aka Warragul greens, Tetragonia tetragonioides) and the edible weed, sow thistle.
Ecoliving Fair attendees must be fed, and the line-up of food trucks kept people from hunger throughout the day.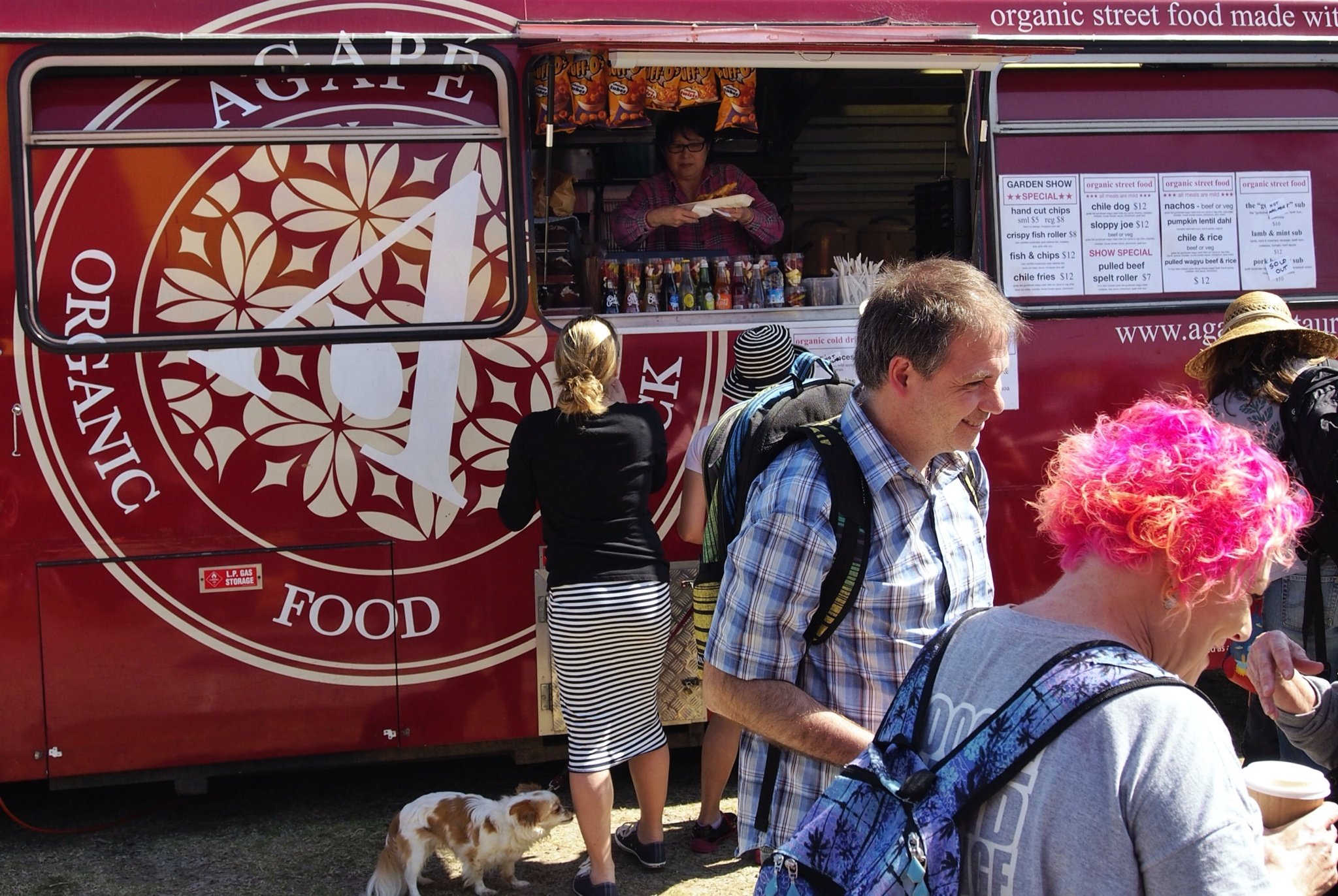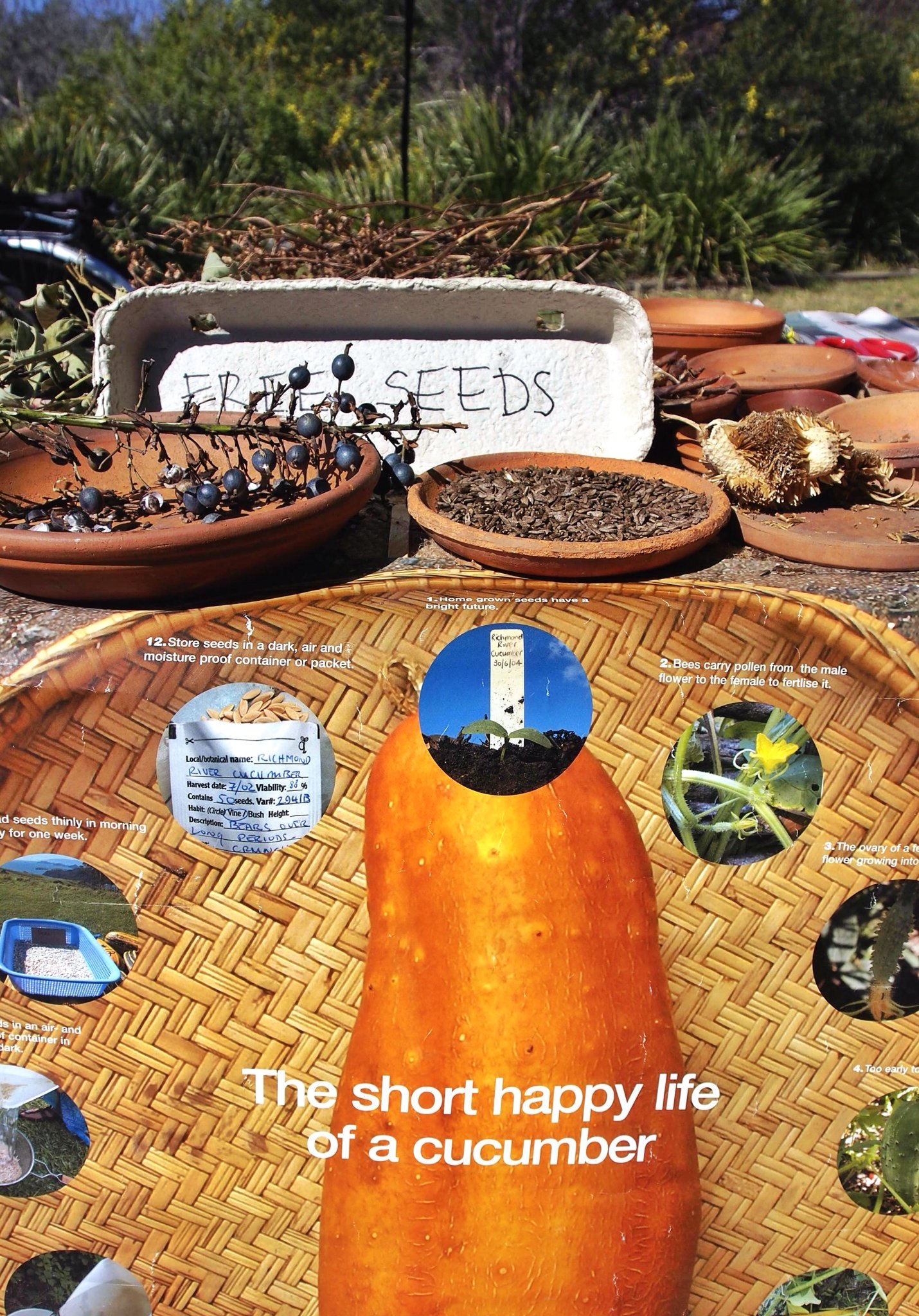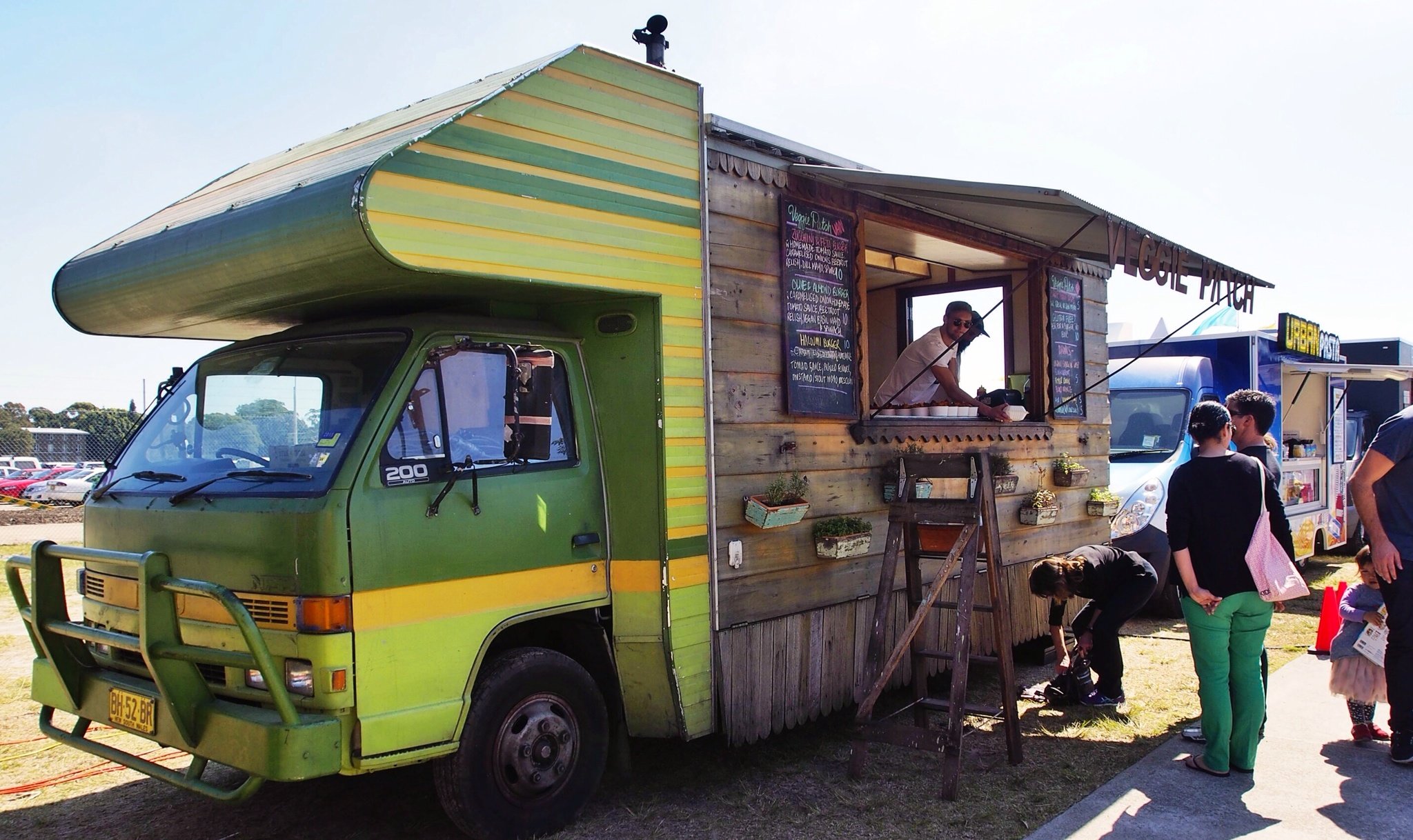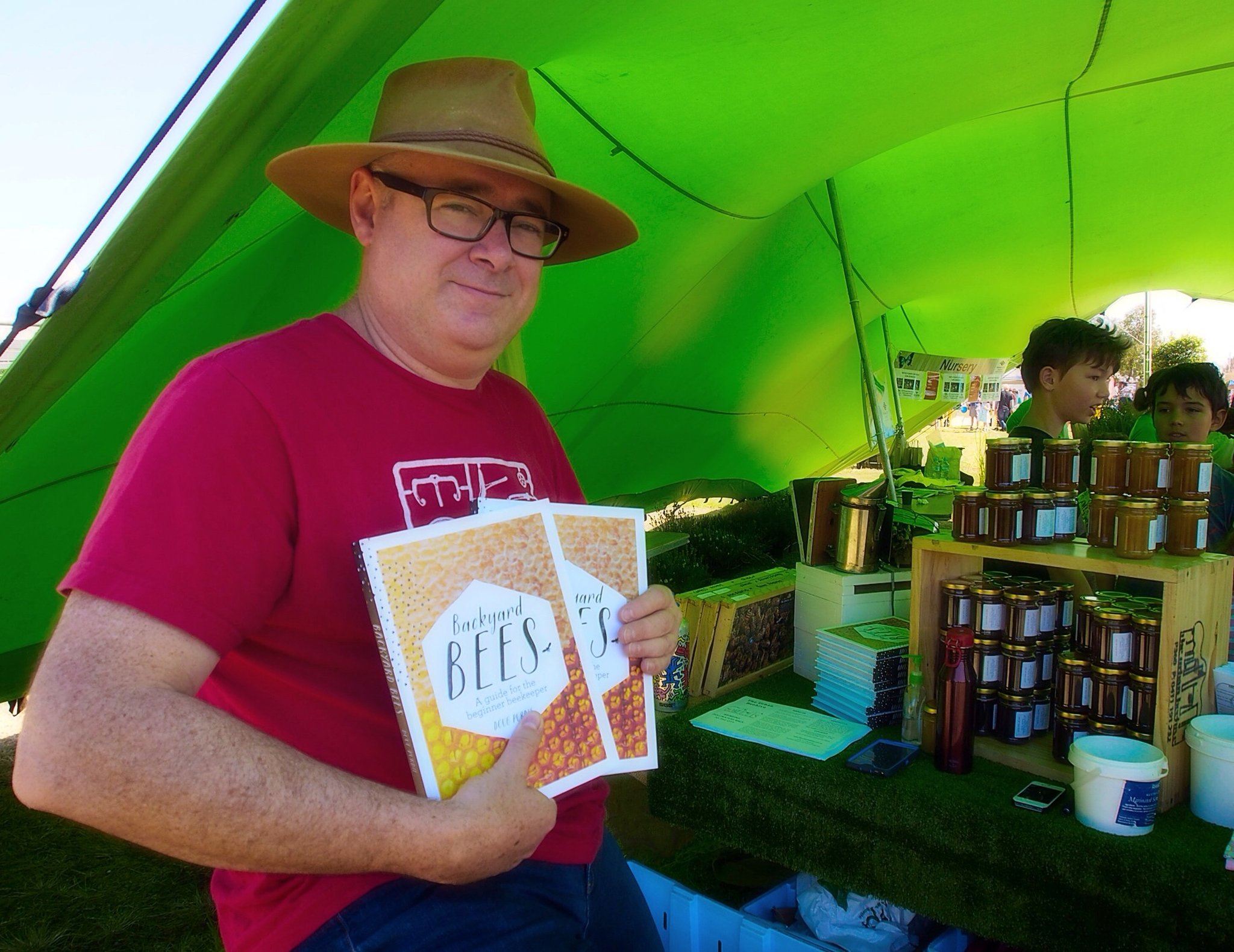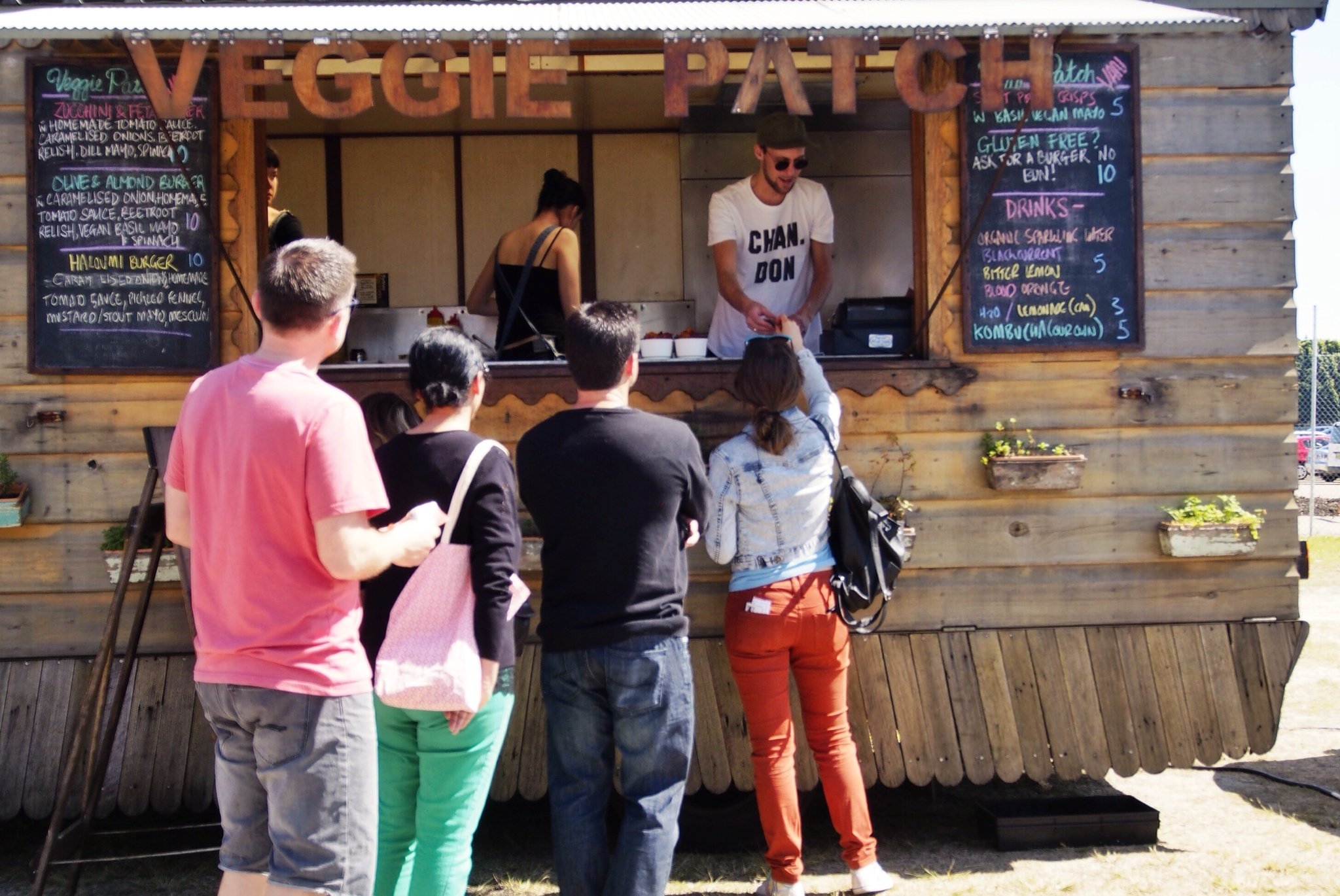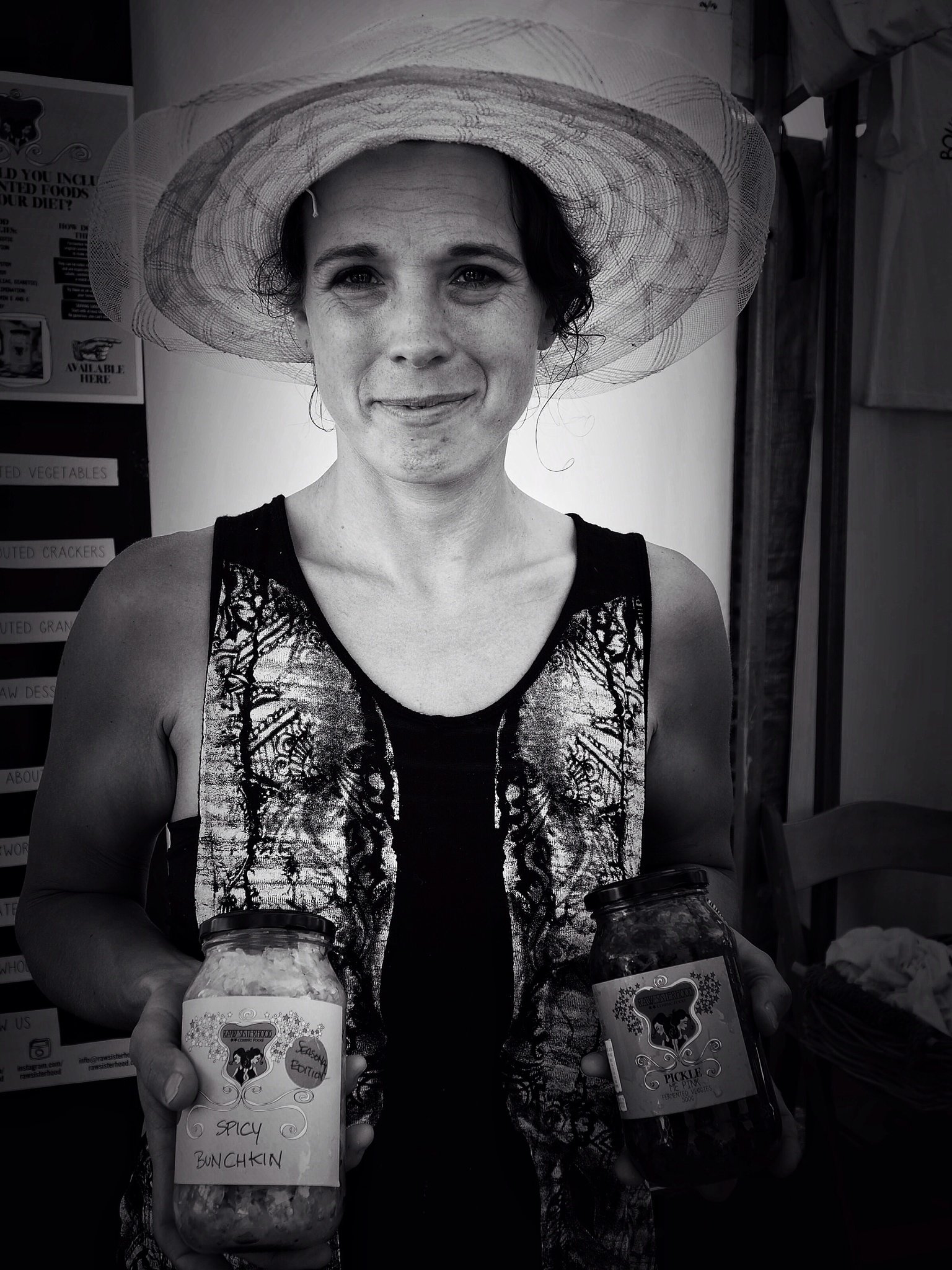 A clever and productive partnership...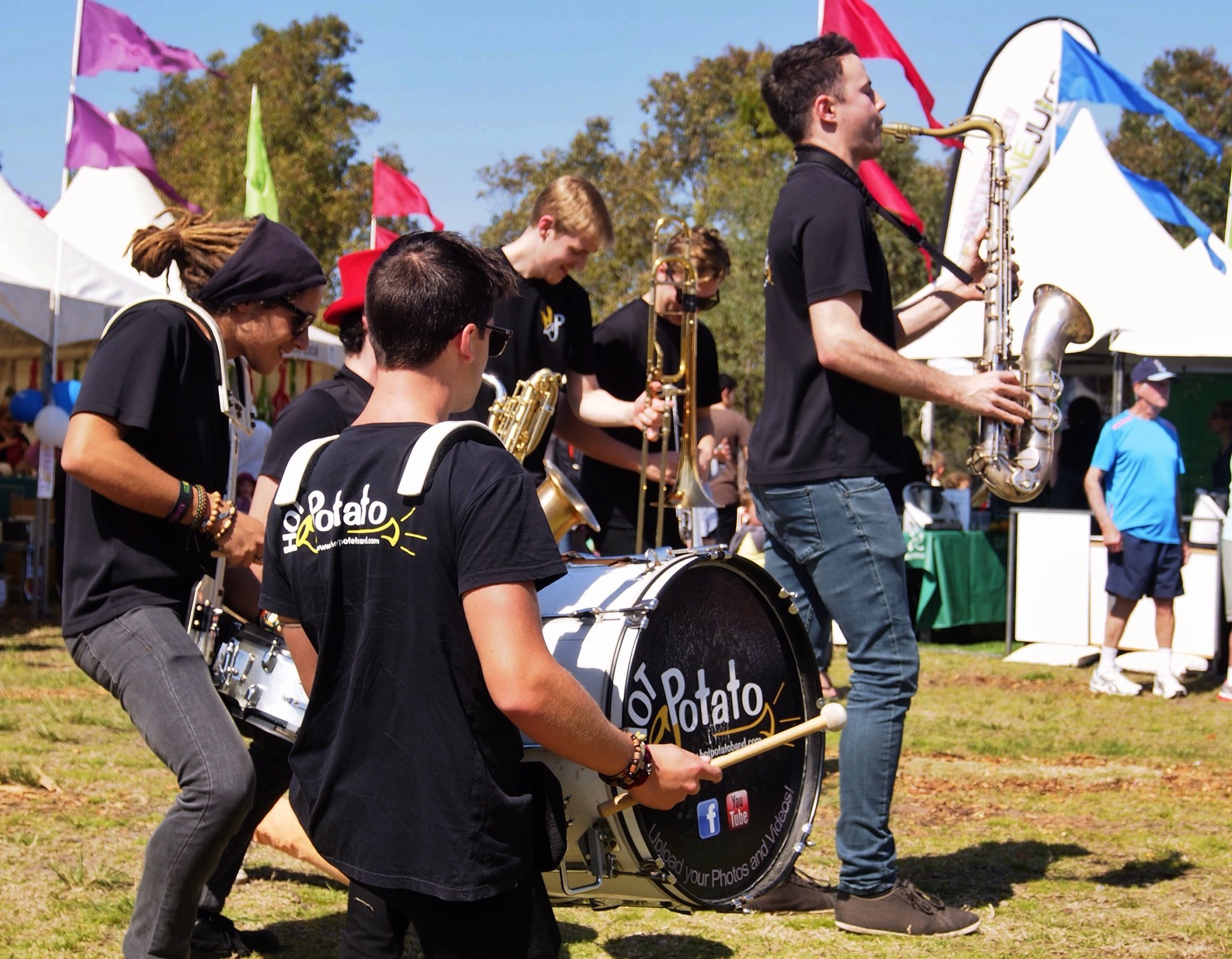 Cycling their way to the Ecoliving Fair were Rebecca and husband, a productive duo who started Rhubarb Food Co-op that supplies fresh, affordable organic foods to members in the Eastern Suburbs.
Food was a prominent theme at this year's Ecoliving Fair, as it usually is.
Bringing an indigenous flavour with their talks and food tastings was ThumbsUp!, an organisation linked with the Jimmy Little Foundation (Jimmy Little was a prominent Australian Aboriginal country music performer). jfl.org.au and thumbsup.org.au
Here's a selection of food initiatives at the Ecoliving Fair...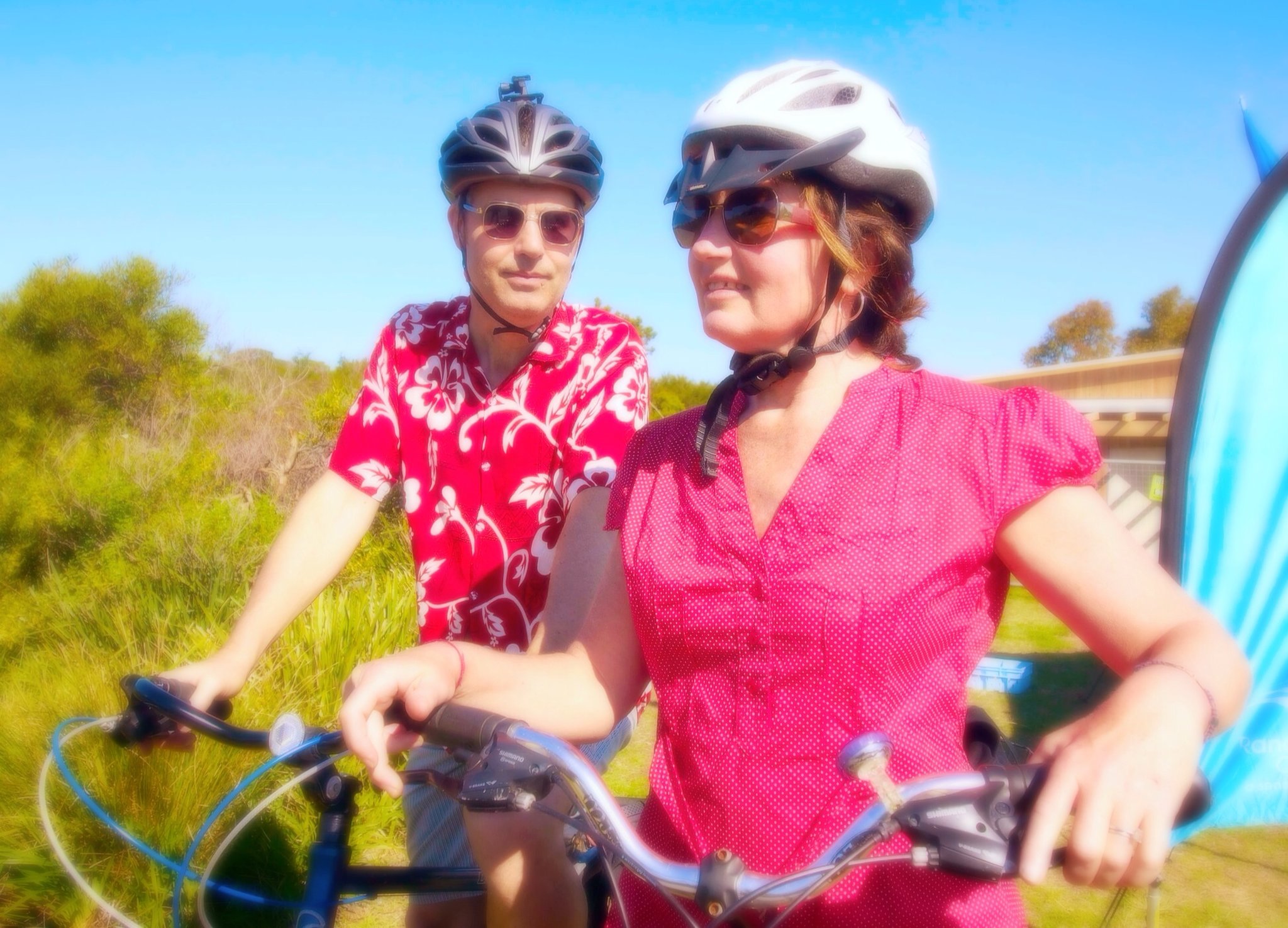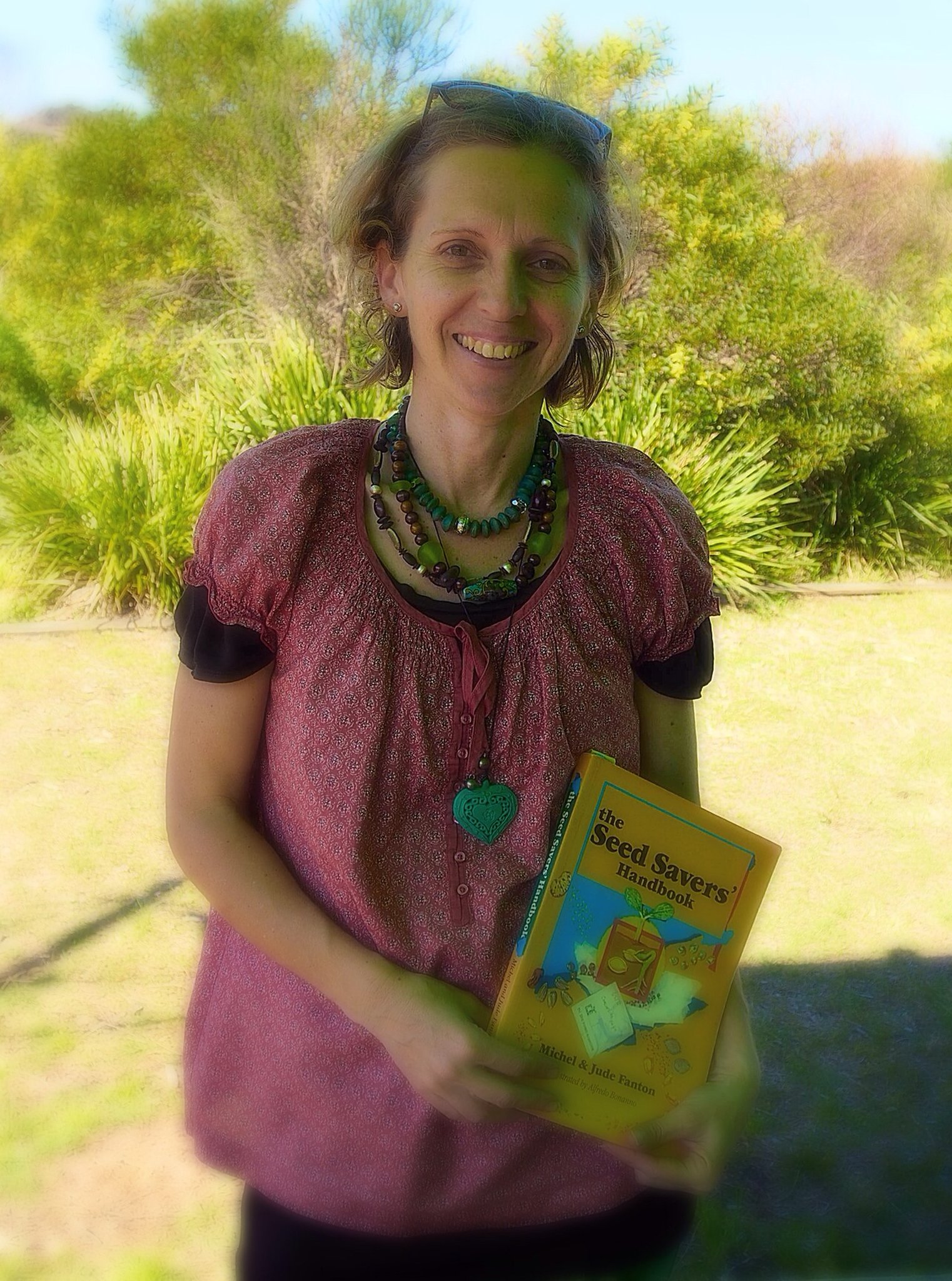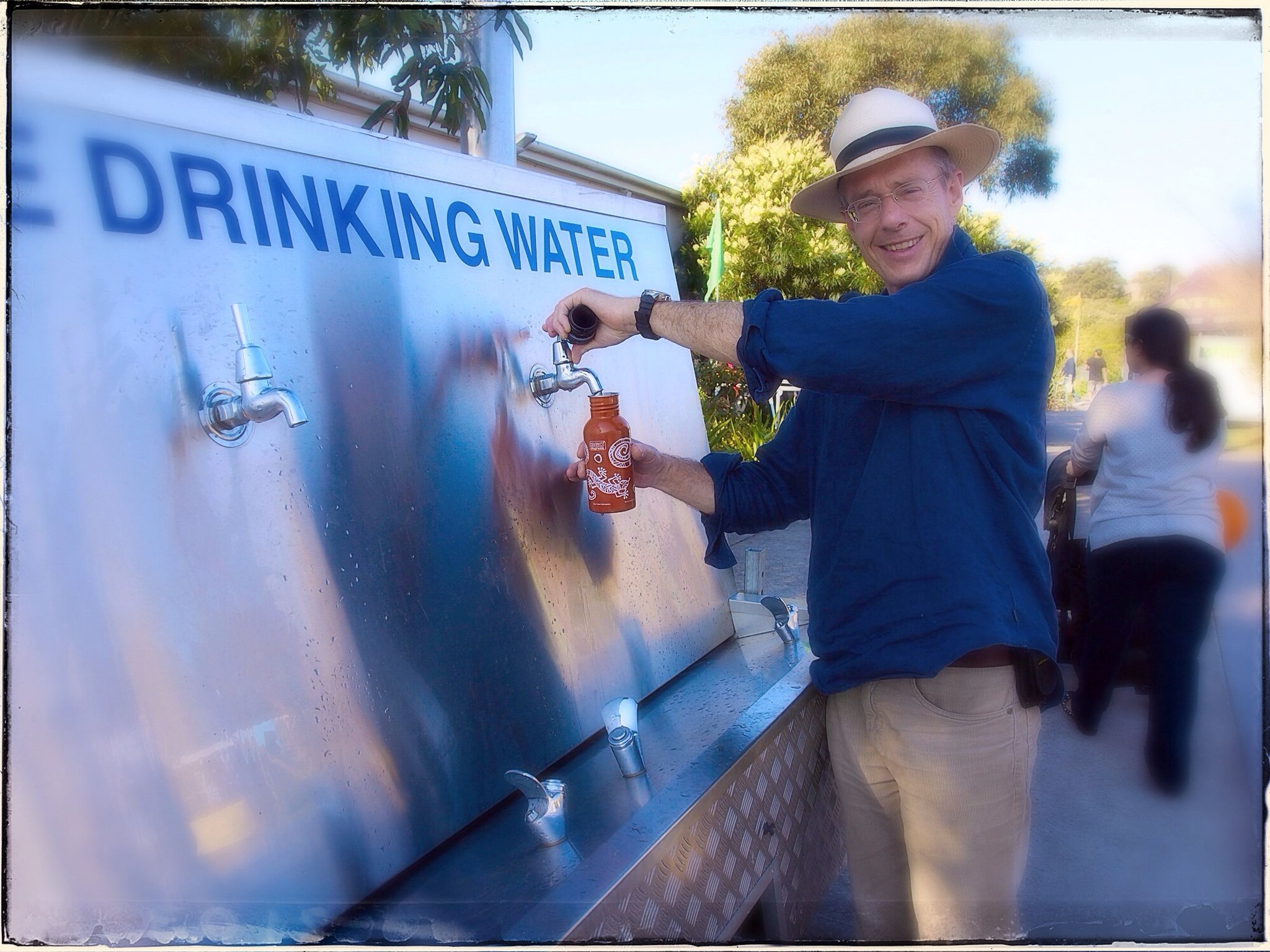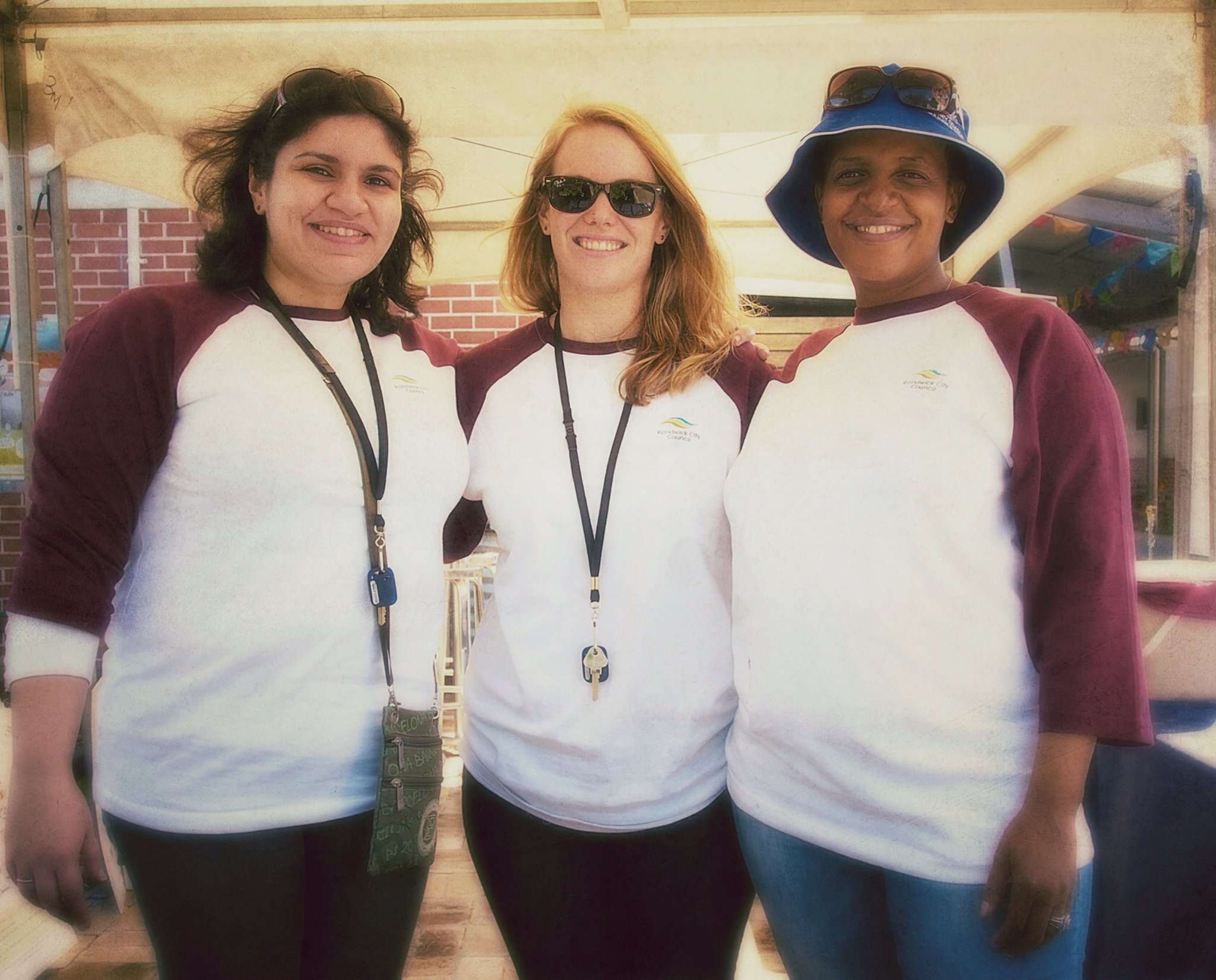 A wasteful trio, this, or should I say a wasteless trio?
It's Randwick Council's waste education team here at the Ecoliving Fair educating people about how not to not to rubbish Randwick by wasting less and recycling more.
Not such a bad idea, really.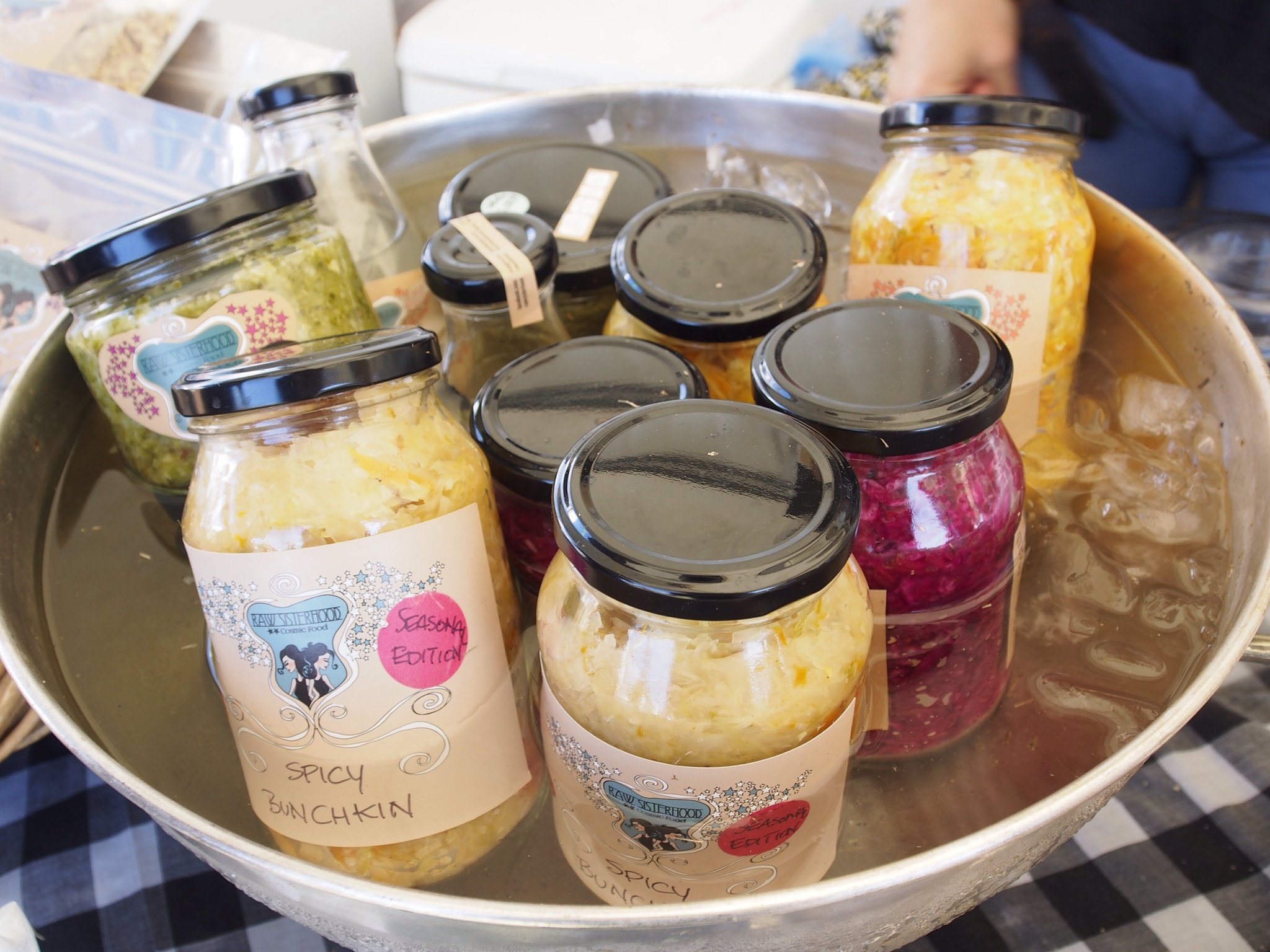 Bees... always a fascination for people... and honey, the golden nectar both nourishing and healing.
What better, though, than Sydney honey for Sydney people?
Bee keeper, apiarist and educator on all things bees, Doug Purdie, was at the Ecoliving Fair with his Sydney region honey, and how's this... honey from the CBD (central business district — downtown Sydney) and from other suburbs, the origin clearly marked on the labels of Doug's Urban Beehive jars. Now, that's local honey.
Below:
• The Urban Beehive's goodness labelled as to suburb of origin.
• The Urban Beehive's Dour Purdie with Backyard Bees, his new book on beekeeping.
• The Urban Beehive's Vicky.